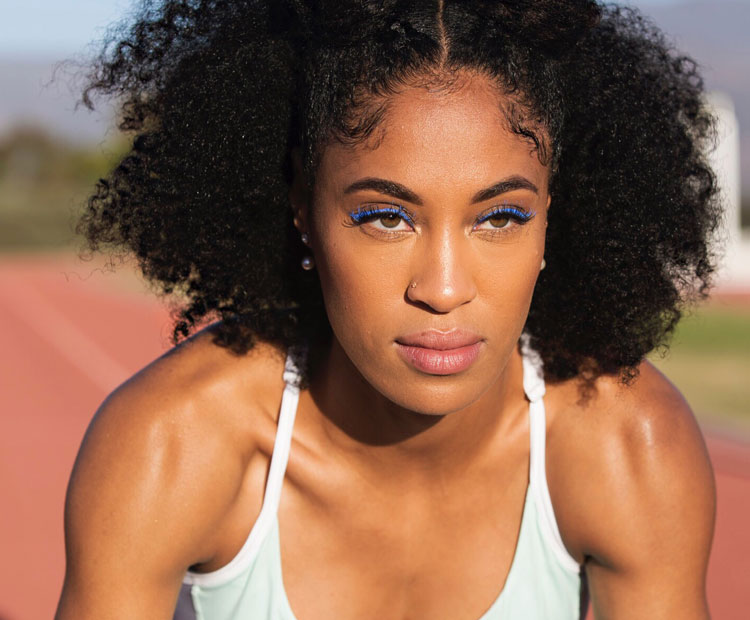 While Queen Quedith Harrison Claye might be best known as an Olympic hurdler and sprinter, she's also a major beauty enthusiast. Whether she's posting tutorials on her Instagram, working on launching her own clean cosmetics line, or starring in our new campaign video, Queen isn't afraid to make a bold statement. We asked her to share a few of her favorites—products, workouts and motivational tips—for the latest in our More Than Skin Deep series.
Her mid-workout beauty pick-me-up:
I'm very much a face mist person, and I really like the Caudalie Beauty Elixir. It's great prep before I put on my moisturizer and the rest of my skin care routine. I even use it to spritz my face mid-workout—I have one in my track bag. It gives [my skin] this burst of moisture, and I thrive off that.
On becoming a regular sunscreen devotee:
I won't lie and say that I've always used sunscreen. I used to be that person that was like, "I'm a Black woman. We really don't need sunscreen," which is a falsity. Sometimes the issue with sunscreens is they'll leave a white cast on my complexion, but IMAGE Skincare PREVENTION+ Daily Matte Moisturizer Oil-Free SPF 32 works very well. It doubles as a moisturizer and sunscreen, so I'm not piling more stuff on my face when I have to work out and sweat. It's a two-for-one!
In my workout bag I have iS Clinical Extreme Protect SPF 30. It's easy to pump out the right amount, and I get my face, the tops of my shoulders—even mid-workout. It blends right into my skin and leaves a healthy glow, but not oily. I don't think anyone likes that feeling of heavy product on their face, especially in the summer heat. This one just dissolves right into the skin.
How she keeps her curls in healthy shape:
Briogeo Be Gentle, Be Kind Avocado + Kiwi Mega Moisture Superfood Hair Mask has officially gotten to the top of my list. I just ordered it about two weeks ago, and I switch products a lot, but I heard good things about it and it's become one of my holy grail products. It just seeps into my curls and I've noticed they're a lot more bouncy and defined. Deep conditioner is a staple for me because my hair is always in ponytails, and I put extensions in, and braids. With all these different ways that I manipulate my hair, it's really important for it to be able to bounce back.
Her favorite way to work out right now:
Since this year's Olympics have been postponed, my training has totally shifted from being on the track to [training] in places where you can be socially distanced. I'm doing a lot of at-home workouts as well, and this time has really shown me that there are so many amazing, different ways to stay in shape.
Five days a week, my five sisters and I get on Zoom and we work out together. We all have a day—for example, on Monday I'll lead the workout and we'll do a high intensity interval type of training. And then on Tuesday, my baby sister leads the workout, so we'll do Pilates or yoga. And then on Wednesday, maybe a cardio day; and Thursday dance or something like that. What's been cool is staying connected to family and friends through working out. So that's what working out looks like to me now.
How she stays motivated to take on the world:
One of my biggest motivations is always trying to be the best version of myself. I think sometimes it can get very competitive with other people, and while that's healthy in certain arenas, I know my biggest competition is myself. Whether I'm going into a hurdle race or a difficult practice session, or even into a meeting where I'm trying to pitch an idea, I always try to focus on being the best version of myself. I know that if I do that, no matter the outcome, I left it all out there on the table.