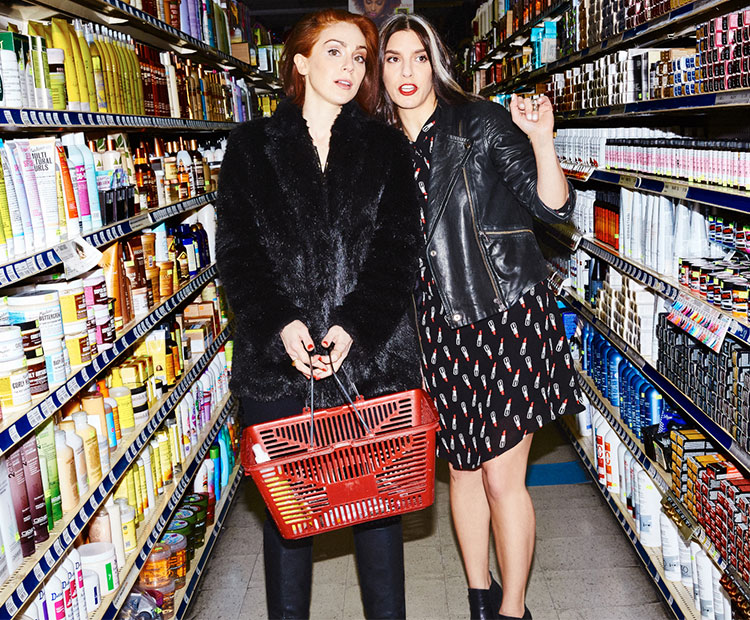 The first time I heard about Fat Mascara—the award-winning weekly podcast hosted by beauty experts Jessica Matlin (beauty director of Harper's Bazaar) and Jennifer Goldstein (executive beauty and health editor of Marie Claire)—was about a few months ago from one of our marketing managers. I wasn't always a podcast fan—I'm old school: I pore over beauty magazines, tear pages I like and hang them on my wall. But from the moment I first listened to their show on my way to work, I was smitten! That day they were chatting with dermatologist Dr. Whitney Bowe about the skin's microbiome, or the organisms (bacteria, fungi and viruses) that live on the various layers on our skin. It was a complete eye-opener that changed the way I look at bacteria and my skin. But the biggest realization and perhaps the most revealing: how could I have lived my entire life as a beauty editor without listening to this pod?
While Fat Mascara excels in exploring and decoding the intricate mysteries of skin care science and cosmetic chemistry, it does so in a way that's entertaining, enlightening and, might I say, hilarious. Their topic range is vast, from the latest and greatest miracle anti-agers to freaky facials to makeup and hairstyling hacks to epic fails and beauty (mis)adventures. Each week, they also get advice from renowned people in the beauty business, including influencers (Kat Von D, Christian Louboutin, Bianca Del Rio, Patrick Starr & MannyMUA), makeup artists (Charlotte Tilbury, Bobbi Brown, Sir John), hairstylists (Orlando Pita, Ursula Stephen), and other industry experts like dermatologists, manicurists, perfumers and more.
Today, we are so lucky to finally get a chance to interview these two fabulous beauty connoisseurs on the Dermstore Blog. Here they share how Fat Mascara came about, the most controversial beauty truths they've uncovered on the show, the top beauty products they'll raise a wand to and more!
Dermstore: How did Fat Mascara start? And what is the main mission of the podcast?
Jessica Matlin: I have been a podcast addict for years now. I'd mostly listened to two podcasts—WTF with Marc Maron and The Bret Easton Ellis podcast—and both of those were hosts talking to artists about film, books, music, comedy, etc. I loved the long-form conversations, and how real and honest they got with their subjects. There was so much great insider information, I felt so privileged to be getting this inside scoop, and it also felt so intimate at the time. I thought, "I should do one of these, but for the beauty world."
I immediately started thinking about guests I'd like on the show, and topics that I wanted to talk about that didn't get any airtime in magazines or on the web. When I pitched the show, my producer, Britt, told me I needed a partner. I took Jenn—a friend through work—out for a drink, and I told her that I would love "someone like [her]," but I figured she couldn't do it. I didn't even know if I would be allowed to! (I was at Cosmopolitan, and she was—and still is—at Marie Claire, both Hearst publications.) While I knew I really wanted to do this, I didn't expect Jenn to jump on board. (Jenn and I had only been friends for a year or so then, but we always had really great conversations about the beauty world on the way back from work events. I always got along with her, liked how her brain worked and thought she was quick on her feet.) Fast-forward to the day where we each went into our bosses' offices to ask for their blessing to pursue the podcast—we got their go ahead, and from there, we started recording!
This mission behind the pod? As an editor, I find that so many great stories get left on the cutting-room floor, so to speak. From conversations with experts to what happens behind the scenes at these insane beauty press events, it seemed like something beauty fans would like to know about. I'm still shocked/intrigued/amused by it all, and I have been doing this a while now.
Is there a story behind the name "Fat Mascara"? How did you come up with that?
JM: We had a list of all of these potential titles, and they were all so generic. "Beauty This," "Beauty That." "Fat Mascara" just sort of popped into my mind. I was literally picturing those big, chubby mascaras you see in the aisle of the drugstore—each brighter and bigger than the next. Beauty is such a hyperbolic, technologically driven, breathless business, and I think that the name captures that.
What are some of your most interesting/memorable interviews so far? Why do you think they stood out?
JM: Editorial hairstylist Orlando Pita. He has such an iconic legacy of work, but he wasn't there to hash how the looks he did for Madonna or Steven Klein in the '90s (although I would have been a pig in mud). We did talk about how the industry has evolved, though: the idea of cultural appropriation in beauty, the new supermodel era, and how social media has changed the metrics of success. He didn't talk about these things with a nostalgic eye, but rather he had experience, wisdom and so much grace. Another favorite? Kristofer Buckle. I don't know anyone funnier. Really. No one.
Jennifer Goldstein: I'm such a nerd, so I loved the episode with cosmetic chemist Ni'kita Wilson. She pulled back the curtain and let us in on how product formulation really works. Miranda Kerr was also a great interview. She really knows her beauty stuff, but what stood out most was her empathy; she's one of those people who reads others well, and the interview got surprisingly emotional—there were even some tears. Emily Weiss of Glossier continues to be one of our most popular episodes, and for good reason: That woman is a marketing genius. Seriously, she knows how to take basic, basic products and make them seem magical. Other than those, there are the guests who are just so charismatic and funny that I want to hang out and talk shit with them all night: drag queen Bianca Del Rio, actress Dascha Polanco, makeup artist Kristopher Buckle, brow guy Jared Bailey, makeup artist Laura Geller…and dozens of others. Beauty people are so much fun—and they take themselves much less seriously than fashion people.
What are some of the most controversial topics you've covered at Fat Mascara? And why do you think it was important to talk about them?
JM: There will always be people who are staunch "natural" beauty devotees that listen to the pod, and they have opinions about those products they deem unnatural. Unfortunately, the natural thing means something different to everyone—and every brand—and natural is not always better or less irritating. This topic comes up a lot, and I'm happy to address—and readdress it—as there is so much misinformation out there.
JG: We've talked about cultural appropriation in the beauty industry on several podcasts, including a special episode with Ursula Stephen, Mally Roncal and Alicia Yoon. And whenever a topic touches on matters of race, culture and privilege it has the potential to be polarizing. But I don't want to shy away from discussing something or asking questions respectfully because I'm afraid of the reaction I might get. In fact, compared to other forms of news media, I think podcasts excel when it comes to tackling these types of topics. Change and forward momentum is never going to come from reading think pieces in magazines, or from two people writing fiery posts back and forth or tweeting at each other; it comes when you do the research, get in a room with the right people and talk things out.

Out of all the beauty hacks and tips you've received, which one's your favorite and why?
JM: Kristofer Buckle's tip wasn't particularly genius, it was just true: Wear more makeup. You'll look better. It's not PC, it's not nicey-nicey, but—shock horror—I look better with it.
JG: Makeup artist Sir John taught us how to contour with sunscreen: He puts an SPF 15 all over and then an SPF 30 on the high points of his face where he wants less color.
Tell us the most outrageous beauty truth you've discovered from the show.
JM: Nothing can shock me at this point.
JG: This isn't a truth—yet—but I have a crazy hypothesis: I think, in general, people who like cats more than dogs tend not to like face mists. Dog people, on the other hand, love a good misting. I know it sounds crazy, but any time we interview or talk to someone who is a cat lover and I ask them about face mists, they're like, "Why would I want to squirt water on my face?"
We're sure you get tons of new beauty products to try. What are your criteria for picking or trying out a new beauty product? What do you usually look for?
JM: Does it have a wonderful texture? Is it going to make me look younger? Does it smell good?
JG: First, I go with my gut reaction to the packaging, scent and texture. If it passes that test, I turn it over and analyze the ingredients to the best of my ability, based on things I've learned from guests like cosmetic chemist Ni'kita Wilson, dermatologists we've had on the show, and, of course, Jess' husband, Kiehl's scientific director Geoff Genesky. If I like what I see, then I try it for at least a few days and give my opinion. And if it's a skin care product with a treatment claim, I try to use it for at least a month. No one likes to hear this, but there is simply no way to tell how well an anti-aging product works if you only use it a few times.
Any Dermstore product you'd like to raise a wand to?
JM: There are too many to name! Skinceuticals CE Ferulic is certainly worthy, though.
JG: SkinMedica TNS Essential Serum! If you can't deal with retinoids because you've got sensitive skin, but you want all those line-smoothing, brightening, plumping, anti-aging results, then go with the epidermal growth factors. They're expensive to produce, and this serum has a high concentration of them so it's not cheap. But it's worth it. Take a photo, try it for 30 days—30 full days, people— and then take another photo. If you don't see a difference, than you're probably a human with a rhinoceros hide instead of skin.
If we are to give you $300 to spend on Dermstore, how would you decide which products to splurge on and which to save—and which products are you going to get?
JM: High-tech (active) skincare and candles are typically a splurge—good ingredients cost mega-bucks.
Body oils and basic moisturizers (i.e. ones that don't claim to turn back the clock, but rather soften/hydrate/or just smell great) don't need to cost a fortune.
JG: Body wash and soap and shampoo are where I think the inexpensive stuff is pretty much the same as the pricey stuff.
Jessica's Picks:
Buy now

with Dermstore

SkinCeuticals' C E Ferulic features a synergistic antioxidant combination of ferulic acid and pure vitamin C and E to enhance your skin's protection against environmental damage caused by free radicals. In addition to antioxidant protective benefits, this formula improves signs of aging and photodamage to reduce the appearance of lines and wrinkles while firming and brightening your complexion. Lastly, this powerful formula helps neutralize free radicals induced by UVA/UVB, infrared radiation (IRA) and ozone pollution (O3).Key Ingredients: * 15% Pure Vitamin C (L-Ascorbic Acid): provides

Buy now with free delivery

Cowshed Moody Cow Balancing Room Candle, $46.50

Buy now

with Dermstore

Weleda Cellulite Body Oil is a dermatologically proven treatment oil to smooth, tone and support the overall condition of your skin. Organic birch leaves promote detoxification, as it reveals noticeably radiant, smooth and soft skin. Apricot kernel oil, organic jojoba seed oil and wheat germ balance moisture and deeply nourish, leaving your skin with a healthy glow. In dermatological tests, this oil showed a 22% increase in tightness and a 21% increase in smoothness, in just one

Buy now with free delivery

Buy now

with Dermstore

Buy now

with Dermstore

UV Clear Broad-Spectrum SPF 46 by EltaMD provides protection to your complexion to shield your skin from harmful UVA and UVB rays. Fragrance-free, this face sunscreen's smooth formula includes sodium hyaluronate to moisturize while lactic acid refines the skin to clear pores and reduce shine.This product is featured in: * The Products That Are Always Selling Out on Dermstore * How to Prevent Wrinkles: 4 Expert Tips

Buy now with free delivery

Buy now

with Dermstore

Zents Earth Eau de Toilette Spray caresses your skin with a light kiss of luxurious fragrance and may be worn by itself or paired with other Zents perfumes for an enhanced effect. A bright bergamot top note descends to middle notes of Siberian fir and musky frankincense. A light base of cedar and sandalwood restore equilibrium and promote a sense of

Buy now with free delivery