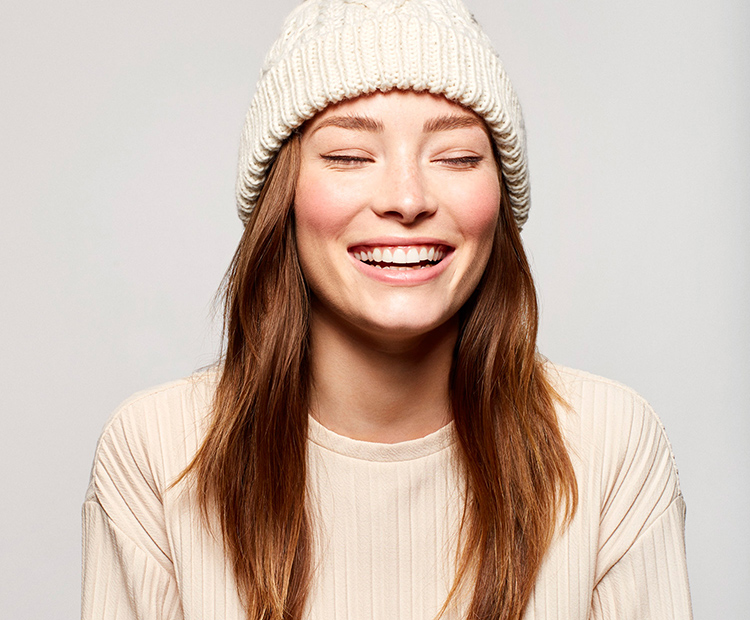 There may be plenty of things to love about winter, but for your hair, the freezing temperature, dry air and harsh winds can only lead to limp and lifeless locks. Cold weather
takes a toll on your hair and scalp, making it lose a ton of moisture and leaving it dry and dull. Not to mention, the low humidity weakens your locks and makes them susceptible to breakage and hair fall.
So as you settle into the new year, restoring your crowning glory and undoing the damage from the beating it takes every winter should be one of your top priorities. And as it turns out, winter hair care is more than just washing with lukewarm water and ending with a cold rinse. For one, having a healthy scalp is key in making sure your hair is always in top form. Below, we've rounded up some top tips from hairstylists and beauty experts on how to winter-proof your tresses!
1.Strengthen dry and brittle hair
Regardless of your hair type, your strands need extra fortification during winter. Just like how you switch out your closet staples as temperatures drop, your hair care products are also due for an upgrade. "Switch to a more moisturizing shampoo and conditioner since the winter season can cause hair to become drier," advises Dani Everson, hairstylist and owner of Clementine Salon in Denver. And as we all know by now, dryness leads to weak strands, so adding a nourishing treatment or hair oil to your hair care routine is also a must.
And if you're thinking of experimenting with your hairstyle or going lighter, you may want to put those plans on hold. While rocking platinum locks in the winter is a look we can definitely get behind, we're not too big on bleach-damaged hair. The same is true for heat styling and chemical straighteners—both can only aggravate dryness and add to the damaging effects of harsh winter conditions.
2.Prevent breakage and hair fall
Hair fall, breakage and split ends become more common in the winter as your hair is constantly being battered by blasts of dry air. Aside from pampering your locks and curls with nourishing treatments, there are other steps you can take to prevent brittleness and breakage. These are:
Wear a hat when going outside to protect hair from bad weather. If you're using one made of cotton, wool or other coarse fabrics, make sure to line it with silk or satin to avoid split ends and breakage.
Use a hair wrap when sleeping.
Switch to a silk pillowcase—these minimize friction and do not absorb moisture away from your hair.
Brush your hair gently, especially when it's still wet. Use a wet brush with soft and flexible bristles that detangles hair and helps massage the scalp.
Use hair-friendly bands when tying up hair, such as crease-free fabric hair ties and coil bands that prevent tension and breakage.
3.Pamper your hair with deep hair treatments
Constant exposure to cold, dry air means your hair is always struggling to retain moisture and maintain the right level of hydration. To protect your tresses, get into the habit of using a hair mask or treatment weekly to give your strands another layer of much-needed protection and replenish lost moisture. "Use products infused with light oils like grapeseed oil to control frizz and add luster and shine to dull hair," suggests Everson.
The cold night air also strips away moisture from your hair even as you sleep, so to prevent this, Jasmine Anna Galazka, senior hair stylist at Warren-Tricomi Salon in New York, recommends using hair masks for fall and winter. "Masks are more hydrating and have higher ceramides in them," says Galazka, and using an overnight hair treatment is like a facial sleep mask but for your hair. It deeply conditions, repairs damage and restores strength while you catch up on some beauty rest.
4.Don't forget about your scalp
Healthy hair starts with a healthy scalp, so it only makes sense to look after your scalp like you would the skin on your face. And just like your skin, your scalp can also battle with dryness, dehydration and flaking. This is especially true in the winter, when the constant switch from the cold breeze to heated rooms can be extra damaging. Not to mention, product buildup and residue can further aggravate your scalp's condition and lead to other concerns, such as itching and dandruff.
5.Switch to sulfate-free shampoo
Most of us think that the foamier the shampoo, the better. Shampoo lather is due to sulfate and while it helps cleanse the hair, it can also contribute to dryness and breakage. Sulfates strip your hair's natural oils and make color-treated tresses lose its luster. "Hair health starts in the shower," says Denver hairstylist Cheyenne Etheridge. "Keratin is one of the ingredients you want to look for in a shampoo, especially when the temps start to dip. It helps rebuild your hair and repair hair follicles, giving it that soft look that everyone wants in the winter months."
6.Take time to condition
The winter months can be busy for many of us, especially during the holidays, so there may be days when you're tempted to cut your shower time short to make it to your next appointment. But if you're really serious about looking after your hair, you'll have to work conditioning into your busy schedule. Conditioners can reverse the damaging effects of winter weather, hot styling tools and indoor heating and provide your tresses with additional protection. Look for keratin and moisturizing oils such as coconut oil, argan oil and jojoba oil when choosing which product to use.
For color-treated hair, leave-in conditioners work best as a support system for your hair and goes in after shampooing and conditioning. "When it's colder, people tend to blast the heat in their showers, which could dry out your hair and fade color faster," says Doug Mengert, a hairstylist in Los Angeles, CA. "Using moisturizing agents, like leave-in conditioners, will help tame unruly hair and keep it healthy and not become brittle."
Ready to have your best winter hair ever? Below, we've listed down our favorite hair care products for your winter hair concerns.
$60.00 Buy now

with Dermstore

This best-selling at-home hair treatment from Olaplex goes in before shampooing and conditioning to give your strands a fortifying boost. It repairs and reverses hair damage while strengthening and protecting its structure, leaving you with breakage-free tresses, smoother texture and healthier-looking locks.

Buy now with free delivery