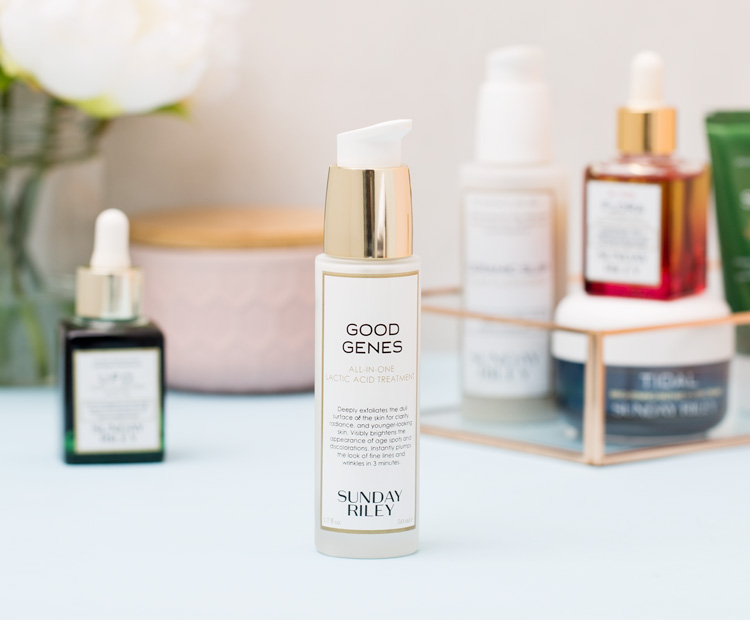 Some of us are blessed with smooth, clear, glowing skin. Most of us, however, are not so lucky. Our skin is plagued with bumps, lines and spots. And so we turn to skin care for help. Enter Good Genes—not the kind in your DNA, but the shopper-favorite face serum that promises to give you a near-perfect complexion. Developed by product formulator and brand founder Sunday Riley (yes, she's a real person), Good Genes is a lactic acid serum formulated to instantly transform your complexion while providing long-term payoff.
Sound too good to be true? We think not. With more than 370 5-star reviews and counting, it's a favorite among Dermstore shoppers—and here are some of the reasons why.
1. It's not just any lactic acid serum.
Search for "Sunday Riley Good Genes" on Google or Reddit, and you'll find discussion after discussion on "dupes" or alternatives for this serum. People are on a mission to find a lactic acid serum that performs as well as Good Genes—without paying full price.
A Dermstore shopper shares her experience: "My love for Good Genes is genuine and complete…except for the price. I've gone so far as to research online whether or not there's an adequate duplicate, or a way to replicate Good Genes' results without the cost—and everything I've discovered indicates that there isn't."
The reason these discussions keep happening and dupes miss the mark is because Good Genes is such a uniquely powerful product. One reviewer admits, "I am now a believer that when it comes to skin care, you really do get what you pay for."
Yes, many of the benefits of Good Genes come from lactic acid, but that's not the only factor to consider. Good Genes works because of the superior quality of ingredients—like purified, unneutralized lactic acid and surgical-grade filtered water. And when the active ingredients are blended with botanicals, the result is a potent formula that soothes the skin instead of irritating it.
Take it from another skeptic-turned-believer: "I have no idea why this combination of ingredients does what it does for my skin but it's so clear and glowing that not buying it isn't an option."
2. It's formulated with every skin type in mind (even sensitive).
If you're familiar with how most alpha hydroxy acids (AHAs), such as glycolic acid, work, you're probably familiar with the potential side effects. From redness and inflammation to dryness and flakiness, AHAs can do a number on your skin—if you overdo it or have sensitive skin.
By using lactic acid (a milder AHA) instead of glycolic acid, Good Genes reduces the chance of a skin reaction. That's because lactic acid molecules are slightly larger, so they're a little gentler on your skin. "I can't use acids for the most part because they are always too strong," says one reviewer. "This one is wonderful for every other to everyday use."
While the lactic acid is one part of the formula, the other is the inclusion of soothing botanicals like aloe, prickly pear extract and cactus extract. At the same time you're exfoliating, you're also hydrating and soothing your skin. Sunday Riley chose these ingredients to create a truly universal serum—suitable even for dry/dehydrated, acne-prone and rosacea-prone skin types.
Take it from our reviewers:
"I have very sensitive, acne-prone, but also dry skin," says one Dermstore shopper. "It's difficult for me to find products that work for my skin type that aren't too harsh, too drying or not effective enough. This somehow strikes the perfect balance. Really has done wonders for my skin."
"I have combination (normal/oily) skin, with leftover hyperpigmentation and subtle redness on cheeks," says another. "I've been using this for exactly a week religiously every night and some mornings and I cannot believe how good my skin looks! Hyperpigmentation is 60% faded from a week ago. Zero redness in the morning, soft skin, brighter, and I have a couple scars from acne as well that have dramatically decreased."
3. When mixed with Ceramic Slip Clay Cleanser, it becomes a "flash facial."
Need your skin to glow right before a big event? Whip yourself up a little "flash facial" by mixing your Good Genes with Sunday Riley's Ceramic Slip Clay Cleanser.
Combine one pump of Good Genes with a quarter-size amount of Ceramic Slip and apply to your entire face. Leave on for up to 10 minutes, rinse with water and follow with your favorite serum and moisturizer.
When purified lactic acid, French green clay, licorice and vitamin C combine, the result is a quick-fix mask that exfoliates, cleanses and instantly restores radiance to the skin.
Want to try it? The Flash Fix Kit includes trial sizes of both products!
4. It instantly brightens skin while working to fade dark spots and soothe redness over time.
Glow, baby, glow! Our reviewers love what this serum does for their appearance—both instantly and with long-term use. "I've tried literally every product targeting acne but nothing really works," said one reviewer. "But with this Sunday Riley Good Genes, my skin is clear and glowing. I never understood what people meant when they said their skin was glowing, but now I do."
Another reviewer said, "I received multiple compliments on how good my skin looked soon after I started using it—so it must be working!"
5. It helps unclog pores, diminishes fine lines and smooths skin texture.
No matter your skin concern, it seems like Good Genes has an answer—according to this reviewer, at least: "I have been using this for a week now and see a dramatic difference in my skin. I have oily prone skin, clogged pores, redness and this has made my skin look brighter, gotten rid of all the redness and I have noticed less clogged pores."
Another reviewer adds: "I've been having a really hard time getting foundation to sit correctly and look good on my skin. Using good genes has smoothed my skin so much and made it so I don't have to wear foundation…but now, when I do wear foundation, it doesn't look flaky!"
Aside from its ability to smooth skin and unclog pores, reviewers also rave about its ability to improve the appearance of wrinkles and boost radiance. In fact, in a clinical study, with results obtained via profilometry analysis:
100% of women said their skin looked and felt significantly smoother and more radiant, with visibly reduced lines and wrinkles after application.
100% of women said this was the most effective skin-plumping product they have ever used and would definitely recommend this product to a friend.
6. It can be used day or night (or both).
Unlike other AHA products, Good Genes doesn't make your skin more sensitive to the sun. While this doesn't mean you can go out during the day without sunscreen, it does mean you can choose where to insert it into your skin care routine—whether that's day, night or both. "I use this mostly at night under moisturizer," one reviewer said, "but on days that I need an extra glow I also use during the day."
Quick tip: Just be careful about mixing too many active ingredients at one time since Good Genes is still an exfoliant—albeit a gentle one. If you regularly use retinol at night, you may want to use Good Genes during the day. And if you regularly use a potent vitamin C serum during the day, you may be better off saving Good Genes for nighttime use.
Bonus: The bottle makes a gorgeous addition to your vanity or countertop!
Sunday Riley has a way with product formulations as well as an eye for product design. Like all of the brand's products, Good Genes comes in a stunning bottle that's just as elegant as what's inside. It's no wonder so many beauty bloggers feature this product front and center in their Instagram "shelfies"!