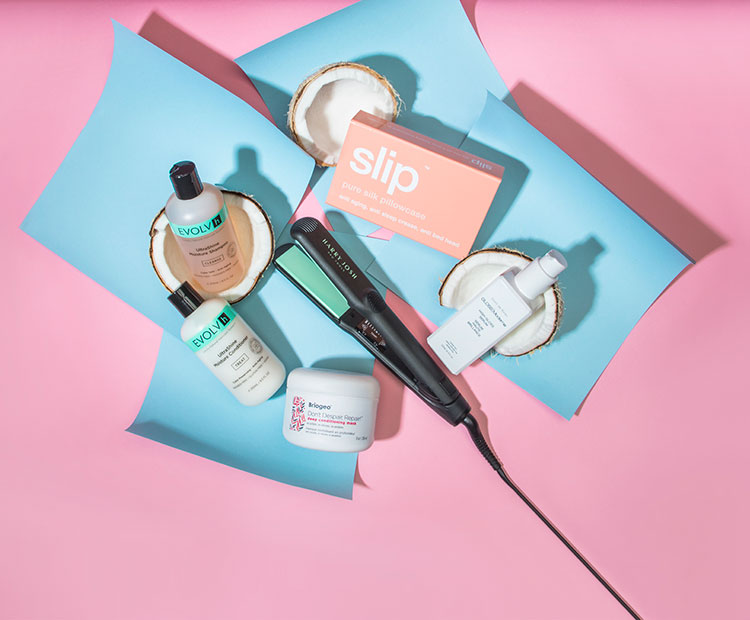 When it comes to washing our hair, we may often wonder: what's the point? With products specifically designed to mask dirty hair—think dry shampoo and hair perfume—at our fingertips, not washing our hair has become super trendy. And while it's okay to go a day or two without cleansing, skipping out on it altogether won't exactly give us the healthy, beautiful hair we all lust after.
According to board-certified dermatologist, Dr. Dendy Engelman, "We wash our hair to get rid of dirt, extra sebum and pollutants," all of which can cause our strands to look dull and unhealthy. Not to mention: massaging shampoo into your scalp can improve circulation and may even promote hair growth. That being said, there's a difference between simply washing your hair and washing your hair the right way.
Many of us are guilty of stripping our strands of natural oils that help protect and nourish our hair. To avoid this, Dr. Engelman suggests paying close attention to the scalp instead of the ends. Here are a few more things to consider when washing your hair.
1.  Wash your hair often, but not too often
If you're someone who washes their strands on the regular, you may want to reconsider. "Washing your hair once or twice a week is more than efficient," says Andrea DiSabatino, stylist at Amika. "Washing too often does not allow your scalp to replenish itself with its natural oils," she adds. Instead of washing your hair daily, use an invigorating shampoo to deep clean your scalp once or twice a week and follow up with dry shampoo in between rinses.
2. Use a shampoo that's formulated with your hair type in mind
Before reaching for a shampoo, consider your hair type. "You should be using a shampoo that's formulated for your hair type," says celebrity hair stylist, Brandon Liberati. Using a shampoo that is color-protecting, volume-enhancing, moisturizing and so on can help you achieve the look you're going for and will result in easy styling.
3. Rinse first
Before you reach for the shampoo bottle, you're going to want to rinse. Think of wetting your hair before applying shampoo like a pre-wash. This can help rinse out any dirt and debris sitting on the surface of your strands and scalp and make for a more efficient lather. If you want to go the extra mile, you can try applying a hair rinse before shampooing. Hair rinses clarify the strands and scalp by removing excess oil, dirt, debris and product buildup.
4. Use half the amount you were taught to use
Ever wonder how much shampoo you actually need? Hint: it's about half of what you were taught to use. As a rule of thumb, Liberati suggests applying only half of the amount you usually use. Then, "Rub it in your hands, apply to your scalp and massage."
5. Don't scrub
In addition to using half the amount you were taught to use, Liberati also says, "stop scrubbing like you're Cinderella—be gentle." There's a difference between massaging and scrubbing. And while scrubbing may seem like it will get the job done quicker, it's actually less efficient and can result in damaged strands—especially since hair is most vulnerable when wet.
6. Use any leftover product on the rest of your hair
Once you've finished massaging your scalp with your shampoo of choice, "Use the leftover on the rest of your tresses," says Liberati. "Being kind to your hair won't rough up the cuticle, causing less frizz and flyaways," he adds. What he means by this is: it's okay to rinse your ends with shampoo—just don't scrub. Gently run any leftover lather through your strands and rinse.
7. Follow up with a nourishing conditioner
After you rinse your strands, follow up with a nourishing conditioner formulated for your particular hair type. "When applying conditioner, make sure your hair has most of the water wrung out—as to not dilute—then wait at least two entire minutes so it can do its thing," says Liberati.
8. Rinse with cold water
Last, but not least: rinse your conditioned strands in cold water. "The colder, the better," says DiSabatino. "This will assure that your hair's cuticle is closed, which will smooth your hair and provide an intense shine," she adds. If you can't bear rinsing your strands under the shower faucet—and risk getting cold water on your body—you can fill a cup up, flip your head over and rinse that way.