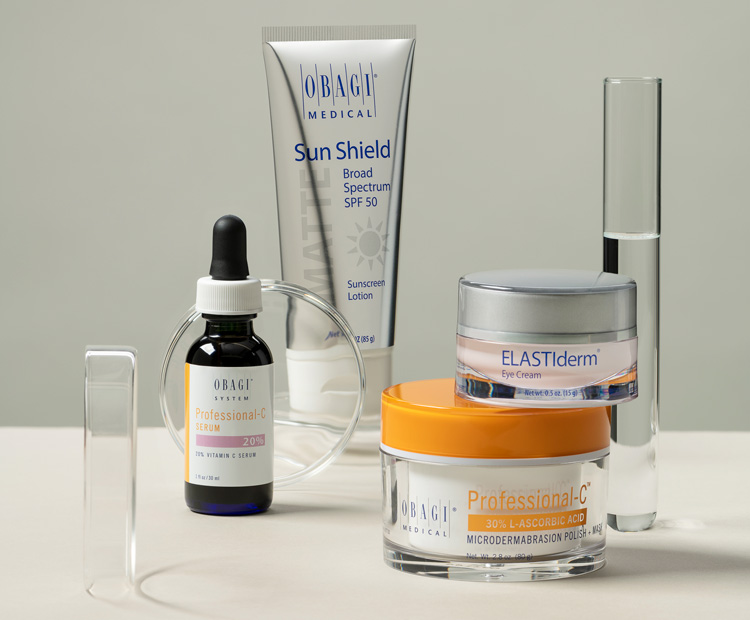 Have you been wanting to try Obagi's impressive line of skin care products and systems but don't know where to start? You've come to the right place. This dermatologist-favorite brand truly has something for every complexion concern—from signs of aging to acne to uneven pigmentation—and for every skin type, too.
Obagi is also the first professional skin care brand to design its clinical research protocols to cover all six Fitzpatrick spectrum skin tones. (Harvard dermatologist Dr. Thomas B. Fitzpatrick developed this spectrum in 1975 to categorize skin into six different types based on its response to sun exposure, with deeply pigmented brown skin at one end and fair, freckled skin at the other end.) While some brands only test on a small range of skin tones, Obagi prioritizes inclusivity—which means you can trust that these products will work for your skin.
Here, the experts at Obagi Medical share their top advice on how to pick the right Obagi skin care products based on your needs.
If You're Dealing With Fine Lines & Wrinkles
Lines and wrinkles often first appear around the eyes, seemingly out of nowhere one day, long before other wrinkles start to show. This can appear prematurely if one hasn't been vigilant with the sun or if one has neglected to moisturize. As always, the sun is the main culprit, with the usual consequences such as collagen matrix degradation, elastin rigidity and decay, and glycosaminoglycans deterioration. A compromised barrier function creates water loss and weakens the defense against environmental attacks, ultimately resulting in lines and wrinkles.
Eye Cream
We address peri-orbital lines with our proprietary ELASTIderm technology, found in our line of eye products. Our ELASTIderm Eye Cream is clinically proven to dramatically reduce the appearance of lines and wrinkles around the eye, thanks to its proprietary bi-mineral complex technology. At the end of an eight-week study on women who tried ELASTIderm Eye Cream, 97% of patients considered the roughness/crepey texture of the skin around their eyes to be barely or not noticeable and 88% of patients considered the laxity/looseness of the skin around their eyes to be barely or not noticeable.
Retinol
We extend our care to the entire face with retinoids. For the face, our retinol, which comes in two strengths (Retinol 1.0 and Retinol 0.5), features entrapment technology, a unique means of encapsulation that dramatically reduces irritation potential and is clinically shown to deliver efficacy without the redness or flaking one would expect from such a high dose of retinoid. In fact, 90% of study participants saw an improvement in facial appearance (i.e. lines and wrinkles less visible, face appeared firmer, improvement in appearance of texture, etc.) by week three with Obagi Retinol 1.0. For retinol, it is always best to acclimate, especially if your skin is retinoid-naïve. We recommend slowly easing your way into retinol 0.5 before moving on to retinol 1.0.
Sunscreen
Wear sunscreen every single day, if possible with a broad spectrum high SPF such as Obagi Sun Shield Matte SPF 50. Remember that you are most likely not applying enough sunscreen, so reapply often. Wear a hat and sunglasses (squinting will bring on those crow's feet faster).