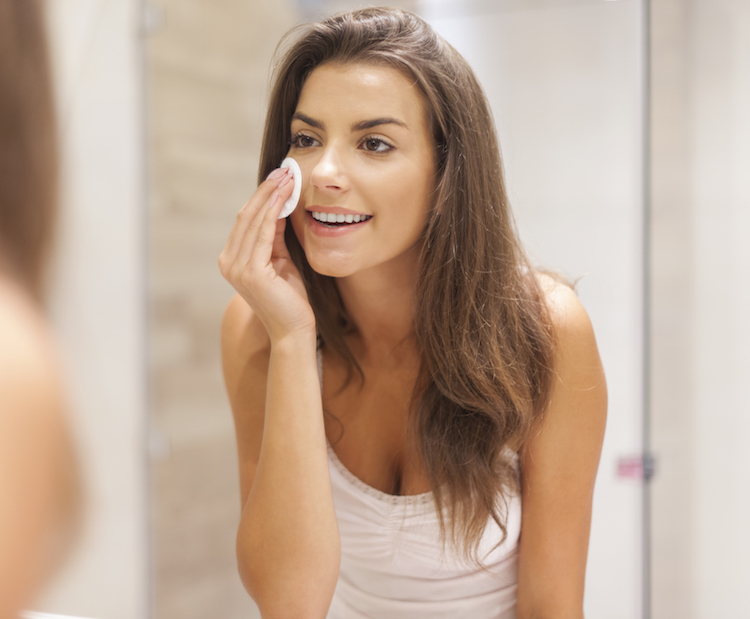 There are plenty of cleansing, toning and refreshing beauty waters to choose from. But one stands out among the rest: micellar water. Not just your average H2O, micellar water could just be the product you've been missing. So, what exactly is in this "magic" water? "Micellar water is made up of micelles, which trap impurities in the skin (sebum, pollution, oil and traces of makeup), so they can be wiped away easily," says Lisamarie Garguilo, Director of Education for Luzern Laboratories. 
How to Use Micellar Water: 6 Great Benefits
"Micellar water is very much on-trend at the moment, not only because it is an exciting new product, but because it is multifunctional," says Murat Evin, Creative Director at The London School of Make-up. "It can be used as a cleanser, a toner, makeup remover and even moisturizes the skin—making it a great investment for any beauty addict." Here are six unique ways to incorporate micellar water into your skin care routine.
1. Use It for Toning Your Skin
You can use micellar water as an all-over toner. "Micellar water actually draws out all the oil and dirt that can be found on the surface of your skin and rinses your pores," says Evin. "Its lightweight formula may look like water, but its properties make it an excellent cleansing agent for your skin, without the oil-stripping ingredients often found in toners." After cleansing with your face wash of choice, douse a cotton ball with micellar water. Gently drape all over skin, then follow with the rest of your skin regimen.
2. Gently Remove Your Makeup
Removing your makeup doesn't have to be a struggle, nor should it be. Micellar water, says Garguilo, "is an ideal makeup remover as it gently cleanses and removes makeup from the eyes and face in one step." It's lightweight and refreshing and the tiny micelles really help to target residue left on your skin. Dr. Alex Roher, MD of San Diego Botox recommends micellar water to all of his patients. He adds, "[Micellar water] doesn't just smear your makeup around your face like many 'removers' or wipes. Also, doesn't contain alcohol and never stings, meaning you can use it safely around your eyes."
3. Cleanse Your Face With Micellar Water (No Rinsing Required!)
You can use micellar water as a light face wash. Its consistency is just that—lightweight, easy to apply, refreshing and doesn't leave your skin feeling oily like some of those oil-based face washes and makeup removers. Best of all? It's so nourishing and hydrating that you don't even have to rinse!
4. Hydrate and Refresh Your Skin on the Go
"Since there is no rinsing required, this product is the perfect refresher on the go," says Garguilo. It's "simple to use after a workout or anytime you need a quick pick-me-up." You can toss a small bottle in your gym bag for a post-gym quick cleanup. It's also super refreshing and great to have on hand for when you go camping. Lastly, but certainly not least, take it on a flight with you for a mid-flight boost! Make sure to pack it in your carry-on—travel size, of course.
5. Swap Out Your Hand Sanitizer With This Non-Drying Alternative
Often alcohol-based, hand sanitizers can be drying or irritating to the skin. "If traditional hand sanitizers tend to dry out your skin, micellar water is a wonderful alternative for cleaning your hands in a pinch," says Garguilo. "Simply pour a bit in your palms and rub your hands together—no rinsing required."
6. Clean Your Makeup Brushes
Last but certainly not least, you can use micellar water as a brush cleaner. Makeup artist and beauty blogger Hillary Kline explains, "What's nice about micellar water is that it is made to get rid of dirt and oil, which helps get rid of all that buildup on your makeup brushes." Here's a step-by-step guide to cleaning your makeup brushes. Just swap out brush cleaner for your choice of micellar water in step two.