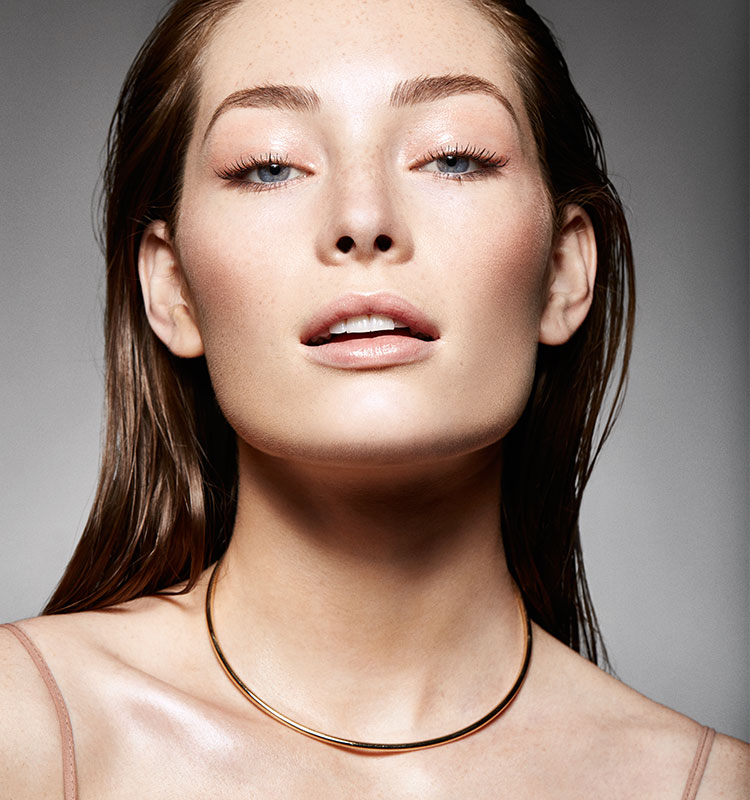 Oftentimes in fashion and beauty, trends make a 360, coming back into style a few decades after their initial fanfare. Such is the case with the latest in makeup trends: Iridescent lip shades, eyeliners, face primers and eyeshadows—which give off that lit-from-within glow—are back. There are a few reasons this type of dream-like style has re-emerged since the '90s, according to various professionals, one of which is probably an art creation you've noticed on nearly everything: unicorns.
"The iridescent glow is an ethereal, holographic look reminiscent of unicorns and fairies. It can be as subtle as applying a pastel blush or a full-on look emulating a fantasy creature," explains Heather Harzold, a makeup artist, licensed esthetician and beauty blogger. "This makeup look is so popular right now thanks to the unicorn craze that has taken over. It appeals to a large demographic of makeup lovers who love the ethereal and shimmery, sparkly look it gives, as well as those who love fantasy, and [it has] even carried over into cosplaying," she adds.
If you don't exactly want to dress up as a mythical creature, the manager of pro artistry for Stila Cosmetics, Carly Giglio says that the iridescent glow is trendy right now because of its diversity. "It can be either a bold statement or a subtle fresh glow. Iridescent is a mix of a few shades which creates more whimsical, ethereal dimension even if you want to glow big," she explains. "This trend isn't going anywhere, so an iridescent glow is a perfect way to continue to re-invent and play with different shades and textures in the glow game," Giglio notes.
Ready to give this sparkly yet earthy look a shot? Here's how to rock it, according to the pros who know best. 
How to Get the Faux Glow
Buy now

with Dermstore

Becca Cosmetics First Light Priming Filter is an illuminating face primer that nourishes, hydrates and preps the complexion for makeup application. The violet-hued primer goes on sheer and uses Cool Light Technology to even skin tone.Key Ingredients and Benefits: * Prickly pear flower extract: Quenches and revives skin * Sodium hyaluronate: Hydrates and plumps skin * Spring water: Lends your skin a healthy

Buy now with free delivery

Buy now

with Dermstore

Try: Josie Maran Argan Enlightenment Illuminizer
If you're a bit nervous about going all the way to the Lisa Frank world of sparkle, you can tone it down by adding a few drops of this luminizer into your go-to foundation. "You can do all over the face, but I think there's something beautiful about mixing with the foundation and placing in targeted areas. This will give you a more subtle, iridescent glow and payoff than applying it directly on top of the foundation by itself," Giglio recommends.

Buy now with free delivery

Buy now

with Dermstore

Try: jane iredale Eye Shadow Kit
Giglio reminds beauty lovers to never discount the eyes since hey, they instantly brighten and liven up any look. Consider using this eye shadow compact from jane iredale that features pretty shades of purple, all of which glisten in the lights and add dimension to your look. You can apply in even layers for drama, or go soft with a dot in the corners of your eyes for an understated approach.


Buy now with free delivery

4. Choose a highlighter that complements your skin tone.

Buy now

with Dermstore

RMS Beauty's Master Mixer is a unique cream highlighter that transforms any look by adding in a light-reflective rose-gold pigment to create an effortless dimension. Multi-tasking, this cream highlighter can easily be blended with any lip, cheek, eye or highlighting product to energize your color palette with a luminous rose gold finish on the face and body.Key Ingredients: * Organic Coconut Oil: extracted from fresh coconuts without the use of heat or chemical solvents, our certified organic, raw coconut oil is an excellent moisturizer that helps soften and soothe the skin * Organic Cocoa

Buy now with free delivery