Admit it: when you were a teenager, you and your bestie's idea of a perfect Saturday afternoon included reading the latest issue of Cosmo Girl, lathering on tanning oil and drenching your hair with Sun In. While as an adult that still might sound tempting to do, nowadays you know that achieving that summer hair color is a job for a colorist and not your BFF.
Taking inspiration from the runways and social progressions, top professionals predict this summer will be a bit blonder—and bolder—than years past. Need some shade inspo? Here are the blends you'll be seeing on Instagram, at brunch and on the beach this year:
1. Champagne Blonde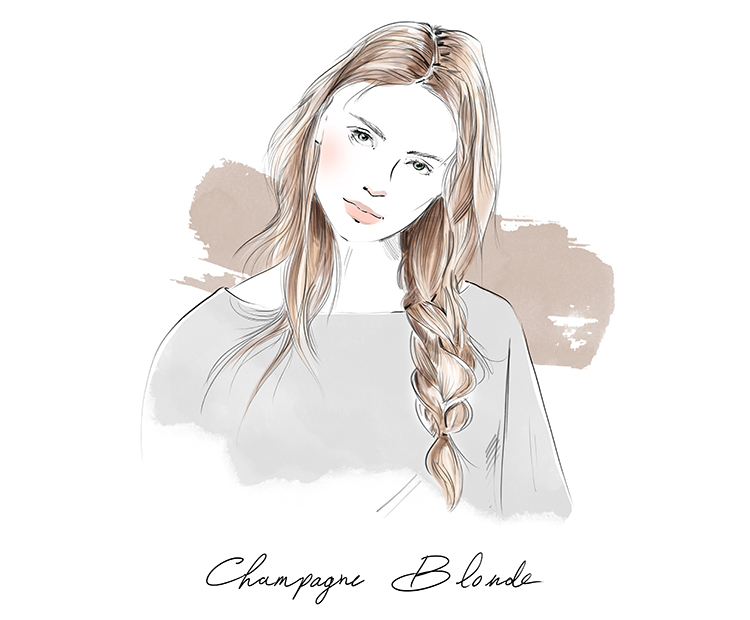 From your mimosa to your lovely locks, is there any time when champagne isn't a good idea? According to Orya Lau, color specialist at Ruiz Salon, hair trends are being impacted by the prevalence of everyone's favorite bubbly beverage. She explains that if you're already a blonde who doesn't want to go too much darker or lighter, champagne blonde is a happy medium. "It's not too warm, but not too cool. If you get blonde highlights, ask your stylist about adding on a toner to your service and maybe even adding some slightly cooler lowlights if you get both highlights and lowlights," she says.
Tip: To extend the life of your hair color, make sure to use hair products that are designed for color-treated hair. Even better: use products with blonde or gold pigments, like Serge Normant Meta Blonde Reviving Shampoo and Conditioner, to enhance and intensify your hair's hue while protecting it.
2. Blorange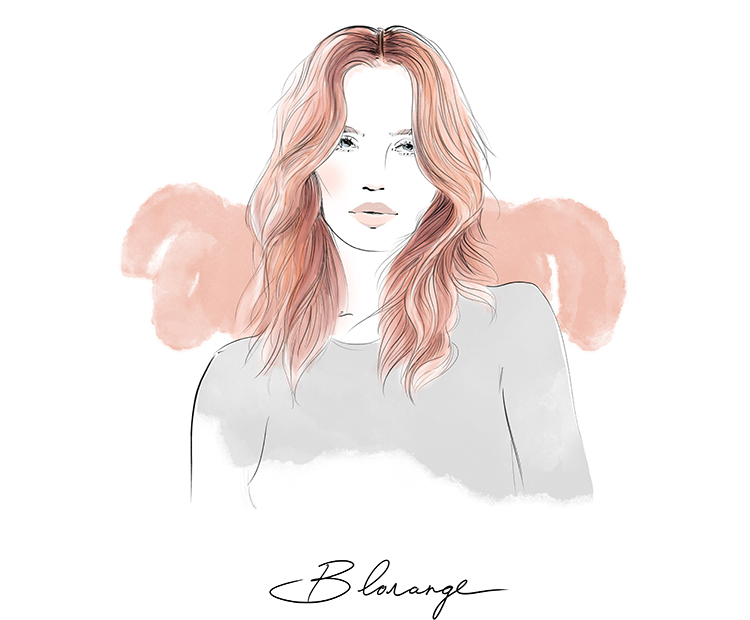 Before you start imagining a color job gone wrong, bear with us. This color doesn't mean that your hair will look orange, but rather it's a smart way to combine trends that have crept into the hair scene last year with a new twist, explains colorist Christina Culinski. As a mix between blonde and ginger, this multi-color balyage service will lighten your hair to a warmer ginger-looking tone. Add some blonde highlights for extra dimension.
Tip: Want to try this color without an expensive trip to your hairstylist? Try an at-home solution like Unicorn Hair – Leeloo from Lime Crime. This semi-permanent, vegetable-based hair dye conditions your strands while depositing highly pigmented, vibrant orange color.
3. Rose Gold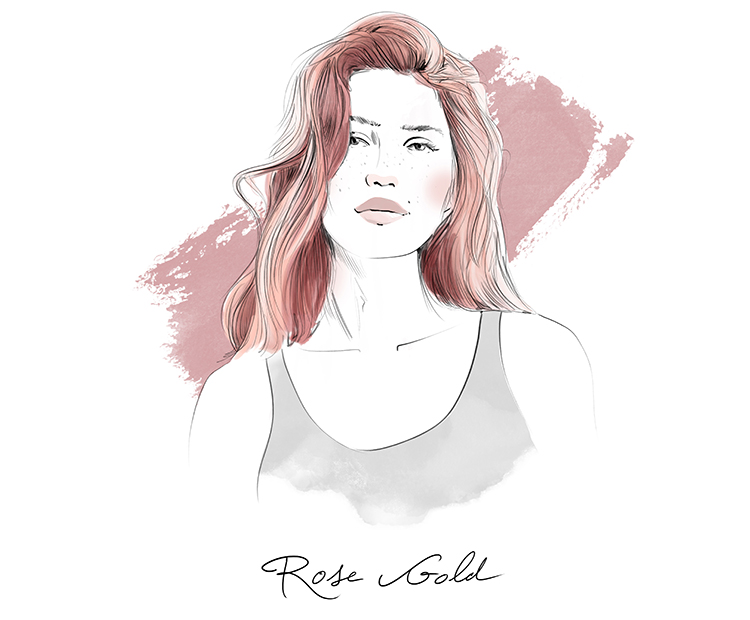 While you experimented with the iridescent makeup trend and even sipped on a unicorn Frappuccino, you might not be game for dying your hair rainbow. That's okay! Lau says you can still achieve a high fashion look without dabbling with bright-colored shades. Instead, Lau recommends trying a technique called blushing, where peach and rose-gold highlights are added throughout, creating a pop-of-color effect throughout your locks. "Ask your stylist about adding a peachy toner to your highlights. That will add some nice shimmer to your hair in the sunlight," she says.
Tip: Because colored, heavily processed hair tend to dry up easily, protect your hair with leave-in conditioners with UV filters, like Rene Furterer Okara Protect Color Radiance Enhancing Spray. Designed to block harmful UV rays from damaging and fading color-treated hair, this leave-in spray conditioner enhances shine, detangles and moisturizes strands.
4. Snow White Blonde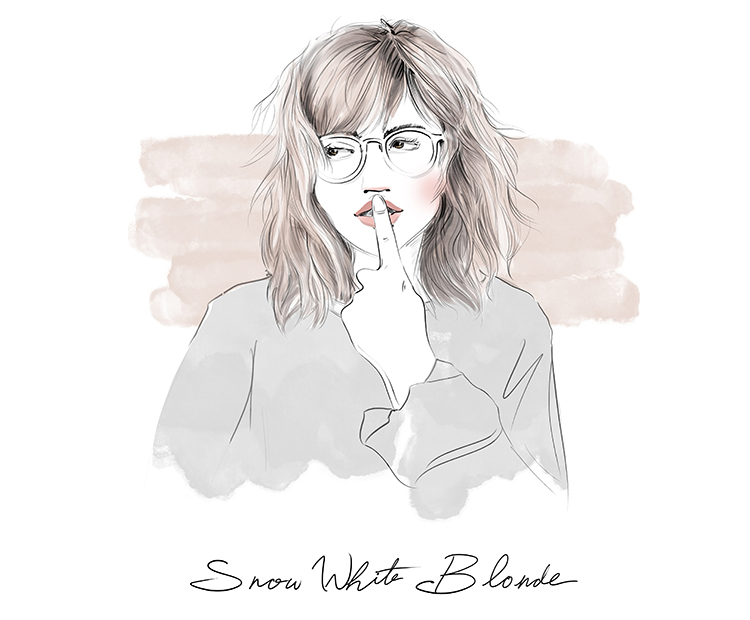 If you've ever dreamt of having platinum-blonde hair but have been too nervous to make the color plunge, Culinski says 2017 is the time to finally make the leap. She notes that while the trend has been modernized to look more white instead of yellow, it's still vibrant enough to attract those double-taps on Instagram. A pro tip before you get into the chair at the salon? Culinski warns that bleaching your hair can cause it to dry out, so it's important to have a professional do it, and to even consider an at-home deep conditioning treatment at least a week before your appointment.
Tip: To revitalize your platinum locks, reach for GLOSS+ Golden Blonde from dpHUE. Formulated without ammonia or peroxide, this 2-in-1 color booster and deep conditioner enhances the appearance of your natural or color-treated blonde locks in as little as three minutes.
5. For Men: Go Bold With Red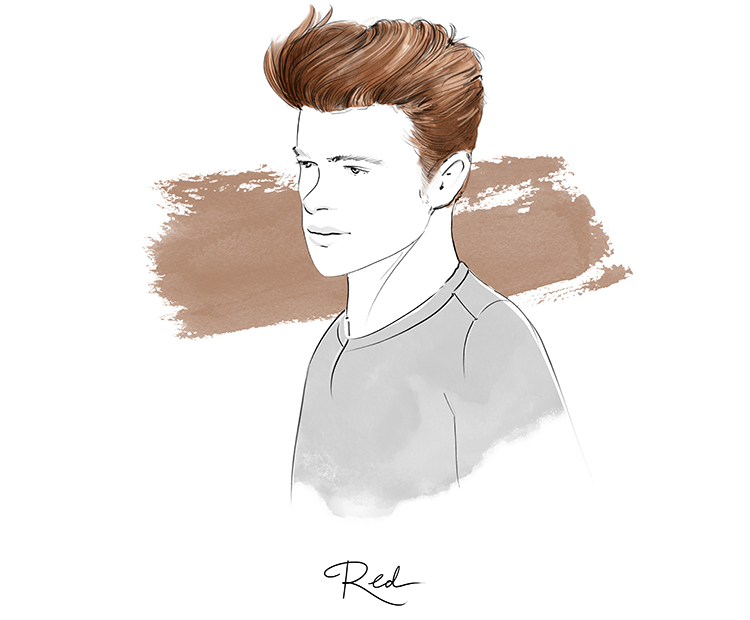 Unlike previous seasons, men are center stage this year when it comes to hair color trends. Lau says that for those men who are feeling extra brave, now is the summer to let loose and try something out of the ordinary. Instead of a few highlights here and there, Lau notes that men's hair color is taking a turn towards full-on fashion colors. "With the right sense of style, a man with bright red or yellow hair can look edgy," she explains. If you decide to make the plunge, be sure to give yourself a full afternoon. Lau says this process will take a few hours because your colorist will have to bleach your hair first and then process it with the color of your choice.
Tip: For guys, we love Baxter of California Daily Protein Shampoo. This mild-scented shampoo is enriched with proteins, cleansers and botanicals for clean, soft and healthy hair.