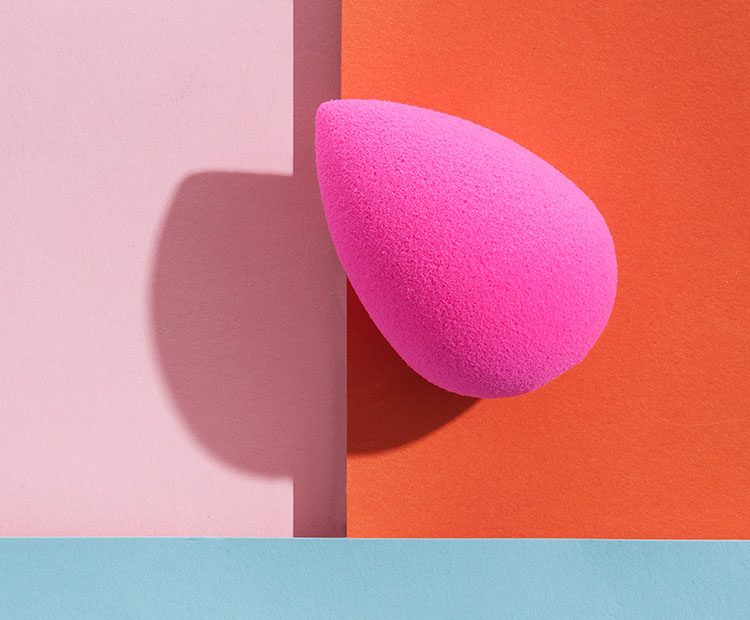 One of the best ways to apply foundation for a flawless finish is to use a handy-dandy beautyblender. Yep, that pink, egg-shaped makeup sponge is beloved by makeup artists and girls alike, thanks to its ability to seamlessly blend foundation sans streaks. But it turns out that your beautyblender can be used for so much more than dabbing on face makeup. We asked two top makeup artists to share how to use a makeup sponge for more than just foundation application. Keep reading to learn how to use your beautyblender like a pro.
1. Cleanse your complexion
Think outside the (makeup) box when it comes to using your beautyblender. "Dedicate one of your Beautyblenders for facial cleansing," says Ashleigh Ciucci, a New York City–based makeup artist. "Suds up your makeup sponge with your favorite face wash and use it to gently massage and cleanse." Just keep in mind that it's difficult to rinse anything sudsy from a beautyblender (except for the beautyblender liquid blendercleanser!), says Ciucci, so use this makeup sponge solely for cleansing.
2. Conceal tattoos
Going on a job interview at a conservative office? Use your beautyblender to hide your tats with cover-up. "Tattoo cover can take minutes by using the large, round end of the beautyblender," says Sophia Porter, a makeup artist and hairstylist in Chicago. First, dip the pointed tip of your makeup sponge into a color-correcting concealer and use it to blur any harsh lines of your tattoo. Next, place a generous amount of concealer matching your skin tone to the round side of your beautyblender and work it onto your tattoo until it's completely covered. Finally, dip your makeup sponge into a setting powder and leave it on for a few minutes to "bake." Sweep off the excess with a powder brush and you're good to go!
3. Apply body bronzer
Ready to throw that old beautyblender in the trash? Not so fast! "Use your older, stained, ready-to-toss beautyblender to apply body bronzer," suggests Ciucci. "Stipple it on for a flawless, airbrushed finish."
4. Remove deodorant stains
We've all been there: You head out the door, only to notice that there are deodorant stains on your black dress. Makeup sponge to the rescue! "Using a clean, damp beautyblender, you can easily remove deodorant stains from clothing in minutes," says Porter.
5. Tap on powder
Don't just use your beautyblender to ace your foundation—set your look with it, too! "Use the flat bottom of a dry beautyblender to tap on loose powder all over your face," says Ciucci.
6. Fight flaky skin
"Hide flaky skin that is peaking through your foundation with a damp beautyblender and a few drops of oil," says Porter. Place a few drops of oil onto the back of your hand, dip your makeup sponge into it, then gently press it against any flaky areas. "This will lay the flakes flat against your skin," says Porter. "It's also a fantastic way to get that dewy glow on the high points of your face."
7. Fix shaky eyeliner
Real talk: Drawing winged eyeliner perfectly takes a whole lot of practice. But you don't have to completely redo your makeup if you mess up. "While your beautyblender still has some excess foundation or concealer on the pointed end, use it to tidy up your winged eyeliner for a clean, crisp edge," says Porter.