When it comes to skin care, we're willing to try just about anything in the name of younger-looking skin. This includes rolling 200 microneedles over our face to improve collagen production, promote skin regeneration and more. The name of this practice, you ask? Microneedling, aka derma-rolling.
What is Microneedling?
"Microneedling is a collagen-induction therapy [that] promotes skin rejuvenation," says Dr. Debra Jaliman, a board-certified dermatologist and author of Skin Rules: Trade Secrets From a Top New York Dermatologist. "Needles are used to create small punctures on the top layer of the skin which [signal] the body to create new collagen and elastin," she adds.
In case you missed it: collagen and elastin are two proteins that act as the building blocks for the skin's overall structure. That said, as we get older, our collagen and elastin production starts to slow down, and fine lines, wrinkles and sagging skin start to appear. For this reason, Dr. Jaliman recommends patients try microneedling to improve the firmness of their skin, as well as the texture and overall appearance of large pores. "It can also be beneficial for acne scars," she adds.
While you can book an appointment with a specialist for an in-office microneedling session—you can also practice the anti-aging technique at home. To do so, Dr. Jaliman recommends purchasing a derma-roller with needles that are at the very most 0.3 mm thick and performing the treatment once every two weeks. Curious to know more? We tried the celebrity-approved treatment for six weeks and share our experience up ahead.
What the Derma-Roller Does
When it comes to microneedling, we love ORA for all of its at-home treatment devices and tools. As we previously mentioned, when selecting a derma-roller, Dr. Jaliman suggests going with one that is 0.3 mm or less—especially if it's your first time. For this at-home experiment, we chose the ORA Microneedle Face Roller System, which has a needle depth of 0.25 mm.
With ultra-tiny needles, the derma-roller glides over the complexion, creating micro punctures in the skin that signal the dermis to produce collagen and elastin. As a result, the skin regenerates itself for a plumper, smoother and firmer surface. Not to mention: using the Face Roller System can also help fade scars, increase absorption of skin care products, blur the look of stretch marks and even be used on the scalp to prevent hair loss.
How to Do Microneedling at Home
To get started, you'll first need to prep your skin. Begin with a cleanser and end with a gentle exfoliator or peel. Once your skin is prepped, it's time to apply a hyaluronic acid (HA)-based serum. Using a serum with a hydrating ingredient (such as HA) can help maximize the effects of at-home microneedling and prevent an adverse reaction.
Start by applying two layers of the serum to your complexion. You can do this all over or work in zones (adding serum in between each area you go over with your derma-roller).
Next, glide the derma-roller across each area of your face vertically, horizontally and diagonally, repeating each direction twice.
Then apply a third layer of serum for added hydration and comfort.
Once you're finished microneedling, be sure to apply some rubbing alcohol over the roller to clean the device.
Then, store the derma-roller in its plastic case for safe keeping.
In addition to cleaning and storing your derma-roller, you may want to keep track of how often you use it, as it's best to replace the device after every 10-15 uses. Priced at $26, this at-home treatment is a much more affordable alternative compared to an in-office visit.
What Happened When We Used the Face Roller System 
As someone with skin on the youthful side of the spectrum, I was honestly not expecting much from my microneedling experiment. Sure, maybe the treatment would help exfoliate my skin, but what ended up happening was so much more. As previously mentioned, I decided to try microneedling for a total of six weeks. So, with Dr. Jaliman's recommendation of performing the at-home treatment once every two weeks, that meant a total of three treatments. Note: though I noticed that my skin felt a little sensitive afterward, I didn't experience any pain throughout this experience.
After the First Treatment: One would think that three microneedling treatments aren't enough to see results, but it's actually quite the opposite. After the first go-around, I noticed that my skin (which is usually dry) felt softer and the skin care products I used post-treatment (another layer of serum and my night cream) soaked into my complexion quicker than usual. Not to mention: in the days that followed, I saw a change in the overall clarity of my complexion—my skin was glowing!
After the Second Treatment: While the glow didn't last longer than a few days, my soft skin did. During the second treatment, I paid close attention to the more sensitive areas, such as my under-eyes and lips. I tend to get puffy under-eye bags easily and read that the treatment can help drain some of those fluids. And while I didn't notice a difference immediately afterward, my skin felt a little tighter and less swollen in the days to come.
After the Third Treatment: By now my complexion held onto its softness and I did start to notice a longer-lasting change in clarity and glow factor. My under-eye bags came back (as they do), so I decided to focus on them again. If I decided to continue with this treatment, I imagine I'll have to carefully go over my under-eyes every time.
Derma-Roller Before and After*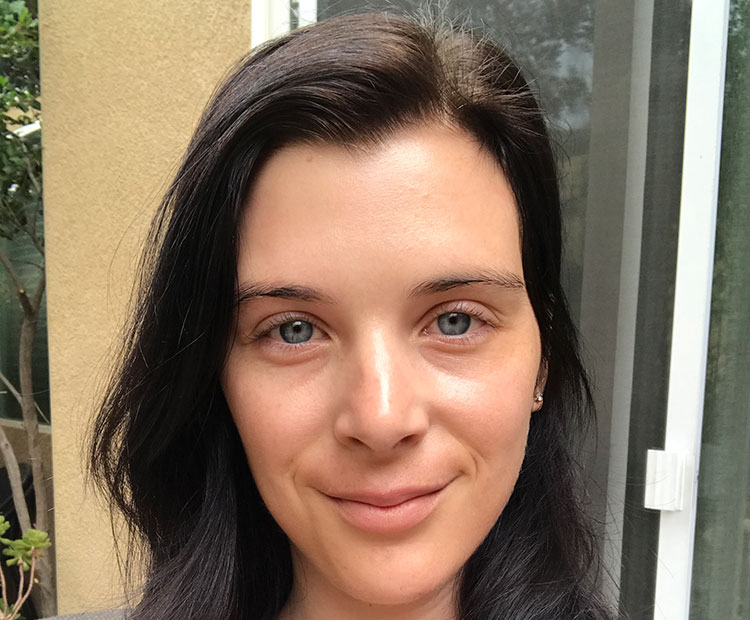 *Photos have not been retouched or edited.
The Verdict
Following the final treatment, my skin felt so soft and smooth. I also noticed a gradual change in the firmness of my complexion (it was nothing crazy, but it definitely felt tighter!) and so long as I quenched my skin with nourishing serums and moisturizers, my skin held its glow much longer than the first time around. For that, I think this is one at-home treatment I'll keep up with.