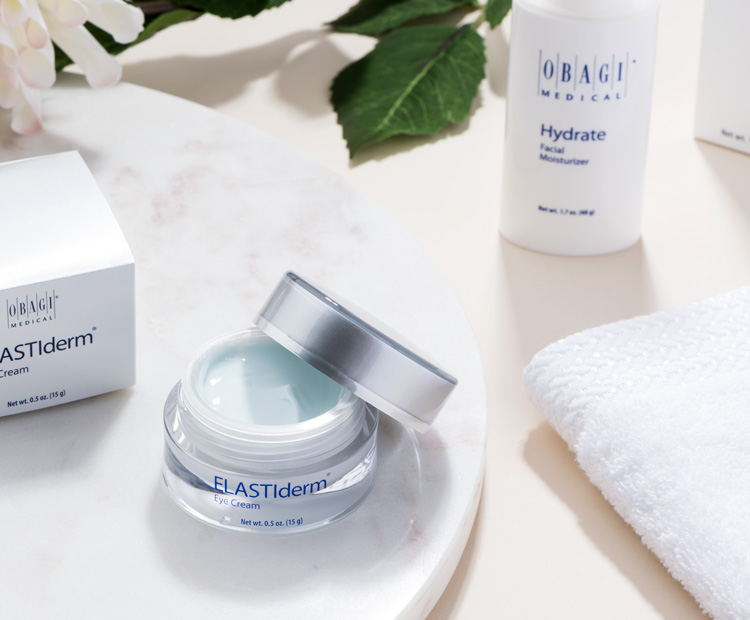 The eyes are more than just a window to your soul. As the thinnest and most sensitive skin on your body, your eye area is also the first to show signs of aging, stress and, quite possibly, how much time you spend binge-watching your favorite Netflix show. This is where eye creams can help.
Some people think of eye creams as a nice-to-have skin care product, an occasional splurge when the budget allows it. While some moisturizers and night creams offer the extra benefit of providing your eye area with much-needed TLC, those with more visible skin concerns—like crow's feet, puffiness and dark circles—might prefer something that's formulated specifically to address these concerns. And it's not just that. Because today's new breed of eye creams feature advance formulas—and super-ingredients like antioxidants, hyaluronic acid, peptides and retinol—eye creams do more than just treat existing concerns. They're also formulated to protect and prevent future damage to your eye area. "Eye creams can be used for various reasons," says board-certified dermatologist and clinical instructor at the University of Southern California Tsippora Shainhouse, M.D., F.A.A.D. "[These include] moisturizing, reducing inflammation, anti-aging, improving skin texture and reducing the appearance of dark circles."
Dermstore's eye care section has a broad selection of eye creams, serums, treatments and masks that target all your under-eye woes. But if there's one product that gets consistent high marks among our shoppers, it's Obagi's ELASTIderm Eye Cream. Designed to nurture aging skin around the eyes, this product works with your skin's natural renewal process to strengthen the skin around your eyes and encourage production of collagen and elastin, leading to more noticeable results in less time.
To learn more about what eye creams really do—as well as what makes Obagi's ELASTIderm Eye Cream one of the best-selling and most-reviewed eye creams on Dermstore—we asked the experts at Obagi.
Dermstore: What happens to skin around the eyes as we age?
Obagi: In part, degradation of elastic fibers in the skin results in loss of elasticity and can be seen clinically as wrinkling, laxity and crepiness. Although everyone's skin is different, factors that commonly play a role in the signs of aging around the eyes include changes to the quality of the skin itself (pigment, thickness, hydration and more) and deterioration of the underlying fat, muscle and bone structure.
Aside from age, what other factors contribute to premature skin aging around the eyes?
Sun damage, environmental factors, physical wear and tear (like removing and applying eye makeup and inserting and removing contact lenses), and even your sleeping habits—all have the potential to impact the way your skin around the eyes age.
Why do we need a separate product for our eye area? Can't we use our anti-aging serums and creams?
Your average anti-aging facial products are not specifically formulated for best results around the eyes, and some ingredients in these products may be too aggressive for the delicate eye area and can cause irritation, such as stinging and burning.
When should we start applying eye cream? Is there an appropriate age?
The American Academy of Dermatology notes that women will likely notice skin laxity in the face in their 40s, but suggests that women should include an anti-aging treatment in their regimen as early as their 20s for preventive care.
ELASTIderm® remains one of the top-selling eye creams on Dermstore. What's in ELASTIderm® eye cream and what do these ingredients do? 
It's simple—ELASTIderm® is specifically formulated with a proprietary bi-mineral complex of copper, zinc and malonic acid for tighter, smoother-looking skin around the eyes. These products also help reduce the appearance of fine lines and wrinkles and improve the feeling of elasticity and firmness. Women who tried ELASTIderm Eye Cream for 8 weeks in a clinical trial were pleased with the results:
97% of patients considered the roughness/crepey texture of the skin around their eyes to be barely or not noticeable
88% of patients considered the laxity/looseness of the skin around their eyes to be barely or not noticeable
How and how often should we apply ELASTIderm® for best results? 
With clean hands and on freshly cleansed skin, gently apply ELASTIderm® Eye Cream with your ring finger. Tap a pea-sized amount of product, which will cover one inch (approximately the tip of your finger) around eye areas, including lid, under-eye and corner creases. Smooth by gently tapping the cream until thoroughly absorbed. Avoid pulling the delicate eye skin with application and try not to get any product in your eyes.
For best results, consistently apply twice daily, both in the morning and at night.
If your tired eyes need a pick-me-up, try the ELASTIderm® Eye Serum! It uses a rollerball technology and is formulated with the added benefit of caffeine to help reduce the appearance of fatigue and under-eye puffiness. This is a perfect product for everyday use and easy to take on-the-go.
Apply ELASTIderm® Eye Serum with the innovative rollerball applicator. Starting at the outer corner of your eye, gently massage the serum under your eye using eight small circles. (We recommend applying it only under the eye.) Gently pat dry any extra product. For best results, apply ELASTIderm® Eye Serum twice a day.
How can we see firming results on other parts of the face in addition to the eye area?
If you're a fan of ELASTIderm® eye products, you'll love Obagi's newest formula: ELASTIderm® Facial Serum. The serum harnesses the power of the same proven bi-mineral complex used in the eye formulas to help skin look firmer and less crepey from the forehead to the jawline. In a 12-week study, 100 percent of participants reported their skin looks firmer after using the serum. How's that for results?