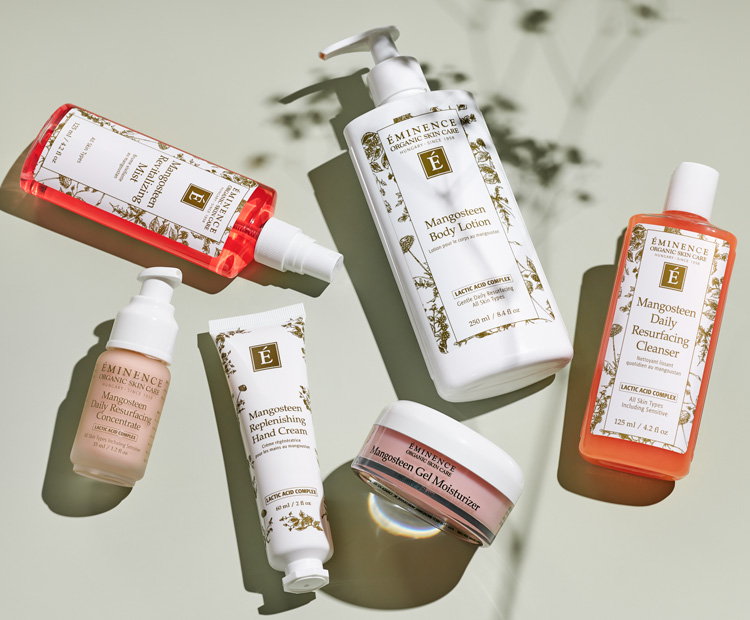 Even though their names are similar, mangosteens have no relation to mangoes. In fact, they actually don't look anything alike! Mangosteen is dark purple in color and roughly the size of a small apple. Its skin has a leathery texture, while the fruit inside resembles a head of garlic and tastes like a deliciously perfect combo of lychee, peach, strawberry and pineapple. A tropical fruit that grows in the hot, humid climates of countries like Thailand and Vietnam, mangosteen has been beloved throughout history for its use in traditional medicine, said to treat everything from skin infections to diarrhea. No wonder it's often called "the queen of fruits!" (Rumor has it that Queen Victoria said she'd knight anyone who could bring her a mangosteen, yet sadly, no one ever successfully did.) 
The Health and Beauty Benefits of Mangosteen
Mangosteens are chock-full of polyphenols (or phytochemicals) known as xanthones, which have antioxidant and anti-inflammatory properties, which give them the ability to help your body fight illness. According to a study in the Journal of Food Science and Technology, mangosteen peel has higher levels of antioxidants than many other fruit peels. 
A study published in the Nutrition Journal also found that overweight and obese participants who drank mangosteen juice for two weeks had lower levels of inflammation in their bodies at the end of the trial. The researchers explained that increased inflammation can up your risk of diabetes and heart disease, so by lowering that, you could potentially help protect against those conditions.
As for your skin, mangosteen's fruit rind could have some serious benefits as well. A study published in the journal Fitoterapia found that extract of mangosteen's fruit rind was successful at curbing the production of acne-causing inflammation, meaning it might be useful in treating and preventing breakouts. The same study also saw that thanks to its high levels of antioxidants, mangosteen extract was able to nix free radicals on the skin. (FYI: Free radical damage, caused by the environment, leads to premature signs of aging, like wrinkles.)
"Mangosteen is incredible for the skin because of its powerful antioxidant, anti-inflammatory and antibacterial properties," explains Brian Goodwin, international trainer at Eminence Organic Skin Care. "Besides defending the skin and preventing environmental damage, the fruit also promotes microcirculation, which improves the appearance of skin vitality and radiance," he adds.
How to Add Mangosteen to Your Skin Care Routine
Mangosteen not sold at your local supermarket? Don't worry! You can reap the skin benefits of mangosteen by applying it topically with Eminence Organic Skin Care's Mangosteen Collection. "The new Mangosteen Collection is meant to round out your daily skin care ritual for full-body radiance and replenishment," notes Goodwin. He adds, "Appropriate for all skin types, including sensitive, the Mangosteen Collection is ideal as a standalone regimen, or supplement to any existing home care." Now that you're familiar with all of the amazing benefits of mangosteen, here are the products to try.
Buy now

with Dermstore

Gone are the days when you have to worry about looking greasy after applying moisturizer. "The Mangosteen Gel Moisturizer is specially formulated to flawlessly layer over the Mangosteen Daily Resurfacing Concentrate to leave your complexion ultra-smooth and photo-ready," says Goodwin. "It begins as a dewy cream-gel and then melts deep into the skin as you blend, revealing a luminous yet matte finish," he adds. The combo of mangosteen, red clover flower extract and ribose revitalize skin for a refreshed look and leave skin hydrated without appearing greasy.

Buy now with free delivery