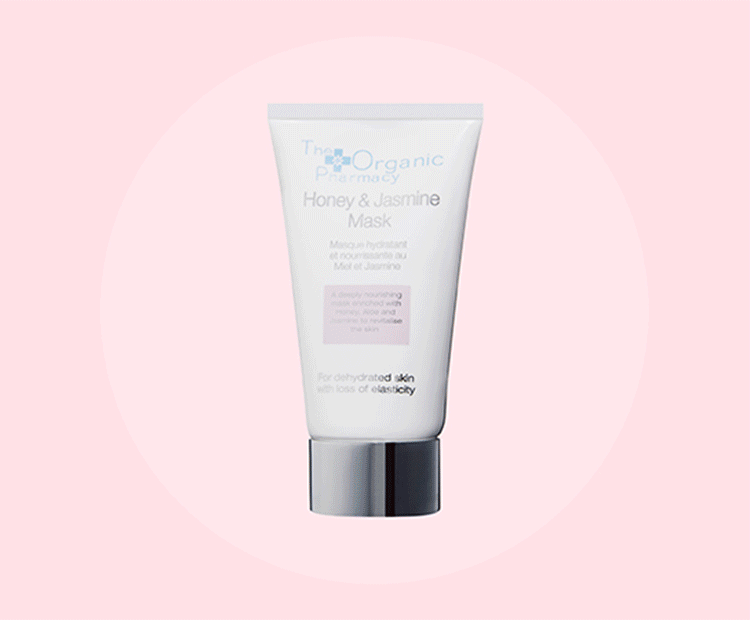 If you have acne-prone skin, you've probably used up a good chunk of your data scouring the Internet for the best acne fixes. With the sheer amount of treatments available, picking out what really works can be a tad bit overwhelming—especially if you're looking for simple, natural solutions for acne that won't aggravate your already-stressed-out skin. Enter face masks.
Face masks are one of life's little pleasures. Not only is there one for just about any skin problem you may have, they're a no-fuss and seriously fun way to boost your skin care regimen. Between long commutes, late nights in the office and after-hour cocktails, you and your skin could use some de-stressing. Not to mention, when it comes to acne, pollution and stress are one of the top reasons your skin is breaking out. Today, face masks with natural acne-fighting ingredients are becoming popular for one reason: They're just as effective but far gentler on sensitive skin.
Ready to enter the (mostly) delicious-smelling world of face masks? Here's a list of tried-and-tested natural anti-acne ingredients that you need to keep an eye out for!
Buy now

with Dermstore

As bursting with benefits as it is sweet, the use of honey in traditional medicine dates back to the ancient world. Known for its anti-inflammatory and antiseptic properties, honey has been used to treat wounds long before the invention of antibiotics. And because acne is mostly caused by bacteria, antibacterial properties found in honey make it the perfect weapon against pimple-causing germs.
Find it in: The Organic Pharmacy Honey and Jasmine Mask

Buy now with free delivery

2. Turmeric

Widely used in Ayurvedic medicine, turmeric's antibacterial properties have been proven effective in killing off proponionibacterium acne—the bacteria that's causing your skin to break out. It's also a known anti-inflammatory, which is particularly helpful since a recent study has shown that skin inflammation and oxidative stress may just be the top culprits behind those frustrating blemishes.
Find it in: This Works Stress Check Face Mask

Buy now

with Dermstore

Overnight oats may have restored your faith in breakfast, but there's another great reason to love oatmeal! Studies show that oatmeal is loaded with anti-inflammatory benefits that soothe swelling, redness and irritation that come with acne. It also works as a gentle exfoliant, absorbs excess oil, prevents clogged pores, encourages cell renewal and contains powerful antioxidants.

Find it in: First Aid Beauty Ultra Repair Instant Oatmeal Mask

Buy now with free delivery

Avocado toast will potentially go down in history as one of the greatest (millennial) inventions of our time, but aside from being the creamy and deliciously rich brain food that it is, avocado also contains vitamin E that bolsters UV protection, fights off acne-causing bacteria and reduces the appearance of scars. It also has linoleic acid, an omega-6 fatty acid that calms swelling and irritation, along with powerful antioxidants that nourish damaged skin and slow down the aging process.
Find it in: Juara Java Plum & Avocado Nourishing Mask

Buy now with free delivery

Yogurt isn't just good for your gut flora, it's also one of the most effective natural acne fixes when used topically. According to a report by the American Academy of Dermatology, the probiotics in yogurt create a calming effect in the skin. They form a protective barrier that prevents the body from having an immune response against acne-causing bacteria that results in inflammation, bumps and redness.
Find it in: ORGAID Greek Yogurt & Nourishing Organic Sheet Mask Box

Buy now with free delivery

Since ancient times, clay has been widely used for its detoxifying and antibacterial properties. In acne-prone skin, using clay can prevent breakouts by helping to unblock and refine pores, draw out toxins and control sebum production. It also helps reduce the appearance of pimple-related scarring.
Find it in: Herbivore Botanicals Blue Clay Detoxifying Treatment Mask

Buy now with free delivery

Buy now

with Dermstore

The idea of covering your face in charcoal to achieve clear skin may sound a little silly if you don't know about its purifying and detoxifying properties. "It can also help sop up oil, leaving skin looking matte without feeling overly tight," says Beverly Hills-based board-certified dermatologist Tsippora Shainhouse, MD, FAAD, clinical instructor at the University of Southern California. "Washes are great for daily use every morning while masks can be used as a quick fix for oily, blemish-prone skin."
Find it in: Eminence Organic Skin Care Balancing Masque Duo

Buy now with free delivery