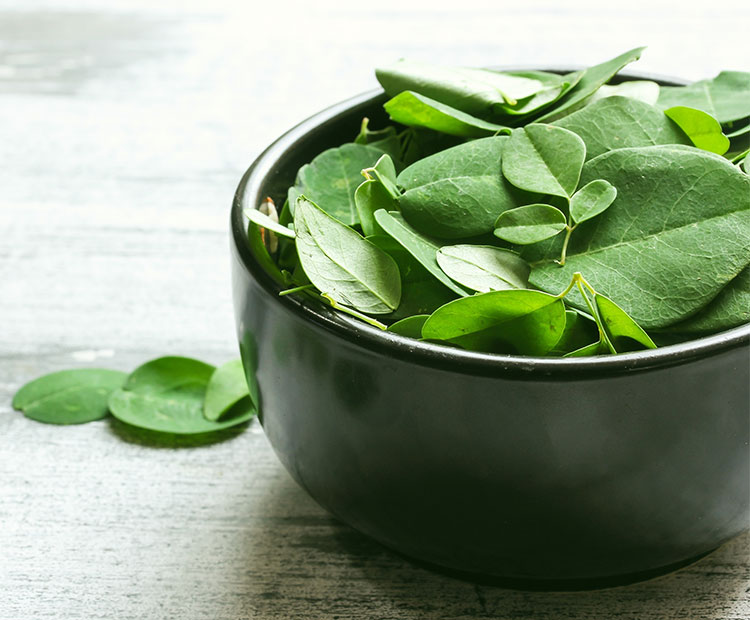 Great things sometimes come in small packages, and in the case of moringa olifeira, its tiny leaves certainly pack a healthy wallop. But it's not just the leaves though, because every part of this tropical plant—from seeds, flowers, root, even its bark—is known to store numerous phytonutrients, amino acids, and high-value minerals that act as, among others, antioxidants, immune-boosters, anti-inflammatory, as well as lower blood sugar and cholesterol levels.—
Because moringa is highly edible, it is often consumed as part of everyday cooking or powdered and used as a food supplement. But another way to get the most out of this "miracle tree" is by extracting oil from its seeds, which offers a plethora of benefits for the skin, including countering the effects of free radicals. "Moringa oil or ben oil has plant hormones called cytokinins that help promote cellular growth and prevent destruction of skin tissues," says nutrition, beauty, and aromatherapy expert Janice Rosenthal, founder of Garden of Essences. "The natural vitamin C in moringa oil boosts collagen, helping reduce fine lines, wrinkles and sagging skin."
The vitamin-rich and nutrient-dense moringa oil makes for an excellent active ingredient in skin-care products, thanks to its antioxidants, antibacterial, and nourishing properties. Its high concentration of behenic acid (thus the name "ben oil") makes moringa oil a top anti-aging weapon, and the fatty acid's deep moisturizing properties also offer added benefits for the hair.
But it doesn't stop there. Rosenthal adds that use of moringa extract also helps clear minor skin problems such as blackheads and pimples and minimizes dark spots, and its anti-inflammatory properties have been known to help in both external and low-level internal inflammations.
Now that you've met this rockstar of a plant, it's time to see the amazing benefits of moringa for yourself. Here are Dermstore's top picks for moringa-infused beauty products.
Buy now

with Dermstore

This Works No Wrinkles Extreme Moisturizer features an intelligent formulation to both reduce and delay the appearance of wrinkles and fine lines. It combats dryness, caused by over-exposure to heat and cleansing products while replenishing skin's moisture and maintaining optimal hydration levels. This Works moisturizer also addresses signs of aging and delivers younger-looking skin with time-released retinol and potent, nature-based, anti-aging ingredients.Key Benefits: * Hyaluronic acid plumps skin and maintains hydration levels *

Buy now with free delivery