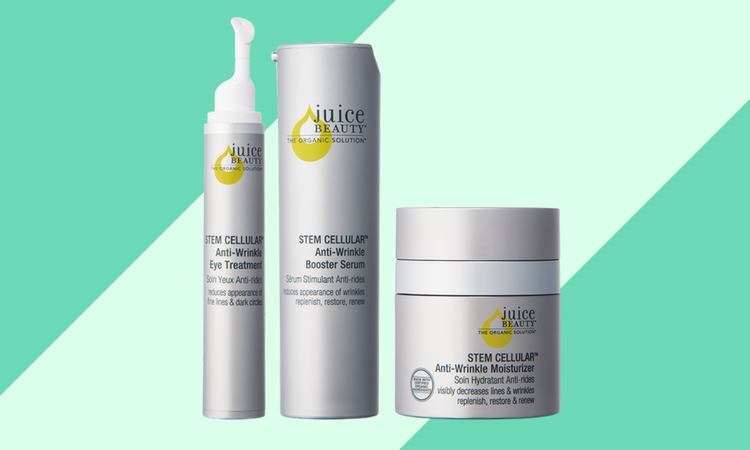 Although the name might sound off-putting, there's nothing taboo about plant stem cells. This nature-derived ingredient is a beneficial part of skin care and something you want to start paying attention to when it comes to your anti-aging routine. Using products that contain plant stem cells can help keep your skin looking young by fighting off wrinkles, protecting against sun damage and reducing inflammation. 
Reasons to Consider Using Plant Stem Cells
You might be thinking, "I'm not a plant, so why would I want to use plant cells on my skin?" Thankfully, using plant stem cells won't cause your face to sport bark or branch leaves. Instead, they can stimulate better cell turnover, leading to more youthful skin cells at the surface of the skin, according to dermatologist Dr. Ava Shamban. Plant stem cells have a strong antioxidant and anti-inflammatory effect, helping to protect against sun damage and prevent wrinkles, according to dermatologist Dr. Sonoa Au. There is also evidence that stem cells can promote the production of new collagen, which can also make your skin appear more youthful.
How Plant Stem Cells Work
Like human stem cells, plant stem cells are undifferentiated cells that can divide to produce more stem cells or become specialized cells. Sources for the stem cells range from flowers to apples to cranberries and other plant sources. "When added to a skin care cream or serum, usually they are first broken open, and then they release high concentrations of antioxidants and growth factors," says Shamban.
Different plant stem cells have different effects. For instance, stem cells extracted from grape seeds have shown high anti-tumor-promoting activity. "Products containing these stem cells can potentiate the photoprotective qualities of sunscreens," says Au. Verbascoside, found in lilac stem cell extract, helps with wound healing. "It also has strong anti-inflammatory properties and repairs DNA oxidative damage," she says. "Like grape seed extract, it protects the skin against UVA and UVB damage."
Our Top Product Picks 
When these plant stem cells are added to creams, moisturizers and serums, they give these products an extra anti-aging boost and help protect your skin against damage. Here are some products with plant stem cells you'll want to add to your lineup.
Buy now

with Dermstore

This nourishing, botanical-filled cream helps to smooth skin, increase elasticity, and give your face a nice, glowy tone. A blend of argan stem cells and nutmeg seed extracts helps to reduce wrinkle depth and improve firmness.
Reviews Say: "It smells amazing, is extremely moisturizing and rich, and leaves my skin glowing in the morning. I have very sensitive skin, and the richness of this cream does not cause me to breakout at all."

Buy now with free delivery

Buy now

with Dermstore

Maintain your skin's youthful radiance while also keeping it hydrated with this wrinkle-fighting moisturizer. The infusion of fruit stem cells, vitamin C and resveratrol-rich grape seed help to firm and smooth your skin while also fighting against free radicals.
Reviews Say: "You will love this moisturizer if you are looking for hydration with an anti-aging benefit. I have combo skin with minimal wrinkles and prone to breakouts. I noticed while using this product nightly my small lines around my eyes were minimized."

Buy now with free delivery

Buy now

with Dermstore

This antioxidant serum is made with six different plant-based stem cells and peptides to help your skin renew itself and prevent premature aging. In addition to alleviating age damage, it helps to plump, firm and brighten your complexion.
Reviews Say: "After careful study of ingredients in different skin products, I am certain this is either the best, or one of the top best, as far as 'doing something' to stop or ameliorate the aging process."

Buy now with free delivery

Buy now

with Dermstore

Keep your skin smooth and rejuvenated with this collagen booster meant to improve the appearance of your facial contours. Here orange stem cells are used to stimulate collagen fibroblast and connective tissues for increased firmness.
Reviews Say: "I use this night and day in my exhaustive skin care regime. This company's dedication to anti-aging in a safe, non-toxic way is unparalleled. I have combination, rosacea prone skin, and this does not irritate me or break me out."

Buy now with free delivery

This eye cream does it all: It fights wrinkles and visible signs of aging while also reducing puffiness, dark circles and hyperpigmentation. The stem cells particularly work to stimulate collagen and elastin production to visibly smooth the delicate skin surrounding your eye.
Reviews Say: "I began to notice a difference in my eyes TWO DAYS after using this product, just at night. After using it for a month, dark circles and bags began to fade and diminish, and I noticed a tightening effect."

Buy now with free delivery

6. Intelligent Nutrients Plant Stem Cell Science Nourishing Tonic

This multipurpose tonic contains botanical stem cells that help regenerate collagen for a more youthful appearance. Thanks to its algae content, it also keeps your skin moisturized and hydrated to help reduce the appearance of wrinkles.
Reviews Say: "I love how refreshing it feels and it prepares my skin to absorb more moisture from my other products."