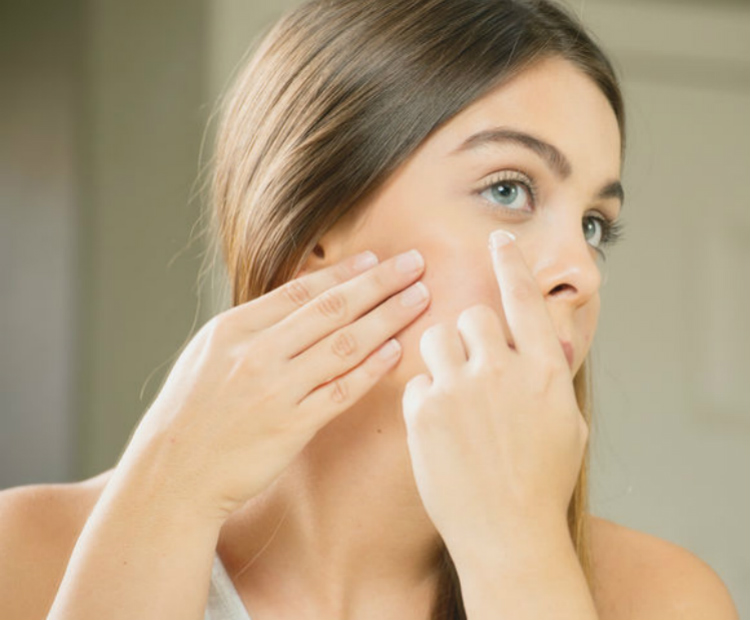 Plenty of topical ingredients vie for your attention when your skin needs a little brightening—the tried-and-true hydroquinone, gentle kojic acid and the skin peel favorite glycolic acid, among others. While you might think vitamin C belongs in your orange juice rather than on your skin, it's actually an all-star skin-brightening agent, and you've got plenty of options for working it into your skin-care routine. Keep an eye out for it on ingredients labels, where it's sometimes dubbed "L-ascorbic acid," or "ascorbyl glucoside," among other handles.
Why It Works
Long story short, an enzyme known as tyrosinase assists the skin in melanin production, and melanin is responsible for darkening the skin; vitamin C specifically works as a tyrosinase inhibitor, so when you apply it topically, it serves as a brightener. It similarly works to prevent and treat photo-damage and dark spots caused by UV exposure. In general, vitamin C has antioxidant properties and encourages collagen synthesis, making it a boon for healthy, glowing skin.
As a Moisturizer
Including vitamin C as part of your daily moisturizing routine is perhaps one of the easiest ways to brighten your skin, both on the face and body. A common ingredient of body creams and facial moisturizers, vitamin C replenishes your skin's natural vitamin stores while fighting oxidative stress and collagen degradation. This keeps the skin firm and helps it maintain a youthful brightness. For even more brightening power, look for a vitamin C serum with a higher concentration of this active ingredient to even skin tone and lighten dark spots. Keep in mind that vitamin C in higher doses is unstable and needs to be stored away from heat or direct sunlight.
C Plus Tea (and More)
Renewal creams, night creams, toners and even shave creams that feature vitamin C as a key ingredient give you the opportunity to reap its benefits as you fight wrinkles, tone the skin and even shave. In particular, keep an eye out for lightweight serums that include vitamin C and tea extracts like red, green and white tea, which offer additional antioxidant and collagen-boosting properties to help even out the skin tone. You can apply serums such as these twice daily to brighten up stressed or damaged skin.
A Brighter Future
If your skin is particularly UV-stressed or you're looking to fade spots, seek out a vitamin C–rich skin brightener—some are called illuminators. These products reduce the excess pigment and inflammation synonymous with acne scars or melasma, making them the most potent skin-lightening option. Alongside vitamin C, keep an eye out for skin-brightening products that contain vitamin B3, also known as licorice extract or niacinamide.
This article has been reviewed by board-certified dermatologist Dr. Emmy Graber.