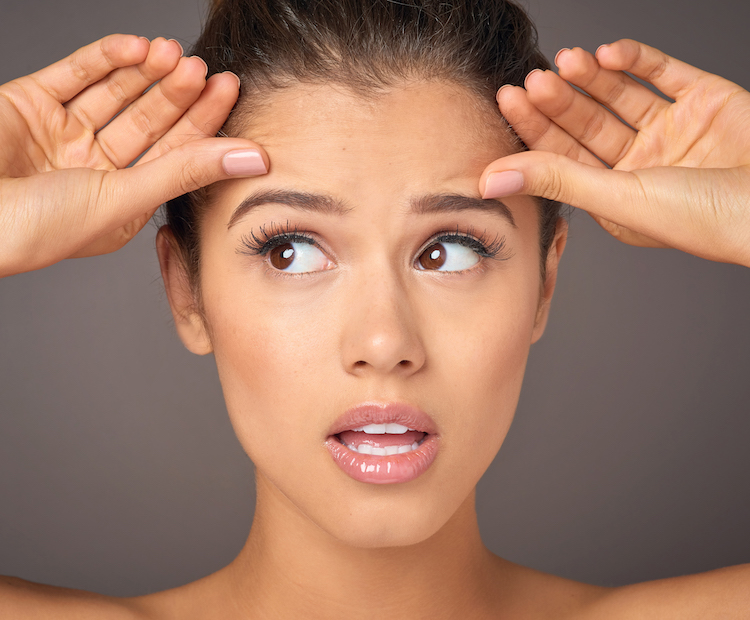 There are those life milestones that make you hyper-aware of your age, like holding your first driver's license in your hand and drinking your first (legal) sip of wine. You can file "finding your first signs of crow's feet" under this, too. The process of figuring out what, exactly, you should do about your first wrinkles may be daunting, but that doesn't mean you have to sit back and let fine lines happen. Here's how preventative Botox may help, and why it might be worth incorporating into your anti-aging skin care regimen. 
First, the bad news: Wrinkles are inevitable.
"Repetitive facial expressions—like frowning, smiling or raising one's eyebrows—will eventually result in wrinkles in the affected areas, like frown lines, forehead lines and crow's feet," says dermatologist Arielle N.B. Kauvar, MD, the director of New York Laser & Skin Care and clinical professor of dermatology at New York University School of Medicine. Once they've become permanent lines, she says, they become more difficult to minimize—which is why prevention is key.
Botox can stop expression lines from becoming permanent wrinkles.
In part because of this—and because aesthetic treatments have become more accepted and mainstream—Kauvar is noticing more young adults choosing to treat the signs early. Botulinum toxin, from brands like Botox, Dysport and Xeomin, is an injectable substance (also known as a neuromodulator) that freezes the facial muscles. It's also the most popular cosmetic procedure in the US (by a long shot). "By starting neuromodulator injections early and relaxing those expressions, you can prevent temporary expression lines from becoming etched into permanent skin wrinkles," she explains.
Like any other cosmetic procedure, Botox doesn't come without risks. Potential risks, according to board-certified dermatologist Dr. Ashley Magovern, include "a heaviness in the brow or a droopy feeling in the eyelid." However, she also notes, "These outcomes are rare with experienced and well-trained providers, who can really analyze the individual differences in a patient's anatomy."
The right time to start Botox depends on a lot of factors.
Before you run to the mirror to assess your wrinkle situation, know that there's no rule about when to start Botox—whether it's for prevention or maintenance. "It depends on facial structure, genetics, sun damage and skin type," says Kauvar. "Some people will develop their first wrinkles in their 20s and others, closer to 40." But because there's no right age to do it, you can opt for it as soon as your wrinkles begin to bother you. "When I was 26, I noticed I had some fine lines forming around my eyes," says Kathryn Reina, now 29, who has been receiving preventative Botox injections for several years. "I wanted to make sure they didn't become deep-set wrinkles."
Reina was nervous just because the needle was near her eye, but she didn't find it painful. "The bruising afterwards was so minimal and easy to cover up with makeup," she says. "Sometimes, you bleed a little bit from it, but it goes away in two minutes if you put an ice cube on it." (Kauvar says that bruising is relatively uncommon if you're seeing an experienced injector.) Reina sees results after just four days, and they last anywhere between five and six months for her.
For some, Botox is an important part of skin maintenance… 
Not only is the long-term effect of Botox—that is, the slowed development of wrinkles—tempting, but there's an immediate payoff as well. "My skin's tighter, and I feel like my pores are less visible in the areas that I do it," says Reina. "I like the way it looks so much that sometimes, I'll go back even before it wears off."
According to the American Society for Dermatologic Surgery, an injection costs between $325 and $425 on average, but if you have lines that drive you crazy, it's hard to put a price tag on the results. Reina considers it just another part of skin maintenance. "It's like going in to get your car serviced—but you're just going in to get yourself fine-tuned instead," she says.
…but Botox, alone, won't prevent your skin from aging.
Dr. Magovern reminds us that Botox only works on the muscle, so if you want to keep your skin healthy and slow down the aging process, you'll have to maintain a strategic skin care routine. "Keeping your collagen strong, thick and stimulated is crucial," says Magovern, also noting that "maintaining healthy, firm, supple skin takes work for most of us," which is more important than Botox, in her opinion.
Dr. Kauvar echoes this importance, suggesting a "balanced skin care routine of moisturizer, antioxidants, retinoids and sunscreen [to] maintain collagen production and skin strength." Additionally, you may want to incorporate LED light therapy, lasers and peels into your routine to further improve your skin, adds Magovern. Caring for your skin regularly has more benefits than just slowing down the aging process—especially when used in combination with Botox. "Healthy skin will allow the Botox to work better and even look better," says Magovern.