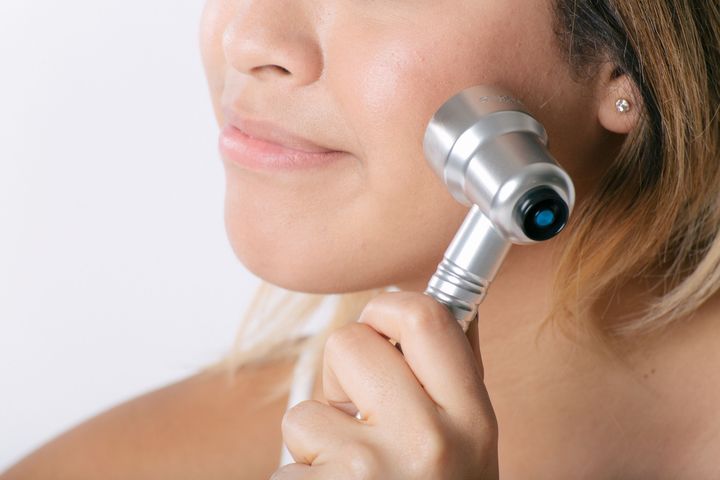 Laser resurfacing is nothing new at the dermatologist's office, but bringing these procedures home in a more compact—and generally more affordable—package is a fairly recent phenomenon. Because the FDA doesn't vet beauty devices for aesthetic results, navigating your options can get a bit tricky. Before you dive into the world of at-home laser devices, immerse yourself in research to help make the right choice for your complexion and skin care goals.
Laser for Skin Resurfacing
Wand-like laser devices for home use often rely on fractional laser technology, which pierces the skin's collagen layer, resulting in stimulated collagen and elastin production, increased elasticity and a reduction in hyperpigmentation. With very regular use—a few months' time up to five days weekly—fractional lasers help smooth, tone and tighten the skin. Dermatologists also use fractional technology in the office, but home resurfacing devices significantly scale back the intensity. Home devices employ non-ablative lasers, which simply heat the lower layers of skin and leave the top layer intact. This reduces downtime and minimizes risks like infection and swelling. Many of these home-based products are used in conjunction with antioxidant gels, creams or serums to help encourage collagen production after resurfacing.
Laser Body-Hair Removal
Some handheld body-hair removers use laser-produced heat to target the hair's pigment; after multiple treatments in a row, this damages stem cells and stunts hair growth. These devices often cater to people with light-to-medium skin tones and dark hair. Alternatively, intense pulsed light (IPL) hair removers disrupt hair growth right at the root. A 2010 study from the Journal of Clinical and Aesthetic Dermatology reports overall hair reduction of about 78 percent over the course of 16 weeks, with one IPL treatment every other week. Both of these devices typically target small areas—such as the bikini line or underarms—making them a convenient and effective at-home solution for hair removal.
Laser vs. LED
Unlike resurfacing lasers, some at-home devices feature light-emitting diodes (LED) to project intense red and blue infrared lights onto the skin. Red LED therapy aims to boost collagen production and improve skin tone and works best for people who are struggling with both acne and wrinkles. Also called photodynamic therapy, red LED devices are often used in conjunction with topical ingredients to treat acne or pre-cancerous skin lesions. Another option for those with acne is blue LED therapy, which works by targeting the strain of bacteria that causes breakouts. While at-home devices aren't as strong as those used by professionals, it's essential to follow safety instructions and always wear protective eyewear when applying treatments.
At-Home Laser Tips
Though FDA approval isn't required for home-use cosmetic lasers, you can still seek machines that have been peer-reviewed by medical experts. Whichever device you choose, make sure you follow the manufacturer's instructions and warnings, and stick to the recommended routine; even the most effective products won't meet their potential without proper, regular and continued usage. Everyone's skin is unique, so always test your new product on a small patch of skin before committing to use.
This article has been reviewed by board-certified ophthalmologist and oculoplastic surgeon Dr. Matheson Harris.