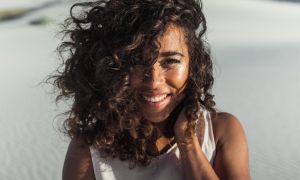 A curl is a curl is a curl, right? Of course, not all curls are the same, and for those with wavy, curly, and coily hair, getting those locks to behave can feel like a full-time job. Yet, understanding the needs of your specific hair type, how to style it, and the products to use is vital to make every day a good hair day.
It's All in the Texture
New York City hairstylist Marshall Lin explains that hair should grow in uniform, but factors like combing, blow drying, haircuts, sleep, and the hair products we use can change its texture.
"It's common to have one texture at the hairline and different ones at the top and bottom layers," he adds. Plus, the shape of the hair follicle and the angle at which hair grows from the scalp can influence the curl pattern, too. Celebrity hairstylist and Mane Addicts stylist Sienree Du says hair types appear differently when looking at a single strand under a microscope. Straight hair appears cylindrical and spaghetti-like and curly hair appears flatter, like fettuccini. "The flatter the strand, the more ability there is for a curl or wave," she adds.
Another distinguishing factor to determine texture is porosity, which is how much moisture the hair can absorb and retain. Anything from hair coloring to environmental and heat-based damage influences porosity. Du says the more porous the hair, the rougher or drier it may feel. "But sometimes, porosity is a win for styling curls or hair with texture," she adds. Low-porosity hair has more difficulty absorbing moisture, but it can hold onto it, which gives it a silkier and shinier look.
Types of Hair
Fine hair
Fine hair lacks volume, but is relatively easy to style. Hairstylist and Virtue ambassador Kindale Godbee says there's separation and frizz when fine hair lacks moisture, or when no product is present.
What to use: One of the easiest ways to swell the cuticle is with thickening ingredients that make the hair appear thick, like saw palmetto berry, which can be found in R + Co Dallas Biotin Thickening Shampoo. It's also rich in pro-vitamin B5 for deep hydration, natural-looking shine, and volume.