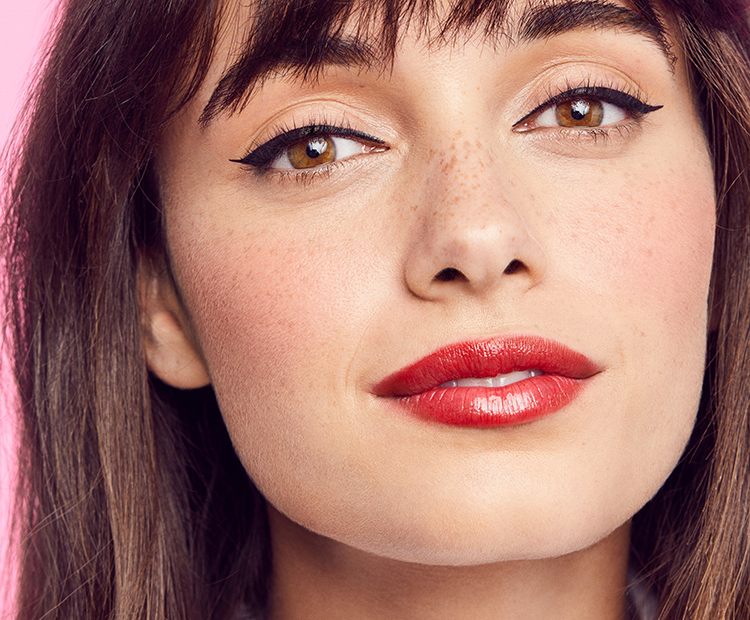 Time to ditch those fully lined lips and embrace the cooler days ahead with one of the hottest trends this season—blurred lips. Reminiscent of an "unpolished" polished look, this latest lip trend gives off that perfect "just bitten" look for a more relaxed, carefree vibe—a stark contrast to the previous seasons' defined and perfectly lined lips.
"Dominating the fashion runways and as seen from the catwalks of Vera Wang and Marni to Dior, the blurred lip is the height of chic this season," says makeup artist and esthetician of Bella Sante Spa, Ashli Carnicelli. "The cold weather definitely brings out richer and darker tones, mimicking the changing of the leaves."
The charm of the blurred lip is its effortless look. Carnicelli explains, "The blurred lip has darker color pigment in the center and blurs outwards in the corners." It's like you've been applying your lipstick in a dimly lit bathroom, making the shade uneven.
To create that blurred effect, Carnicelli recommends "lining the edges of the lips with a concealer. And if you're using a deep shade of lipstick, start with a concealer over the entire lip before applying your lip color."
Ready to rock this trend? We've got you covered! We've listed our top picks for effortlessly luscious, selfie-ready lips!
This multitasking concealer is the perfect companion to achieve that blurred lipstick effect. Not only does it reduce fine lines and give you flawless coverage, it contains maracuja oil which helps hydrate your skin. No need to worry about drying out your lips because this concealer is infused with vitamin E to help heal dehydrated and damaged skin. It's also formulated with vitamin C to give your skin a brightening pick-me-up. It's the perfect product to help combat gloomy, cold weather ahead!

Buy now with free delivery

2. For That Sexy, Vampy Look: LORAC Cosmetics PRO Liquid Lipstick - Deep Burgundy

Carnicelli recommends "a matte ox-blood shade in your makeup kit. It is this season's go-to shade for a sexy, vampy pout." This buildable color is perfect for those morning-to-night meetings. Just apply a little dab at the center of your lips and slowly diffuse the color outwards using your finger. Reapply at the center for a more intense look. "The darker the shade, the higher the drama factor," adds Carnicelli.

3. For a Pop of Color: Gerard Cosmetics Hydra Matte Liquid Lipstick - Coachella Hot Pink

The fall season may bring about darker skies, but there's nothing a pop of color can't fix. "A hot-pink faded lip looks stunning and makes a statement with minimal makeup and darker clothing," Carnicelli says. A shade of hot pink is the perfect contrast to those overcast days!

4. For a Delicate, Just-Been-Kissed Look: Lipstick Queen Sinner Collection Lipstick - Berry Sinner

This mocha lipstick with pink undertones is perfect for that "just snogged" look. Versatile and universally flattering, you can layer it with a darker shade to add a little depth or use it alone for a softer, more delicate look. Formulated with jojoba oil and beeswax, this velvety-smooth lipstick glides like a dream and maintains your lip's natural moisture.

"A light, pink stain will look gorgeously feminine with an understated eye. This will create a soft look to go with your cashmere sweaters and scarves," says Carnicelli. Beautifully matte and highly pigmented, this long-wearing baby-pink lip stain is sure to withstand the cold breeze with its hydrating and conditioning properties.

Buy now with free delivery