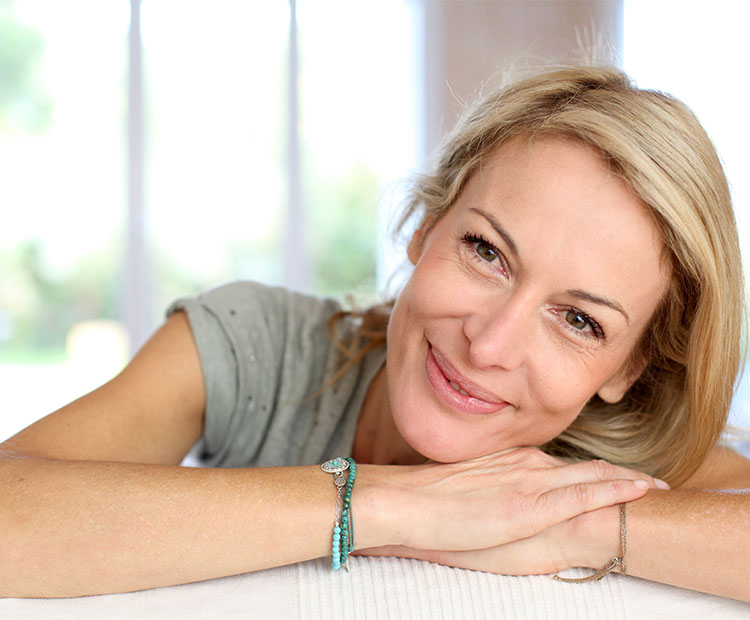 As a little girl, I have these vivid memories of lounging on my parents' oversized waterbed, watching cartoons, while my mom got ready for her day. She sat at wicker vanity, with perfume and makeup scattered about, and I couldn't help but glance at her as she spritzed here, dabbed there.
Even to this day, there is no one more beautiful in my eyes than my mom, and she does her very best to pass along helpful words of skin care wisdom that she's learned over the years. She's the reason I started using a daily sunscreen and a heavy night cream from the age of 19, and why—no matter what!—I always wash off my foundation and mascara at night. And that Clarisonic? She basically made me buy one. I'm thankful for her advice and her (not-so-gentle) nudging, because one day, I'll age as gracefully as she has.
From moisturizing and sunscreen to not worrying so much about being perfect, women who have been through the decades of aging know the best-kept secrets of keeping skin young, fresh and radiant.
Here's what women, aged 50 years old and more, wish they knew about taking care of their skin when they were in their 20s and 30s:
1. The sun is not your best friend.
"If I could go back I would have spent less time in the sun in my younger days. Now I see a dermatologist twice a year and get scared until the results of biopsies come back. I also lost my best friend to melanoma of the eye. She had the eye removed and have an artificial one put in that looked exactly like the other. She was fine for seven years then it returned in her liver and she died three months later. The lesson? The sun isn't your best friend so protect yourself from it!" -Elaine
2. If you have acne, fight it.
"While like everyone else, I think it's important to stay out of the sun and drink plenty of water, I also think it's important to take care of your skin and fight your issues from day one. Unlike when I was younger, there are all sorts of treatments, creams and prescriptions available to battle acne. I wish I had those because now, I have deep acne scars. It's not a bad thing to talk to your dermatologist and figure out how you can not only clear your skin, but improve your confidence!" -Georgette
3. A good moisturizer is not optional.
"Even if you have a lot going on, taking great care of your skin—each and every single day—is really important. In fact, it should be at the top of your things to do daily. My advice would be to always clean your skin at night and use a good moisturizer that works for you skin type before going to sleep. I've always used Clinique and I love it!" -Trudy
4. Wash your makeup off at night.
"I know it's not always easy to remember, or you get tired and skip it, but it's important to wash your makeup off at night. It not only clogs your pores, but it's just simply not good for your face! I also think it's important to use a good skin care line that prevents brown spots and wrinkles." -Jane
5. Hydrating is essential!
"Your skin needs plenty of hydration—the solution to pollution is dilution. If we do not drink enough water to feed the skin, the body will pull water from our intestines. Yuck. The skin, the largest organ will get priority. This in turn will cause the colon to be deficient. Read: constipation. Toxins and waste in the body will then be removed via the skin. Hydration and moisture are not the same thing. Moisturizing dehydrated skin is not getting to the cause and may clog pores and worsen your problem. Both are necessary. Hydration addresses the inside imbalance—inner cleansing. Moisturizing addresses the effects of the outer elements sun, heat, cold and wind." -Christine
6. Use retinol.
"While aging naturally is great and all, I'm so glad that I started using retinol in my mid-30s. Not only has it kept my skin firm, but it's changed the texture—even without any type of Botox! Many beauty products have this active ingredient and your dermatologist can prescribe something stronger. Just keep in mind that you shouldn't use it in the summertime because it can cause your skin to be extra-sensitive." -Nancy
7. Tell yourself you're beautiful.
"I tell my daughter, who is single right now, that the first step in finding love is loving yourself. I think the same goes for aging. Even on days when I don't exactly feel beautiful or attractive, I get up and look in the mirror and pay myself a compliment. So much is important when you're trying to fight aging—moisturizing, staying out of the sun, eating well and not drinking too much—but I think it's just as important to be kind to yourself and love your imperfections. That's where true beauty comes from." -Kim