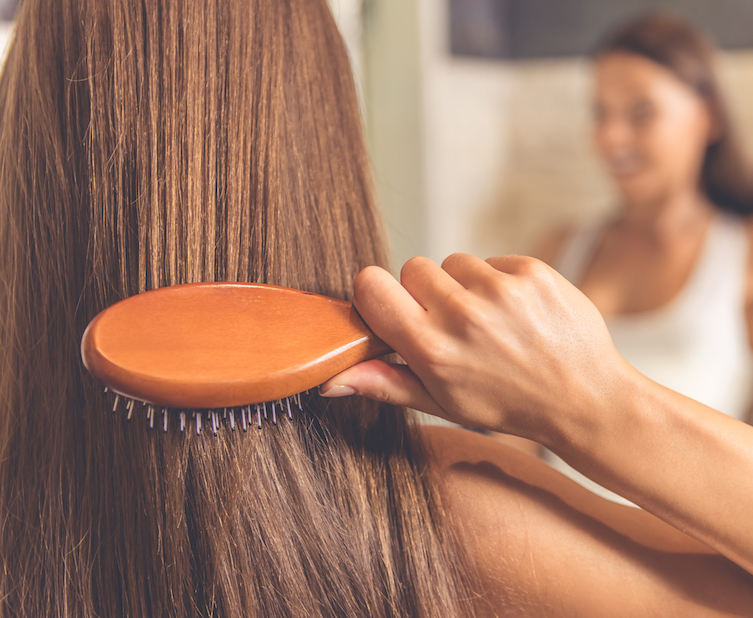 Have you ever wondered how celebrities always seem to have perfect hair? Whether they're rocking a sleek, straight look or perfect, beachy waves, the stars seem to know something we don't about hair care. But we're here to let you in on one of Hollywood's secrets: how to make your hair look perfect.
What better way to find out than to sit down with our friend, celebrity hairstylist, Carly Walters? Turns out, the secret is really in knowing how to best care for the different hair texture types. Here, she gives us the go-to on caring for your hair type—from the way you brush your hair to what products to use to enhance your natural texture. 
Straight Hair: Give It More Love in the Beginning
Quick Tip: Straight hair is often shiny and easy to grow out, but it tends to get greasy faster than other hair types. To avoid this, Walters recommends using dry shampoo—even on the first day out of the shower after blow drying.
Products to Use: "Volumizing shampoo and conditioner are a must," says Walters, "because straight hair is going to lack that natural volume and texture."
How to Style:
Craving more volume? "When blow-drying your hair, flip it over upside down and finish it with a big round brush," Walters suggests.
Get acquainted with dry shampoo. Walters explains that "because of the natural oils from the scalp, straight hair can tend to get greasy." If you want to avoid having to wash your hair as frequently or prevent the greasy look before it shows up, spritz some dry shampoo on your roots to soak up excess oils. Walters recommends doing this even on the same day you wash and dry your hair as an extra preventative measure.
Want to give your thin hair some more oomph? "Spreading texturizer from the roots to the ends can help give you more volume and texture," says Walters.
Haircut Tips: For finer hair, Walters says, "Blunt cuts are best as it makes the hair a bit thicker, giving you that volume you're missing." For those with medium or thick hair textures, she says, "You'll want to go with more of a layered look," to add some movement to your locks.
Wavy Hair: Don't Weigh It Down
Quick Tip: To keep wavy hair from looking unrefined, you'll want to control the frizz right off the bat, says Walters. But don't be quick to use too much product and weigh down your natural curl.
Products to Use: Your top concerns are volume and moisture, so Walters recommends reaching for shampoos and conditioners to keep your hair healthy and beautiful. "You can even do a hair mask once a week with this hair type," she says, "but you don't want to weigh down your natural hair too much, so don't go crazy." Less is more, ladies!
How to Style:
When you want to enhance and embrace your natural waves, Walters suggests this routine:
While your hair is damp, apply a styling mousse to your roots, and smooth it through the ends of your hair.
Next, apply a hair oil, starting at the mid-shaft and through your ends (to avoid the greasy look). This will help "control the frizz and keep moisture locked in," says Walters.
Attach a diffuser to your hair dryer, and let the ends of your hair rest on the attachment as it dries. This will
help ensure an evenly distributed airflow to keep your natural waves intact.
Once your hair is almost dry (about 85–90 percent dry), turn off the heat. Walters then suggests adding "a finishing cream or more oil (if you need it) on the ends to help with frizz and maintain the natural wave."
Want to go for a more glam look? Walters recommends spraying some texturizer at the roots to finish.
Haircut Tips: For finer hair, Walters says, "You'll want to add layers so you can get more volume." If your hair is already thick, and you want to keep your waves on the relaxed side, keep your hair longer, she says. "When you cut curly or wavy hair shorter, the more curly the hair will be."
Curly Hair: More Moisture, Less Frizz 
Quick Tip: The only cool thing about frizz is everyone's favorite science teacher, Ms. Frizzle, from The Magic School Bus. Fight frizz while keeping your hair healthy by keeping it moisturized and hydrated.
Products to Use: To keep your curls looking sleek, Walters says, "moisturizing shampoo and conditioner are a must." She also notes, "you can even grab a moisturizing shampoo specifically for curls." (Our pick is DevaCurl's Low-Poo.)
How to Style:
"To get a great, curly look," Walters says, "you can add mousse and oils or even curl jelly from roots to ends. However, you do want it to be light because you do not want to weigh down the curls."
Curly hair can easily become dry and dull, "so you'll want to moisturize to keep that shine," says Walters.
"Right out of the shower you'll want to use a Wet Brush on damp hair, which will help get through the hair yet not be too rough and pull the curls out," says Walters.
"You can either air dry your curls or use a blow-dryer," says Walters. "When using a blow-dryer, you'll want to use a diffuser to help maintain that nice curl."
Haircut Tips: It all depends on how curly you'd like your hair to look. As Walters explains, your options are "very similar to the natural-wave hair type," in that, "the shorter you go, the curlier your hair will be."
Tight Coils: A Little Bit of This, A Little Bit of That 
Quick Tip: Finishing creams, oils and pomades—oh my! To keep your curls defined and moisturized, it's okay to use these types of products, just in small doses and moderation.
Products to Use: "The key here is moisturize, moisturize, moisturize," says Walters. "So, grab a heavy moisturizing conditioner." She also adds the importance of masks, noting that with this hair type, you can even "use a hair mask every time you shower because it will give your hair that much more moisture." (Did we mention to moisturize?) When you want to define the finished look of your curls, Walters recommends adding finishing creams, oils or light pomades to your shopping list.
How to Style:
"Once out of the shower, do a quick and easy towel dry," says Walters. "This is a perfect hair type for air drying [because] the more you blow dry, the more breakage and dryness you'll get—making the hair dull."
"Then use a heavy oil and/or a leave-in conditioner with a curl definer to give it that moisture we now know it needs."
Haircut Tips: "When it comes to haircuts for this hair type, you really have to keep in mind that the shorter you go, the curlier your hair gets," says Walters. However, that doesn't mean you should skip out on haircuts altogether. "It's important to get regular trims to keep the ends healthy," she says.
SHOP HAIR CARE PRODUCTS BY TEXTURE TYPE OR CONCERN: 
Fine  ·  Thick/Coarse  ·  Curly/Wavy  ·  Dry  ·  Oily  ·  Normal  ·  Colored/Chemically Treated