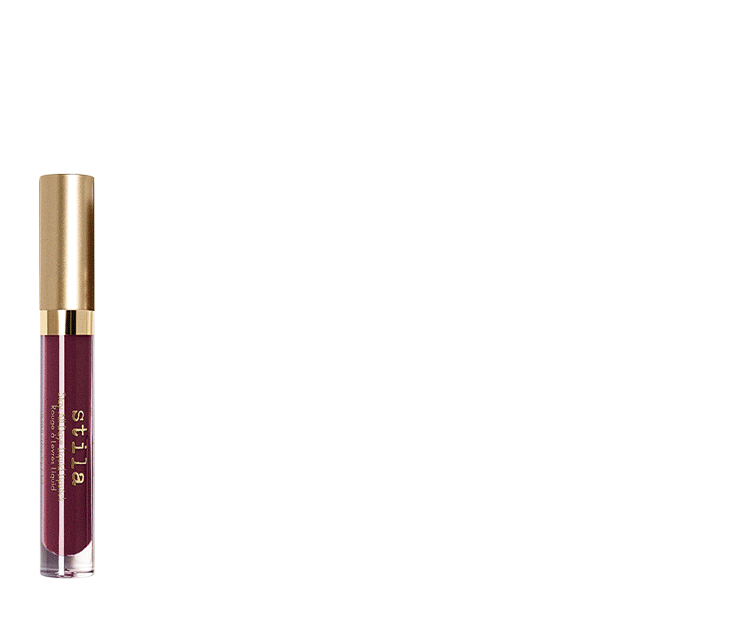 From your grueling morning commute to back-to-back conference calls, the last thing you want to worry about is your lipstick fading. The good news is that the best long-lasting lipsticks can withstand whatever you have planned for the day, whether that involves happy hour with friends or lunch with the boss.
Here at Dermstore, we're no strangers to juggling a full schedule. That's why we rely heavily on products that can withstand multiple cups of cold brew and that second avocado toast. With so many lippies that promise to deliver lasting coverage, we decided to put some products to the test to uncover which products really have staying power.
In order to accurately showcase these results, we had five girls from the office try on a different long-lasting lipstick at 9:00 a.m. and told them to resume their day as normal: eat breakfast, drink (more) cold brew, have lunch, etc. We met again at 4:00 p.m. to take the after shots—without a single touchup. Curious to see if these lippies actually lasted through the day? Scroll for before and after pictures, along with some very honest feedback, below!

Stila Cosmetics Stay All Day Liquid Lipstick - Chianti 

Reviewed By: Ariana S., Email Marketing Manager

First Impression:  This product was very easy to apply. Also, I love how the lipstick felt! It was light, not sticky and the vitamin E in the formula definitely prevented my lips from drying out during the day.

The Verdict: Though the color I chose was slightly darker than I anticipated, I liked how it complemented my olive skin tone and dressed up my workday outfit. I would definitely buy this product again, but maybe in a more subtle color that I could wear on a daily basis. All in all, I think I found my new favorite lipstick!

Tips: After multiple cups of coffee and talking in meetings, the color began to fade as the day went on. Though the majority of the pigment lasted a good chunk of the day, I would definitely recommend a touchup to fill in any faded areas.

Reviewed By: Candi T., Purchasing Specialist

First Impression: This product is very lightweight and not sticky—which I love. It glides on smoothly, which made the application process fail-proof.

The Verdict: To my surprise, the color really lasted all day! It even held up fairly well hours after taking the "after" shots. Considering how great the coverage is, I would definitely use and buy this product. I also liked that the shade I chose was on the neutral side, but still had a nice pop of color—which will go well with any outfit.

Tips: I would recommend applying chapstick prior to using this since it will help keep your lips hydrated throughout the day. But that's purely optional and not at all required.

Buy now with free delivery

Reviewed By: Helen K., Affiliate Marketing Manager

First Impression: This lipstick was surprisingly smooth when I first applied it. I thought that I'd be more likely to make mistakes because of the matte formula, but the application was pretty easy.

The Verdict: The product stayed on for most of the day—even after eating and drinking so I was impressed! By the end of the day, a good 80–85% of the color still remained on my lips. Considering its great coverage and flattering shade, I would definitely continue to use this and even recommend it to friends!

Tips: I didn't exfoliate my lips before applying the product, so by the end of the day my lips looked a little cracked. However, my lips tend to be on the dry side. If you have dry lips like me I recommend pairing it over a lip balm, but you really don't need anything else.

Buy now with free delivery

Gerard Cosmetics Hydra Matte Liquid Lipstick - Skinny Dip 

Reviewed By: Kat S., Senior Manager, Content & SEO

First Impression: Although it felt a bit sticky and thick at first, it definitely isn't drying or flaky. With that being said, you have to give this some attention when putting it on. Though it goes on easily, give yourself a minute to smooth it over your lips for best results.

The Verdict: This stuff is pretty indestructible. To be fair, I'll admit that I drank out of a straw and ate lunch carefully, but I was really amazed how just one application got me through the whole day. It even stayed in place when I later applied a balm over it (after taking the "after" shots).

Also, I love this color on me! It's understated, but still noticeable and not so light that it looks like I've gone pale with fear or something. I will keep using it for sure! It fulfilled its promise and definitely deserves a spot in my purse.

Tips: After the "after" pictures were taken, I applied a sheer balm on top and it made the whole thing much smoother. To my surprise, none of the product smudged away. I actually liked it much better once I applied a lip balm over it.

Reviewed By: Joann R., Marketing Copywriter

First Impression: Upon initial application of this liquid lippie, I was a total fangirl. It was lightweight, velvety smooth and dried fairly quickly. The pigmentation on this formula is fierce! Though it glides on smoothly, since it's such a bold red, you have to pay extra attention on your cupid's bow and corners of the mouth. I could see a single slip-up causing quite the headache to fix.

The Verdict: I didn't notice any flaking or cracking until much later in the day and it really only happened near the center of my lip. Suki, my beautiful white dog, stopped by for lunch and that's how I learned this lippie is not transfer resistant. Suki left with a few red kiss emoji-style prints on the top of her head. It was also while eating lunch that I noticed the lippie began to breakdown at the center of my lips. Not totally noticeable, but definitely could have used a touchup.

Since I'm not a huge lipstick wearer, I would not use this every day, but reserve it for date nights or special occasions. With that being said, I would absolutely use this product again! I own multiple (hundreds) of lipsticks from practically every household name makeup brand and this formula is honestly a new favorite.

Tips: I know that most liquid lip formulas break down when paired with oils, which are commonly found in lip balms, so I steered away from pairing those together. (I learned my lesson from having the flakiest of liquid lips at a bachelorette party months ago.)

Buy now with free delivery