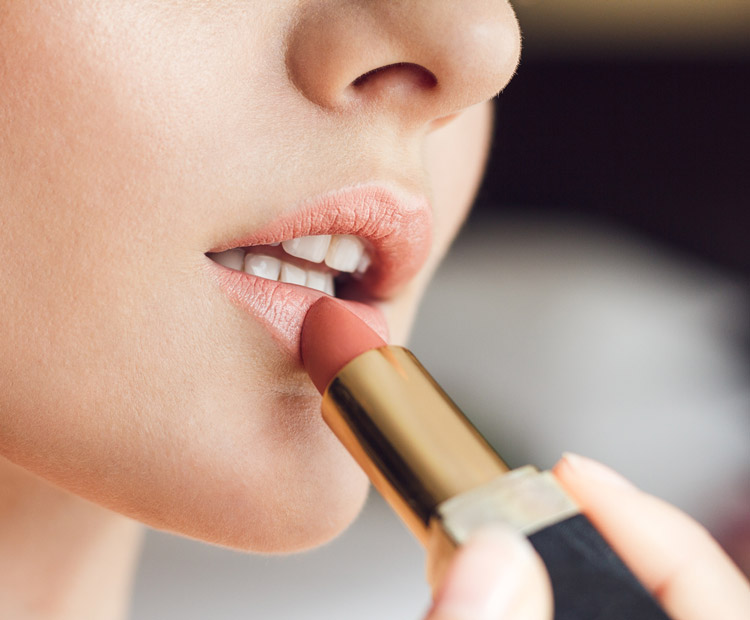 Having dry, chapped lips is no fun. Aside from the obvious discomfort they bring, they also make it near impossible to wear some of our favorite matte lipsticks. "Matte lipsticks are made to look flat with no sheen and don't have any moisturizing properties," explains Dr. Debra Jaliman, board-certified dermatologist in New York City.
While matte lipsticks aren't exactly your friend if you experience a dry pout on the regular, the good news is that there are other lipstick options out there that not only deliver high-intensity color but also serious hydrating power! Up ahead, our top tips on how to pick the right lippies for dry, chapped lips.
1. Look for hydrating and soothing ingredients.
The skin on our lips is very thin and is prone to damage quickly, says Dr. Jaliman, so it only makes sense to consider the ingredients in your lipstick products before you buy them. Here are some ingredients to look for when shopping for a hydrating lipstick, and why she recommends them for dry lips:
Hyaluronic Acid: This powerhouse ingredient is a mainstay in skin care serums, moisturizers and even lipsticks. That's because it is "super hydrating and a natural humectant."
Jojoba Oil: Considered a natural skin conditioner, "it can seal in the moisture and form an effective barrier to external elements such as cold weather, which generally dries out lips. It also has anti-inflammatory properties, which can help soothe irritated lips."
Shea Butter: "Shea butter is extremely moisturizing due to its natural vitamins and fatty acids. It has cinnamic acid (a white crystalline compound) and is anti-inflammatory, making it great for lips that are irritated."
Grapeseed Oil: "Grapeseed oil has fatty acids and contains several vitamins which help to moisturize and protect the skin from damaging free radicals."
Roseflower Wax: "Roseflower wax is a natural substance [that] helps soothe and soften the lips."
Aloe Vera: Ever notice how aloe vera cools and soothes sunburned skin almost instantly? It sort of has the same effect on chapped lips. "The enzymes in aloe help to reduce inflammation and they help soothe and repair chapped lips."
2. You may want to avoid beeswax, as well as long-wear lipsticks.
Beeswax is a popular lipstick and lip balm ingredient; however, Dr. Jaliman warns against using formulas made with it. "It just sits on the surface of the lip and doesn't penetrate it—it isn't hydrating," she notes. On top of that, she says to avoid ingredients such as camphor, phenol and menthol "as they dry the lips out."
In addition to ingredients, Dr. Jaliman says to avoid long-lasting lipstick formulas. "They are made to stick to your lips and have all-day stay power—these lipsticks don't necessarily hydrate the lips," she notes.
3. Exfoliate and prime your lips before applying lipstick
When it comes to wearing lipstick—even the hydrating ones—on chapped lips, this step prior to application is key. "If your lips are very dry and flaky, you can gently exfoliate your lips with a washcloth," says Dr. Jaliman.
Dr. Jaliman says you can make your own lip exfoliator with a mix of honey and sugar. "Make a little paste and place it on [the] lips. Gently rub on the lips with a washcloth, cotton pad or soft toothbrush [to lift away the dead skin cells]," she explains. Once your pout is smooth and flake-free, prime them with a nourishing balm before applying your lip color. Doubling up on the moisture can help keep dryness at bay.
4. Lastly, don't lick your lips!
According to Dr. Jaliman, licking the lips "makes them chapped and even drier because the water evaporates off your lips and dries them out."
Best Lip Products for Chapped Lips  
Need help finding a lip color that won't dry out your pout? We share some of our favorites, below.
If you want a product that is going to provide serious hydration with a subtle hint of color, RMS Beauty's Lip Shine Bloom is a must-try. This tinted lip balm features nourishing ingredients like coconut and castor oil along with a wash of wearable color.
Reviews Say: "Most tinted balms dry out my lips but this is super moisturizing and comes in beautiful colors."

Buy now with free delivery