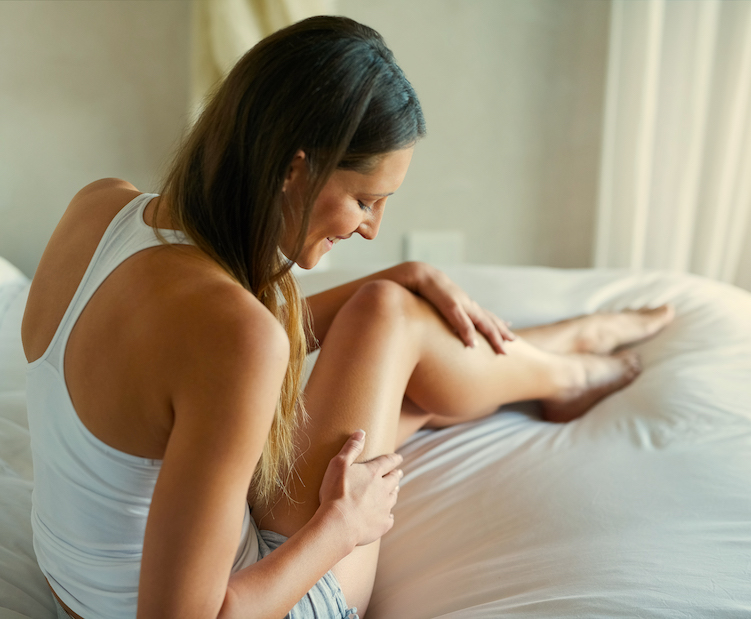 If you're self-tanning, you're already ahead of the curve—since it means you're not relying on harmful UV rays to get that just-back-from-vacay bronze. But the process of applying self-tanner (and making it look natural, too) can be tricky to navigate whether you're a newbie or have tried it a few times. That's because even with the best self-tanner, there's always room for error. (Of course there is.) On the bright side, it's entirely possible to avoid mistakes—and fix those you've already made—with the right tips. Natalie Cupid-Riley, spray tan expert and owner of Glow the Spray Bar in New York, NY, gave us the scoop.
First, you won't have to remove self-tanner if you do it right the first time. The usual mistake is applying it incorrectly. "The most common way people mess up self-tanner is by applying it like they do regular lotion," says Cupid-Riley. Instead, it should be applied in small sections. She suggests starting with the lower leg first and working your way up. And do it in a well-lit room, if not one with natural light, which will make it easier for you to see where you've already applied it. If that fails, follow these four removal tricks.
1. Fade a Too-Dark Tan With a Few Simple Tricks
If you open up your new self-tanner only to find that it's way darker than you intended, you don't have to start hunting for the receipt. "If the tanner is too dark before you've even applied it, try mixing in a simple, non-scented lotion," says Cupid-Riley. Even if it's not necessarily too dark, being able to dilute the color gives you more flexibility year-round.
But if the deed is already done—a.k.a. your self-tanner has developed and it's much darker than you expected—you don't have to wait days for it to fade. Cupid-Riley suggests cleansing with a body wash that contains lactic acid. "It will lighten the color without breaking down the tan too much," she explains. We recommend trying one like REN Neroli and Grapefruit Body Wash, which has a citrusy scent to wake you up.
2. Exfoliate to Remove Streaks
Streaky lines are a dead giveaway of a self-tanner—and no one will believe that that glow is natural. So if you notice streaks, exfoliate the obvious lines with a DIY paste. "A little baking soda and lemon juice should help," says Cupid-Riley.
3. Spot-Treat Tan Stains on Skin With Makeup Remover
Hey, dark spots happen. They're especially common on smaller areas on the hands, feet and ankles, where skin may be drier and your self-tanner can build up. For smaller spots like this, Cupid-Riley recommends using a makeup removal wipe to get rid of residue. She's even used a Magic Eraser sponge in a pinch. We recommend RMS Beauty The Ultimate Makeup Remover Wipe, which is infused with soothing coconut oil.
4. Pre-Treat With Soap to Remove Self-Tanner From Clothing 
If you get dressed too soon after applying self-tanner, there's a chance you'll end up self-tanning your favorite shirt, too. If it rubs onto your sheets or clothing, it'll usually come out in the wash or at the dry cleaners. If not, don't worry. "For a stubborn stain, pre-treat with a little Dawn soap and then throw it in the laundry to wash," says Cupid-Riley.