There are certain things we all know about self-tanning: exfoliate beforehand, wear loose clothing afterward, don't shower for at least eight hours. But with a little expert guidance, you can elevate your skills to the next level. We asked some beauty pros to tell us how.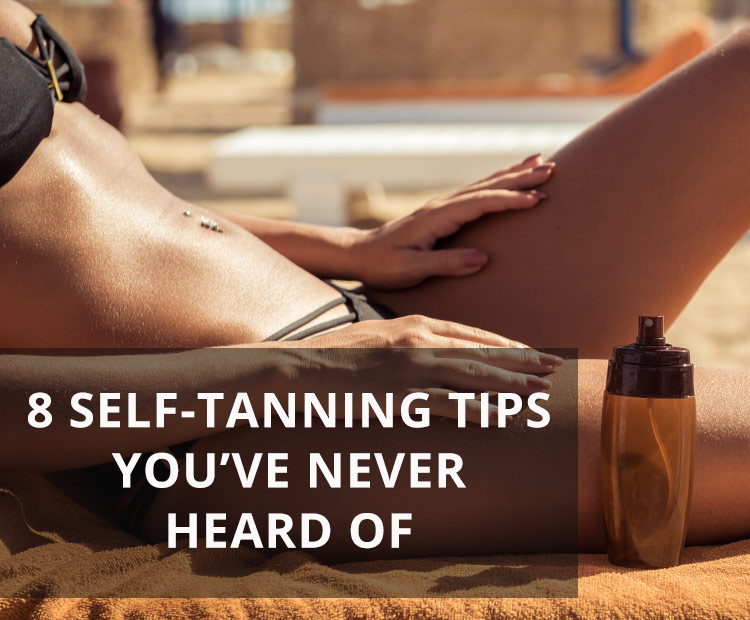 1. "GUIDE COLOR" IS YOUR FRIEND
"Always pick a product that has instant color so you can see if you missed a spot right away."
—Dera Enochson, Founder of XEN-TAN
2. BLEND, BLEND, BLEND…
"Sounds super basic, but even the best of us need a reminder that this isn't the step to rush. You can't blend too much."
—Dera Enochson
3. …AND CONSIDER USING A NYLON POWDER BRUSH TO DO SO
"After you've applied self-tanner to the body, rub it in using circular motions with a nylon powder brush, which gives your tan a gorgeous, airbrushed effect."
—Scott Barnes, Celebrity Makeup Artist
4. DON'T WIND UP WITH A SPLOTCHY BACK
"If you're not a contortionist, you need help to do your back. But if you must do it alone, take a one-and-a-half-foot piece of plastic wrap and fold it lengthwise into a strip that's two inches wide. Place some tanning lotion or mousse in the center of the strip. Holding the two ends, blend the product across the spots you can't reach."
—Dera Enochson
5. MOISTURIZE OFTEN
"Skin sheds when it dries out from the sun. The peeling can result in blotchy spots. The solution, of course, is to slather on your favorite body lotion twice a day."
—Haley Kulow, Certified Master Esthetician
6. WAX OFF, TAN ON…IN THAT ORDER
"This is self-explanatory. Get your waxing done before you apply self-tanner."
—Christine Haddad, Spa Director at Boston's G2O Spa and Salon
7. START FROM THE BOTTOM
"Always start at the bottom of the legs and work your way up toward the shoulders. Save your arms and hands for last so that you don't end up with extra color or patches."
—Christine Haddad
8. IF YOU'RE A BEGINNER, ALLOW TIME FOR A PRACTICE RUN
"If you've never applied a self-tanner, the day before a big event is not the best time to try it. Avoid a disaster by doing a practice run well in advance so that you can identify your ideal product and learn from any inevitable mistakes."
—Amanda Shackleton, Celebrity Makeup Artist
READERS – Do you have any self-tanning tricks you'd like to share with us? How about a self-tanning experience that turned into a complete disaster? Scroll down to leave a comment.