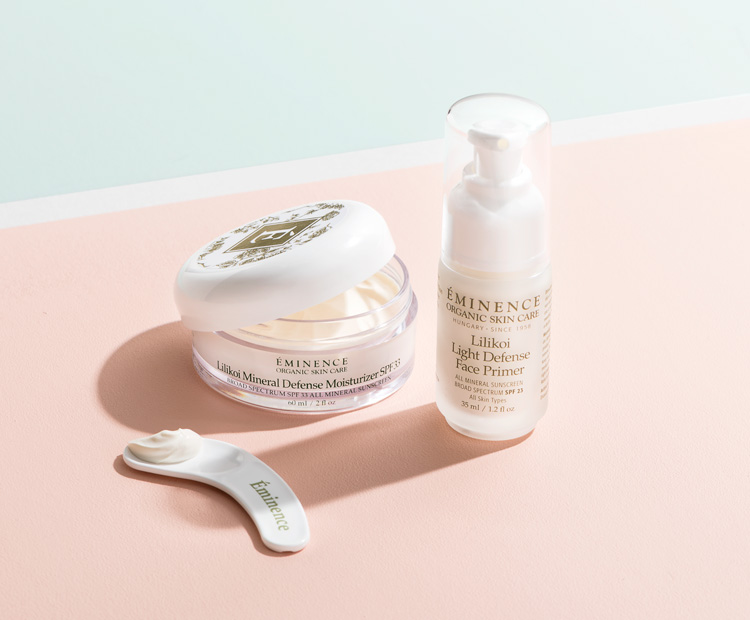 Antioxidants are all the rage in skin care products, thanks to the ability to protect your skin from environmental damage that can lead to signs of aging like wrinkles and dark spots. You can find antioxidants in popular fruits like strawberries and blueberries, but there's one less well-known fruit that also has major benefits. We're talking about lilikoi, which Eminence Organic Skin Care is utilizing in its new mineral sunscreen line.
What Is Lilikoi and What Does It Do?
Eminence Organics has been in business since 1958, bringing you the best in natural and organic skin care products—and now it has a new line of mineral sunscreens featuring lilikoi, a.k.a. passion fruit, which mostly grows in tropical countries. Lilikoi starts out as a flower, then closes and hardens into a fruit as it ages. The fruit is originally a dark purplish-green, but as it matures it becomes a brighter purple or yellow. The juice from the fruit is tart and delicious. Lilikoi also contains edible seeds.
In addition to being tasty, lilikoi also has skin benefits: oil from the seeds (which Eminence Organics has used in its latest line of sun care) is a great source of vitamin C and antioxidants. That means it helps improve visible signs of aging and damage caused by UV rays and pollutants. "UVA rays are the number one cause of aging," Eminence Organics President Boldijarre Koronczay explains. "They destroy collagen, contribute to a lack of elasticity and tone and cause thicker looking skin—what I call 'alligator skin.'"
Another thing to worry about? Blue light damage (or damage from light emitted by digital screens like smartphones, tablet and the like), which, according to studies, can equally damage skin and contribute to premature aging. "We are typically exposed to blue light for six hours a day," adds Eminence Organics International Trainer Brian Goodwin. "Over time, this daily exposure compounds and poses a serious threat to skin health."
According to a study published in the Journal of Nutritional Science and Vitaminology, passion fruit seed extract also increases skin hydration.
Beyond topical application, lilikoi has health benefits when taken orally. Antioxidants have been proven to protect your body against inflammation, while vitamin C supports a healthy immune system. A study published in Food Chemistry highlights passion fruit extract's ability to protect red blood cells against damaging free radical molecules, thanks to its high level of polyphenol, a type of antioxidant derived from plants.
How to Add Lilikoi to Your Skin Care Routine
Eminence Organics offers a couple of sunscreen choices to help people of all different skin types and concerns get the sun protection that is necessary to keep their skin healthy. Its new mineral SPF collection featuring lilikoi is for those concerned with environmental stressors beyond UV damage (think: pollution, smoking, etc.) The new collection contains three products with superb sun protection. Here's what you need to know about the two currently available at Dermstore:
[listimage brand_id=500221 prod_id=79052]
Why it's great: This light cream is suitable for use by all skin types. Aside from zinc oxide and titanium dioxide, lilikoi seed oil gives you additional protection against environmental skin stressors, while Satsuma mandarin peel extract reduces hypersensitivity and larch tree boosts its SPF's power and protects your complexion against dehydration. Upon application, you'll notice that your skin feels thoroughly hydrated without feeling heavy, and that the sunscreen absorbs without any white cast.
How to use: Apply liberally 15 minutes before going out into the sun and reapply every two hours—more often if you go swimming or sweat a lot.
[listimage brand_id=500221 prod_id=79053]
Why it's great: This ultra-lightweight primer is the perfect base to apply over your regular moisturizer. It also relies on zinc oxide and titanium dioxide for mineral sun protection and lilikoi seed oil for antioxidant protection. It's also formulated with cocoa seed extract to improve the appearance of skin exposed to blue light. Finally, larch tree offers extra protection against dehydration. Upon application, you'll notice your skin looks glowing, bumps and spots look less noticeable and your makeup goes on easier.
How to use: Apply the primer liberally and evenly to your skin after slathering on moisturizer, preferably 15 minutes before you go outside.