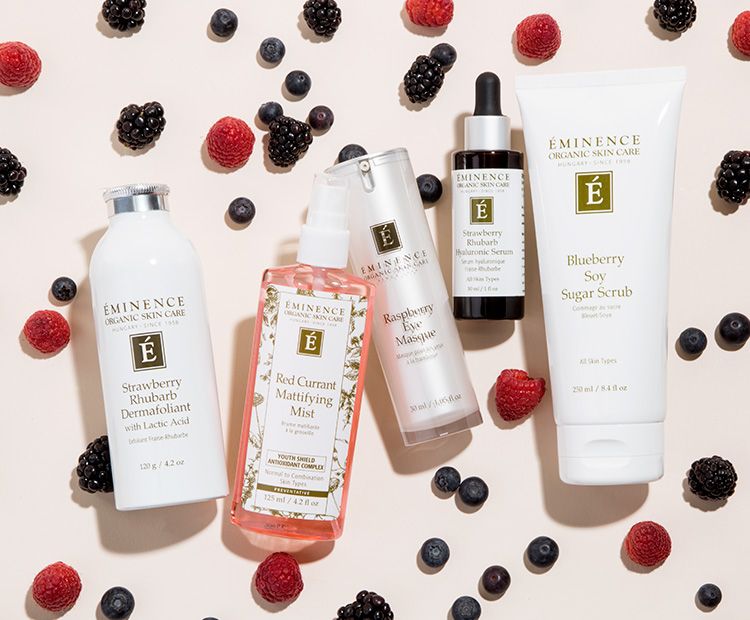 If you're ever torn between choosing natural and organic skin care products and laboratory-based formulas with clinically proven results, you are not alone. With celebrities, life coaches and healthy lifestyle gurus debunking traditional skin care ingredients and dermatologists defending the science behind them, it's easy to get confused. But according to Attila Koronczay, co-owner of Eminence Organic Skin Care, it doesn't have to be either-or all the time. "Some consumers have been misinformed that organic products aren't results-oriented," says Koronzcay. "By incorporating the most innovative methods of harnessing the power of natural, organic and Biodynamic® ingredients, the results are very much real, proven with studies and can even be life-changing."
According to studies, Koronzcay adds, organically grown plants contain up to 30% more antioxidants, 56% more nutrients and up to 47% more vitamin C than their conventionally grown counterparts. "Nature is one of the most powerful forces in the world. By utilizing generations of knowledge, Eminence Organics is able to deliver the healthiest possible products with the best possible results," he says.
Want to know which natural ingredients boast the most skin-enhancing nutrients? Here are just some of them.
Buy now

with Dermstore

Eminence Organics Coconut Age Corrective Moisturizer features coconut oil, coconut water, swiss green apple stem cells and a natural retinol alternative complex to reduce the signs of aging. Formulated for normal to dry skin types, this face cream deeply moisturizes the skin, balancing its pH, while toning and strengthening using electrolytes, vitamin C, calcium, potassium and phosphorus. Nut-free.Key Ingredients: * Coconut Oil: antioxidant; moisturizes the skin * Coconut Water: moisture and pH balancing; toning; source of electrolytes, Vitamin C, calcium, potassium, phosphorus * Natural

Buy now with free delivery

Buy now

with Dermstore

The Strawberry Rhubarb Dermafoliant by Eminence Organic Skin Care is designed to purify and brighten your complexion. Featuring a blend of strawberries, lactic acid and rice powder, this exfoliating face scrub gently buffs away impurities and exposes new dermal cells for a more radiant appearance. Vitamin-rich rhubarb enriches your skin with vital nutrients, while chickpea flour absorbs excess oil and minimizes the look of large pores.Key Ingredients: * Strawberry: cleanser and astringent; contains Salicylic acid that gently exfoliates and removes impurities to brighten skin's appearance and

Buy now with free delivery

Buy now

with Dermstore

Combining the nourishing power of superfoods and citrus fruits, Eminence Organics Citrus & Kale Potent C+E Serum delivers essential nutrients deep into your skin for a rejuvenated appearance. A fortifying organic blend of kale, broccoli sprout and spinach extracts reduces wrinkles and removes toxins. Vitamins C and E work synergistically with one another to boost collagen and elastin production while fighting off free radicals. Dull, lackluster complexions are visibly transformed with improved firmness and elasticity. Soy- and nut-free.Key Ingredients: * Stabilized Vitamin C (L-Ascorbic

Buy now with free delivery

Buy now

with Dermstore

Eminence Organics Firm Skin Acai Masque douses your skin in nutrients and antioxidants for youthful, healthy skin that glows. Hyaluronic acid instantly plumps fine lines and fortifies your skin's natural moisture barrier. Acai berry and blueberry extracts nourish and stabilize collagen while preventing premature aging caused by environmental damage. A signature Biocomplex of vitamins A, C, E and coenzyme Q10 boost cellular functions for a radiant, rejuvenated complexion. Nut-free.Key Ingredients: * Acai Berry: nourishing with high antioxidant and vitamin content to improve skin tone

Buy now with free delivery

Buy now

with Dermstore

Eminence Organics Yam and Pumpkin Enzyme Peel nourishes and refines to reveal a youthful, radiant glow. Formulated with lactic acid, this face peel gently removes dulling dead skin cells and impurities as pineapple purifies for a clean, refreshed feel. Yam and pumpkin pulp purees enrich your skin with vitamins, amino acids and antioxidants, improving texture and tone, while phytocollagen hydrates and plumps, combating visible signs of aging for a rejuvenated look. Nut-free.Key Ingredients: * Yam: high in beta-carotene and vitamins to fight the appearance of aging * Pumpkin Pulp Purée: rich in

Buy now with free delivery

Buy now

with Dermstore

Apricot Body Oil by Eminence Organic Skin Care nourishes and moisturizes to revitalize the look and feel of your skin. Vitamin-rich apricot kernel oil enhances elasticity as it improves clarity and delivers a smooth, supple texture. Nourishing grape seed oil hydrates and diminishes the look of fine lines and wrinkles to promote a youthful, radiant appearance. Nut-free.Key Ingredients: * Apricot Kernel Oil: high in Vitamins A, C and E with skin softening properties, assists the skin in retaining the look of elasticity, clarity and suppleness * Grape Seed Oil: rejuvenating and restructuring

Buy now with free delivery

Buy now

with Dermstore

Eminence Organics Wild Plum Eye Cream reduces the appearance of puffiness and dark circles to promote a youthful, well-rested look. Formulated with wild plum juice, this eye cream brightens and nourishes, while green tea extract delivers antioxidant protection to combat free-radical damage. Grape oil and vitamin E hydrate, as wheat protein retains moisture to diminish the look of fine lines and wrinkles.Key Ingredients: * Wild Plum Juice: brightens the look of skin and soothes the look of skin irritations * Shea Butter: moisturizes and repairs the look of skin * Grape Oil: contains

Buy now with free delivery

Buy now

with Dermstore

Lemon Cleanser by Eminence Organic Skin Care is formulated with cleansing lemon and herb oils that nourish and provide essential moisture while leaving the skin comfortably clean. Its vitamin-rich formula offers antioxidant protection and features Biocomplex, a unique blend of vitamins A, Ester-C and E, Coenzyme Q10 and Alpha Lipoic Acid for superior protection against damaging free-radicals. Nut-free.Key Ingredients: * Lemon: tones and refreshes the skin, contains Vitamin C * Herb oils: softens and enriches the skin * BioComplex: a booster of antioxidants, Coenzyme Q10, and Alpha Lipoic Acid

Buy now with free delivery

Buy now

with Dermstore

Mangosteen Daily Resurfacing Concentrate by Eminence Organic Skin Care is a face serum that minimizes the appearance of pores and gently exfoliates for a smoother complexion. Natural and organic, this facial serum is powered by mangosteen and lactic acid that guard against environmental damage while removing build-up.Key Ingredients: * Mangosteen: a super fruit that helps protect skin from drying environmental stressors while promoting natural radiance * Lactic Acid Complex (Lactic Acid, Ribose, Red Clover Flower Extract): a proprietary blend of actives; gently resurfaces skin and refines

Buy now with free delivery