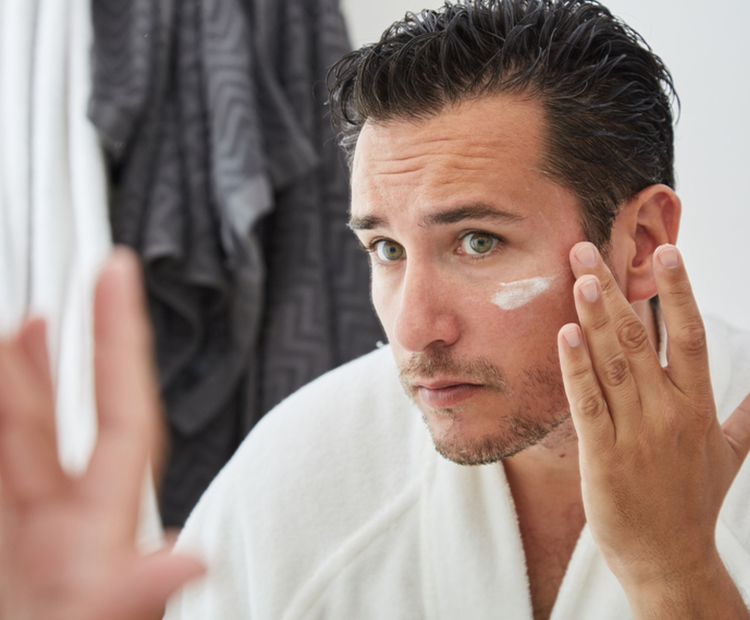 If you're the kind of guy who skips out on moisturizing regularly, we're here to be the bearer of bad news: This is actually really bad for your skin! That being said, you shouldn't just pick up any ol' moisturizer (say, the one your girlfriend has laying around in her bathroom). Why? Well, men's skin is actually 25-percent thicker than women's, notes cosmetic chemist, David Pollock. Men also produce more oil and experience acne for longer periods of time than women, adds Pollock. Your skin care routine doesn't have to be complicated, though. Pollock recommends focusing on cleansing and moisturizing twice a day. Furthermore, because many men shave daily, it's important to make moisturizing a priority in order to prevent excessive dryness, explains Dr. Sonam Yadav, a dermatologist in New Delhi, India.
How to Pick the Right Moisturizer
As far as moisturizers go, look for one that is lightweight and absorbs quickly. Here are some of the best ingredients to look for in a moisturizer, according to Pollock:
Hyaluronic Acid: holds 1,000 times its weight in water and binds moisture to the skin
Green Tea: an antioxidant that helps protect skin from free radical damage
Omega Fatty Acids: replenishes and nourishes skin
Peptides: stimulates collagen and firms skin
Retinol: it exfoliates, fights acne and boosts collagen production
Avoid oils, which can clog pores, says Pollock.
The Importance of Using SPF
Regardless of your gender, sun protection is also a must—even when it's cold outside. "Just because it's winter, it doesn't mean that you can stop using a daily sunscreen," says Tsippora Shainhouse, M.D., a dermatologist in Beverly Hills. "UV rays pass through clouds and window glass, and they reflect off of snow and ice. They can cause cellular damage that can lead to skin cancers, and they can cause oxidative and direct damage to the structural collagen in the skin, leaving it looking prematurely wrinkled, spotty and thin." Eek! For everyday use, look for a moisturizer with SPF, preferably one with antioxidants to help ward off aging and free radicals.
To make things easier for you, we've rounded up the best moisturizers for men. Keep reading for our top face moisturizers, then get to slathering one on your skin!
Best suited for: All skin types
This 2-in-1 daily moisturizer by Vichy is a true multitasker. It provides all-day hydration (without leaving skin greasy), fights off signs of fatigue and contains vitamin C to shield skin from free radicals.

Buy now with free delivery

Buy now

with Dermstore

Best suited for: Oily skin
Since men's skin tends to be on the oilier side, you might find yourself looking a tad shiny during the day. Enter Baxter of California's Oil Free Moisturizer, which leaves skin with a matte finish. It's formulated with plant extracts (including aloe) to strengthen the moisture barrier and soothe.

Buy now with free delivery

3. Profile 4 Men DEFEND Hydrating Facial Sunscreen Broad Spectrum SPF 15

Best suited for: Dry skin
Chock full of ultra-hydrating ingredients like hyaluronic acid and shea butter, this moisturizer with SPF is a great daytime pick for guys with dry skin. It's also formulated with lipids, vitamins and nutrients, which can minimize the look of wrinkles and dark spots.

Buy now

with Dermstore

Best suited for: Sensitive skin
Does your skin get red from all that shaving you do? If so, reach for a moisturizer that can help you deal with inflammation, like this one by Jack Black. It curbs redness thanks to skin-soothing ingredients like blue algae extract and sea parsley.

Buy now with free delivery