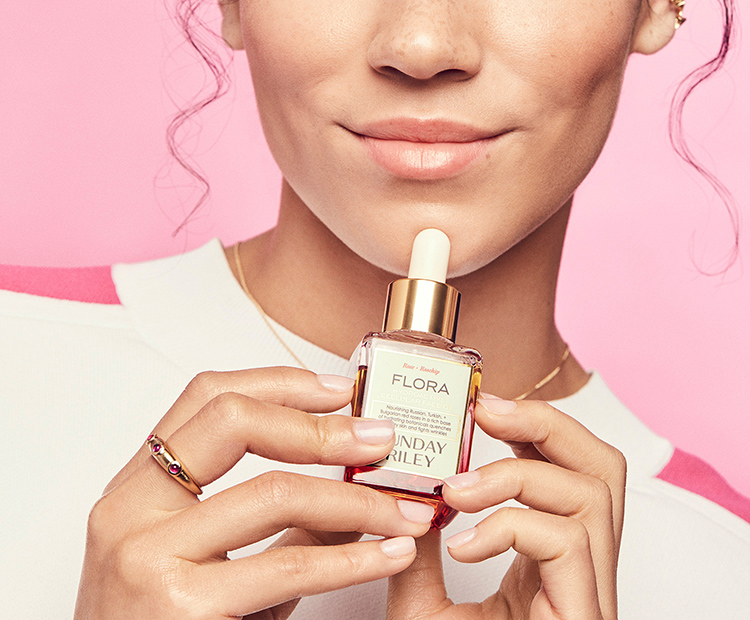 The therapeutic benefits of natural oils for the face and body have been documented for hundreds of years, but we're only now starting to incorporate them as part of our morning and evening skin care regimen. As Lily Talakoub, M.D., dermatologist at McLean Dermatology and Skincare Center explains, it's thanks to their abundance of essential fatty acids, vitamins and antioxidants which work to strengthen the skin's protective barrier, prevent free radical damage, increase skin elasticity and more.
Who Can Benefit From Using Natural Oils? 
While many people, especially those with combination or oily skin, tend to shy away from products containing oil of any kind for fear that it will cause them to break out, this is not always true. In fact, natural oil-containing products might be the best thing for those with oily and even acne-prone skin. "Acne medications often strip the natural barrier of the skin, which can lead to excess sebum production and clogged pores without proper hydration," says Dr. Talakoub. "Oils help train the skin to rebalance itself if overstripped from harsh cleansers or medications," she explains.
How to Choose the Right Face Oil 
Choosing the right oil, however, is the tricky part. That's why it helps to understand the properties of the various oils to determine which will benefit your particular skin type. "Argan oil and sunflower oil, for example, are rich in essential fatty acids and vitamin E, which hydrate the skin and have anti-aging properties, while tea tree oil has antibacterial and anti-inflammatory qualities that are great for acne-prone skin," explains Dr. Talakoub.
Still, not all facial oils are equal, especially if they are naturally derived. "Not only do the chemical constituents vary based on different plant species but the geographic location where the plant is grown, the conditions in which the plant is grown, the age of the plant, how it is extracted and then formulated; these all affect the properties of the plant oil," explains Melissa Kanchanapoomi Levin, M.D., board-certified NYC dermatologist and clinical instructor at NYU Langone and Mount Sinai. "Also, just because a plant-based oil touts a large percentage of a specific fatty acid that imparts specific benefits on the skin, it doesn't mean all of those fatty acids are directly absorbed into the skin," she notes. The best thing you can do when it comes to natural oils for your face, much like any other skin care ingredient, is to do your research.
To help you determine which is the best natural face oil for you, we consulted with dermatologists to uncover some of the best products out there—and the skin type they're meant for.
Buy now

with Dermstore

Best for: Normal skin
This anti-aging complex is naturally derived, using a mixture of fine organic botanicals including olive oil, sesame oil, rosemary and vitamin E, which imparts even more hydration and also provides antioxidant benefits, according to Dr. Levin. While it targets fine lines and wrinkles, those with more youthful skin will find benefits in its soothing abilities.

Buy now with free delivery