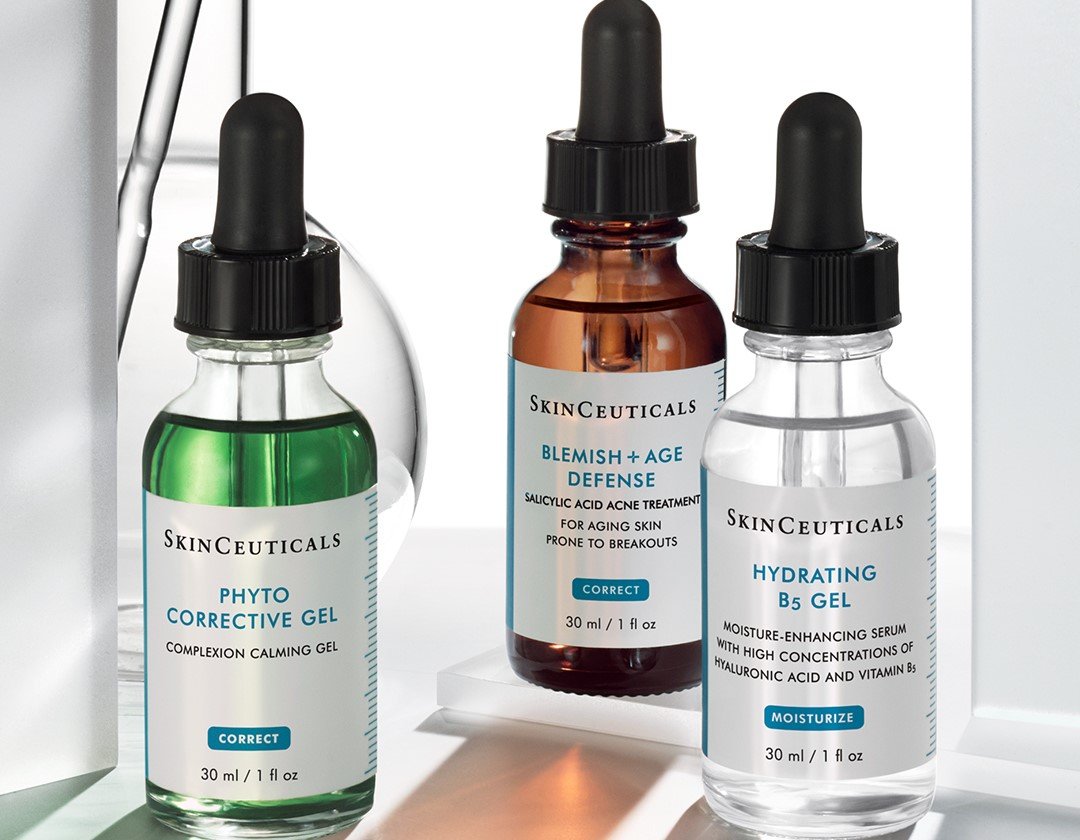 Similar to how a capsule wardrobe makes it a breeze to get dressed every day, having an array of targeted serums on hand helps you address any skin "event" that may come your way. All skin types are at risk of experiencing dryness, breakouts, sensitivity and more, especially when travel, hormones and changes in weather are part of the mix. Consider this your list of must-have serums from SkinCeuticals so both you and your skin are prepared.
The concern: Freckles and dark spots
The solution: Discoloration Defense
Whether you're concerned about spots that pop up after sun exposure, post-acne marks or stubborn brown patches, Discoloration Defense is just what you need to get your skin tone back on track. Formulated with 3% tranexamic acid, 1% kojic acid, 5% niacinamide and 5% HEPES, this advanced formula improves the appearance of skin discoloration, brightens your overall complexion and provides more even-looking skin in as little as 2 weeks.
The concern: Dry, thirsty skin
The solution: Hydrating B5 Gel
Think of this moisturizing serum as a tall glass of water for your skin. It can be used on its own in place of a moisturizing cream or lotion for oily and acne-prone skin, or to give other hydrating products an extra boost. Ideal for all skin types, its combination of hyaluronic acid and vitamin B5 replenishes lost moisture and enhances radiance without clogging pores.
The concern: Visible signs of aging and breakouts
The solution: Blemish + Age Defense
Tackling breakouts, fine lines and wrinkles at the same time can be a daunting skincare task—but this oil-free serum has you covered. Its unique blend of dioic, LHA, salicylic, glycolic and citric acids helps reduce excess oil production, decongest pores and diminish visible signs of aging while improving the look of blotchiness, blemishes and uneven skin tone.
The concern: Visible redness, sensitivity and dryness
The solution: Phyto Corrective Gel
Formulated with hyaluronic acid and a botanical blend of cucumber, thyme and olive extracts, think of this serum as a green juice for your skin. Use this non-comedogenic formula alone as a gentle, soothing moisturizer for sensitive skin, or add it to your usual skincare routine for an extra discoloration-fighting boost.
The concern: Visible signs of fatigue around the eyes, puffiness and dark circles
The solution: AOX+ Eye Gel
Offering the delicate eye area with the same antioxidant approach as SkinCeuticals' proven-effective full-face vitamin C serums, this gel-based multitasker provides advanced protection against free radicals generated by UVA/UVB rays, infrared radiation and pollution, and improves the look of fine lines, puffiness and dark circles.
The concern: Loss of skin firmness and radiance
The solution: Resveratrol BE
SkinCeuticals is the antioxidant authority, and this nighttime treatment works to neutralize the damaging free radicals that accumulate over the course of the day. This serum enhances the skin's natural defense against environmental aggressors while renewing the look of radiance and skin's feeling of firmness.
The concern: Dull, dry, rough skin
The solution: Retexturing Activator
This patented oil-free serum simultaneously delivers moisture-replenishing and skin-resurfacing benefits. Formulated to reinforce the skin's barrier, it gently exfoliates (with the power of a 20% glycolic acid and no unwanted side effects), improves the appearance of lines, smoothes surface texture and restores radiance in all skin types It's the secret for fresh, healthy-looking skin.