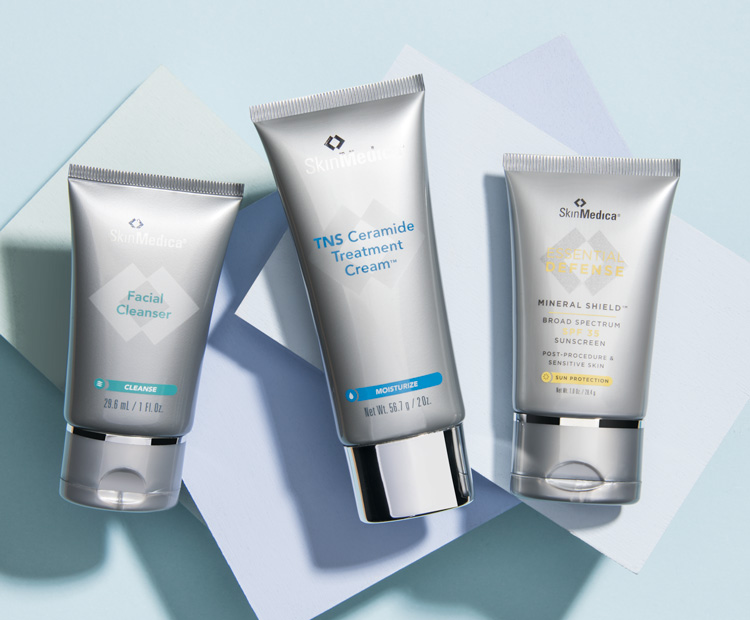 A visit to your esthetician, whether for a quick pick-me-up facial or a deep pore cleanse, is always a refreshing experience. But when booking a treatment that's slightly or significantly more intense—like microdermabrasion or a chemical peel—it can be difficult to know exactly what to do once you're out of your esthetician's office. Though it would be ideal if these treatments work like magic overnight, it is often the care that follows these appointments that make a difference in our skin. After all, much like you'd recover from anything that changed your body in some way, your pores need extra TLC to heal, repair and reveal smoother, brighter skin underneath.
One way to ensure the health and vitality of your skin and extend the results of your treatments is by creating a dermatologist-recommended post-procedure regimen. One of the brands trusted by many professionals? SkinMedica, a dermatologist-founded skin care brand that leverages decades of scientific research and clinically tested ingredients to formulate advanced skin care products that deliver optimal results. "The products do exactly what they say they will do, and I appreciate their dedication to innovation! When we discuss the necessities everyone should have in their routine, SkinMedica actually has them all," esthetician Jordana Mattioli explains.
If you're wondering which SkinMedica products to use after common minimally invasive treatments like microdermabrasion and chemical peels, read on.
Microdermabrasion
What happens: During this procedure, Mattioli explains, desquamating corneocytes on the stratum corneum (a.k.a.—acne scars!) are removed, revealing softer, smoother and brighter skin. Because of the vacuum component of this treatment, microcirculation is stimulated, helping to unclog our pores. Right afterwards, you'll notice pinker skin, which can last a few minutes or a few hours, depending on sensitivity. For the best results, most people have a series of these sessions to rid of scarring or other issues.
What to do: Because these methods don't enter the deeper-living layers of the skin, Mattioli says you don't have to be too specific about your post-care. Though it is important to avoid retinoids and acids for 24 hours, it is most important to be diligent with sunscreen, since your skin could be extra sensitive to vitamin D.
Try this product: For everyday use and after any procedure, Mattioli recommends SkinMedica Daily Physical Defense® Sunscreen Broad Spectrum SPF 30. Not only does it offer protection, but it goes on smoothly and absorbs fast, too.
Mild Chemical Peels
How they work: Also known as alpha and beta hydroxy acid peels, these won't cause your face to resemble the blotchy mess of Samantha's in Sex & the City—but rather, provide that youthful glow you're after. Mattioli explains that these types of mild peels work by dissolving the proteins that hold together skin cells, allowing you to shed easily. When you remove this outermost layer, you'll see softer and clearer skin. Like with microdermabrasion, you might notice that a bit of redness will appear but usually goes away swiftly.
What to do: Technically speaking, Mattioli explains that even mild chemical peels do damage your skin slightly, but in a healthy way, to allow your brighter layer underneath to lead the way. Because of this, you might notice your skin is a tad more sensitive than normal. To ensure your pores are treated kindly, switch up your routine for the first week following treatment by using a gentle cleanser to keep skin clean and provide antiseptic and antibacterial support. You should also hydrate your skin with a smart moisturizer. And last—but never least—don't forget daily sunscreen!
Try these products: For washing your face once to twice a day after treatment, go for the water-and-oil–based SkinMedica Sensitive Skin Cleanser if you have dry skin or the water-soluble gel Facial Cleanser if you have normal-to-oily skin. Both are free of harsh agents, fragrances or irritants.
With clean skin, Mattioli suggests using the SkinMedica HA5 moisturizer, featuring a blend of hydrating ingredients and five types of hyaluronic acid. If your skin is super-dry post-treatment, you can also try the SkinMedica TNS Ceramide Treatment Cream, featuring growth factors, peptides, plant oils and antioxidants.
After your first week, Mattioli says you can return to your previous routine using a low-strength retinol. Then, once a month has passed, you can also start to use alpha hydroxy acid twice a week. "In the mornings, use a growth factor cocktail and antioxidants under sunscreen. If you are concerned with keeping pigment away, also include a brightening product at night," she shares.
Medium Chemical Peels
How they work: Mattioli explains that these chemical solutions are applied to remove specific skin layers, which are then eliminated over a period of several days. During this time, the repair mechanisms of your skin are induced, causing a thickening of your viable epidermis and thinning out our outermost layer of skin. This creates a wound that often reacts with an inflammatory response, in the form of swelling, redness and possible mild discomfort. Though probably not when you want to go on a first date, Mattioli stresses that inflammation is a critical part of the healing process, helping you to rebuild vitality. Two to three days later, you'll start to see a shift, and within a week, most of your reactions will subside. During this time, collagen fibers bundle together—and you'll appear younger and more radiant.
What to do: You'll want to follow much of the same regimen as you do with lighter peels, but with a few other safety precautions. Mattioli warns against using scrubs, cleansing brushes, washcloths, retinoids, topical acne medication and alpha/beta hydroxy acids for a week, as these will all disrupt the healing process.
Try these products: After using the cleanser, moisturizer and sunscreen above, Mattioli says to make sure you fill your regimen with antioxidants in the morning and a fragrance-free serum that uses both vitamins C and E. When you receive clearance from your derm, you should also implement retinols, which Mattioli says are the key for healthy skin. Some to get you started include The Essential Serum and the SkinMedica Age Defense Retinol Complex 0.5.