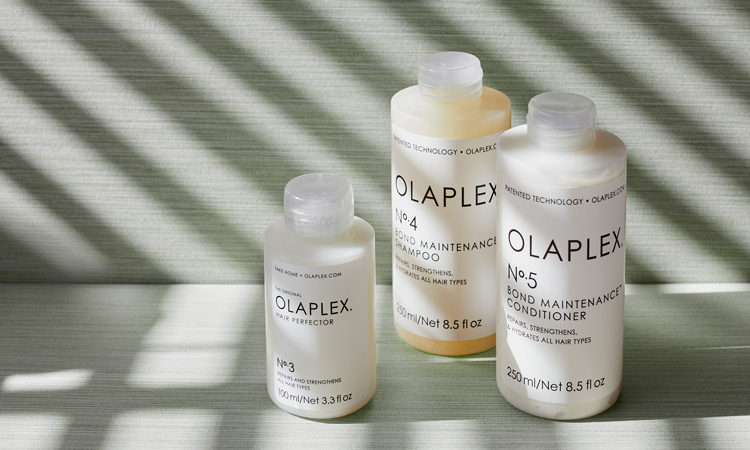 You may have heard your colorist sing its praises, or read the rave reviews from people who've used Olaplex to bring their damaged hair back from the brink. But if you're not quite sure what, exactly, Olaplex is and how it works, you've come to the right place. While the science may be a bit complex (don't worry; we'll break it down), the results—healthy, strong, damage-free hair—are easy to see. We checked in with Amy Cherry, Olaplex Retail Manager, to answer all of your most-asked questions about this hair-repairing system.
What is Olaplex?
Olaplex is a system made up of seven products—two formulas meant to be used in the salon by professionals, and five products for at-home use. The products repair damage (from color or chemical processing, heat styling and environmental factors) that results in broken bonds that compromise hair's strength and structural integrity.
How does Olaplex work?
"All hair types derive most of their integrity from healthy, properly paired, disulfide bonds," says Cherry. When damaged, these bonds break apart, resulting in single sulfur hydrogen bonds. "Each product within the line contains our patented active ingredient, Bis-Aminopropyl Diglycol Dimaleate, which finds broken bonds within the hair and links them back together," Cherry says. "This leaves you with hair that is stronger from the inside, repairing existing damage and working to prevent future damage."
Is Olaplex good for all hair types?
Yes, and it's not just for color-treated hair, Cherry explains. "Because all hair is made up of these disulfide bonds, all hair will benefit from using Olaplex. Even if you don't color your hair, we break these bonds every single day from something even as simple as the friction of your head on a pillow or a ponytail that was too tight."
What benefits will I notice after using Olaplex?
"When all the bonds, especially the disulfide bonds, are intact and in alignment, you have healthy, beautiful, shiny, touchable hair," Cherry says. "You will notice your natural texture begin to bounce back as these bonds are relinked. Curls will be more defined and hair will be more manageable."
What's the difference between the Olaplex salon system and the at-home products?
The professional system is for use by stylists during chemical services as well as on its own as an in-salon, full strength treatment, while the at-home products are meant to be used as part of your regular haircare routine. Both the salon and at-home products contain the same active ingredient, and according to Cherry, "The more parts of the system you use, the more added benefits you will have," though she recommends seeing your stylist for the salon treatment to maximize these benefits.
Can you overuse Olaplex?
No—you can use Olaplex as often as you like, says Cherry. "Since we break these bonds in our hair every day, there is always work for Olaplex to do. We recommend using the No.3 at least once a week and the No.4 through No.7 as your daily maintenance."
Damage-repairing products to try at home
Ready to try these bond-building formulas for yourself? Here's what you need to know about adding these products to your at-home hair routine.
Buy now

with Dermstore

The hero of Olaplex's at-home lineup, this weekly treatment repairs and strengthens hair in just 10 minutes (20 minutes are recommended for extremely damaged hair). The concentrated formula should be applied to damp hair and shampooed out. The rave reviews speak for themselves; according to one shopper, "This literally saved my hair!"

Buy now with free delivery