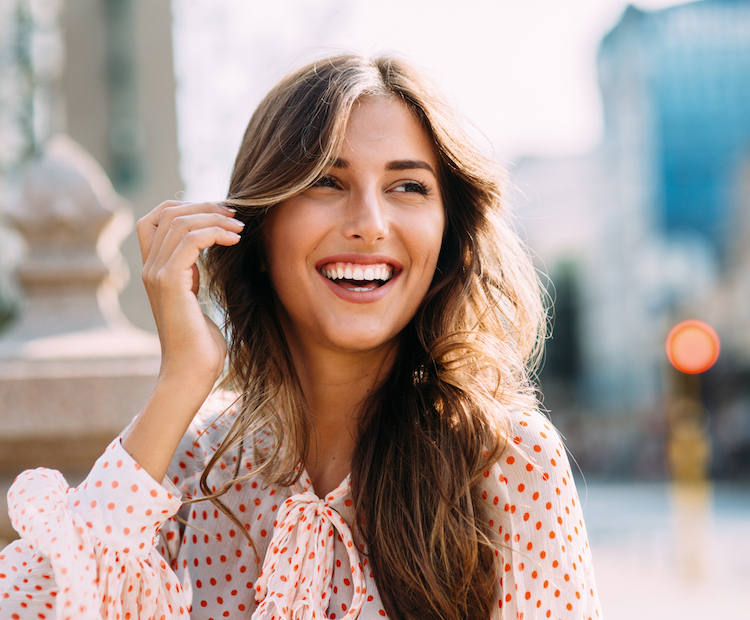 "The most wasted day of all is that in which we have not laughed," declared French playwright Nicolas Chamfort in the late 1700s. A simplified version of this quote ("A day without laughter is a day wasted") is often attributed to English comic Charlie Chaplin. Whichever one you prefer, the sentiment is the same, and we can't help but agree. Laughter is a beautiful part of life.
When we're laughing, we're living in the moment—not thinking about the laugh lines that might be forming. And, let's face it: when are the moments that you're actually stressing over wrinkles? Pretty much only when you're standing in front of the mirror. And even then, you sometimes might like your laugh lines—you can see them as physical memories of your joy. But other times, you just see them as wrinkles that you'd really rather not have on your face.
Laugh lines, or nasolabial folds, are the creases on either side of your nose, running to the corners of your lips. When you smile or laugh, they're clearly defined as they push into the creases of your cheeks—so the more you laugh and smile, the more pronounced the lines will become. When we're younger, this is no big deal, as our healthy, youthful skin bounces back quickly. But as we grow older, our skin starts losing some of its elasticity due to a loss of collagen and hyaluronic acid—further adding to the prominence of laugh lines.
The good news? You don't ever have to stop laughing to keep laugh lines from turning into deep wrinkles. While some people swear by hyaluronic acid injections (over two million people in 2016, in fact), we realize they aren't for everyone. The non-invasive methods listed here are designed to both prevent and reduce the appearance of those fine lines.
Top 5 Ways to Banish Those Laugh Lines
Buy now

with Dermstore

1. Get Your Body Moving
While the many benefits of exercise are well known, it's a lesser known fact that exercising can have anti-aging benefits for your skin, too. The top biological thing at work for your skin when you exercise are myokines. Myokines are substances that jumpstart cell activity and are thought to be the main reason why those who exercise regularly experience fewer wrinkles and sagging.
Additionally, exercising helps to regulate your cortisol levels by keeping them low, as too much cortisol (a stress-related hormone naturally produced by the body) can lead to a faster breakdown in collagen.
Try: NuFACE Trinity Facial Toning Kit
This award-winning device helps stimulate your facial muscles for an effortless workout. See what happened when we tried it out. 

Buy now with free delivery