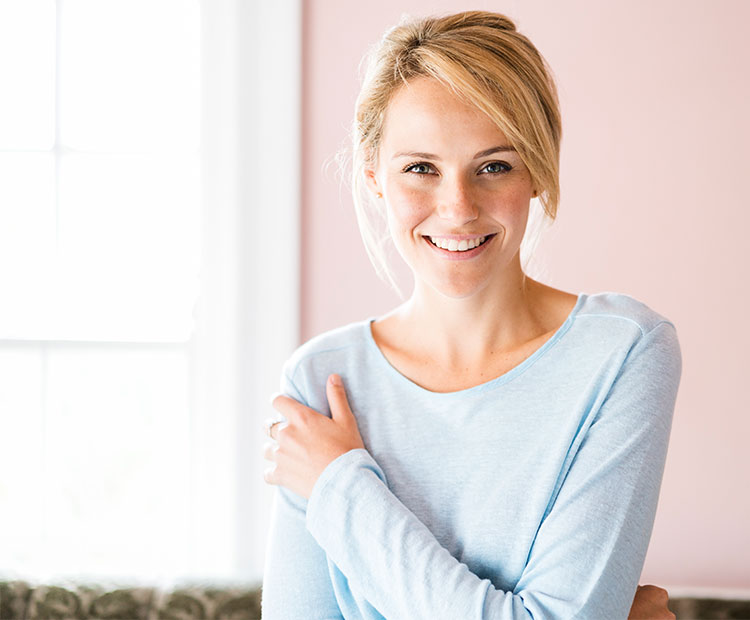 Have you ever noticed how your favorite skin care product suddenly stops working for you at some point? Like that one time the cleanser you'd been using for over 10 years suddenly made your skin feel overly dry? Yes, it happens—and it's not because the product's manufacturer decided to stop producing quality products. Just as our bodies change with age, our skin changes, too.
Here, we talked to skin care experts to find out what happens to your skin as you hit a certain decade—and what you can do to take the best possible care of it.
 In Your 20s
Fine lines and wrinkles are not exactly the top concerns of most twentysomething gals, but if you want to make life easier for the future you, now is the best time to start a skin care routine that works for you. Remember: prevention is always better than cure!
In your early 20s, you're still prone to acne breakouts, more so if you've struggled with it during your teenage years. Start with a basic cleansing and moisturizing routine, and build on it by adding some acne-prevention steps and getting a headstart on your anti-aging regimen. Miami-based cosmetic dermatologist Christopher O'Connell suggests adding retinol, a topical form of the antioxidant vitamin A, to your nightly skin care routine—especially when you're nearing your late 20s—as it's known to be effective in fighting both acne and aging (but hold off on it if you're pregnant as it can be harmful to an unborn child). "Vitamin A helps prevent and treat clogged pores, builds news collagen and elastin, exfoliates excess pigment and sunspots and leaves the skin with a glow," he explains.
And if you haven't already, now is also a good time to start a sunscreen habit. If you're not keen on spending more time on your morning regimen, using a gentle cleanser followed by a moisturizer with added SPF protection should do the job in just two steps. "It's important to use sunscreen daily to prevent photoaging or the development of fine lines, wrinkles and dark spots induced by the sun's UV rays as well as to prevent skin cancer," adds Dr. Joyce Park, dermatology resident and author of beauty and skin care blog Tea with MD.
Read: 4 Skin Care Essentials You Should Start Using in Your 20s
In Your 30s
A hint of crow's feet there, a faint laugh line here and dark spots that seem to spring out of nowhere. Welcome to your 30s! And this is its way of reminding you that your youthful skin is not at all invincible. For many of us, hitting our 30s means getting down to business and taking on more responsibilities in our careers and personal lives. It's a fulfilling time, but it's also a lot of hard work. And if all that stress doesn't take its toll on your skin, the major hormonal changes will. This would be enough to cause some women to panic—and understandably so! But don't fret as there's still plenty of room for you to fight these early signs of aging.
If you started your skin care routine in your 20s, chances are, you've already mastered your cleansing, moisturizing and sunscreen routine at this point, so consider adding regular exfoliation to your regimen—twice a week if you have dry or oily skin and once if you have sensitive skin—as this will keep your skin clearer and smoother by removing dead skin cells. Hydration is also important as hormonal imbalance tends to cause dull and lifeless skin. When choosing products, pick ones that contain humectants like glycolic acid, hyaluronic acid, aloe and glycerin. These attract and grab moisture from the air and deliver it to your skin's layers, making sure they stay hydrated.
The skin under our eyes is very sensitive and the first area in our face to show noticeable signs of stress and poor skin health. Dr. O'Connell recommends adding an eye cream to your routine and choosing one that boosts collagen and elastin production. Aside from applying and reapplying sunscreen throughout the day, add a dose of antioxidant serums to your morning regimen to counter the effects of free radicals and sun damage.
Read: These Are the Skin Care Products You Need in Your 30s
In Your 40s
The condition of your skin by the time you hit your 40s is a sure reflection of what your skin care routine had been like in the last couple of decades. You start seeing the results of your early preparation (or lack of) and the effects of all the hormonal changes that your body has been going through since your 30s. You may be seeing more noticeable signs of aging and stress than you'd like, but the good news is, it's still possible to keep your skin concerns under control by building on your skin care regimen.
Perhaps the most important thing you can do for your skin at this point is to continue applying sunscreen diligently. Sun exposure is one of the top causes of skin damage and aging, so getting ample UV protection is crucial. If you haven't already, now is the best time to slowly introduce a prescription-strength retinoid like Retin-A to your regimen. "Retin-A stimulates your own collagen in your skin, helps slow down oil production, promotes glowing and even skin tone and also helps with the prevention of skin cancer," says Dr. Jill Waibel, board-certified dermatologist and owner of Miami Dermatology and Laser Institute. However, it's important to start with a low dose as retinoid products make your skin more sensitive to the sun and may cause minor irritations.
As your body's hormone-producing ability slows down, your skin will also be more prone to dullness and flakiness. To counter this, dermatologists suggest focusing on hydration. "I recommend adding a hyaluronic acid-based moisturizer to your routine. It's a powerful humectant, holding up to 1000 times its own weight in water," explains Dr. Park. "Increase the use of serums after toners to add extra hydration and consider face masks a few times a week, especially during the dry winters."
Read: 6 Skin Care Essentials You Need to Use in Your 40s
In Your 50s
Ah, the joyful age of sagging and thinning skin, hot flashes and accelerated aging. All thanks to this wonderful thing called menopause. It sounds hopeless, we know. Does our skin even stand a chance against the rapid decline in hormones and drastic changes our bodies go through? The answer is yes. Believe it or not, our skin can still look good even as our bodies try to cope with all the unwanted side effects of nature's cruel prank on women.
At this point in your skin care journey, the focus should be "in maintaining your skin health, with a few important additions," according to Dr. Park. The first of these additions is an antioxidant serum that "helps to treat and combat the production of reactive oxidative species from the sun's rays." Apply this in the morning and evening, followed by a moisturizer with SPF. Aside from sagging, dryness is also a common trait of mature skin, so never neglect your skin's hydration. Always choose products that are infused with humectants to keep your skin's water content at a healthy level. To prevent rapid skin aging, include a prescription-strength retinoid treatment cream in your nightly routine as this promotes collagen production and cell turnover. If your skin is sensitive to retinoids, you can opt for products with hyaluronic or glycolic acid instead. Simply put, in whatever product you choose, always look for two things: hydration and collagen production!
Read: The Skin Care Products You Should Be Using in Your 50s, 60s and Beyond
In Your 60s and Beyond
At last, retirement. The time to pick up long-forgotten hobbies, dote on grandchildren and go on sunny vacations. It's probably one of the most-awaited time in our lives, when you can finally sit back, put your feet up and enjoy the fruits of all your hard work. And in a way, the same applies for your skin care routine. You can relax—but just a little. As skin becomes more sensitive at this age, you may need to tone down the "stronger" elements of your routine by either reducing the frequency or switching out to a gentler substitute. But that doesn't mean there's no more work to be done. The skin issues you encountered in your 50s—sagging and thinning skin, dryness and dark spots—will continue in your 60s and beyond, so your skin care routine's focus should also remain the same: to repair and to hydrate.
"In the 50s, 60s and beyond, the skin naturally has less oil production and can get thinner and duller," says Dr. O'Connell. "In order to brighten up the skin, we need to focus on neovascularization (new blood vessels), neocollagenesis (new collagen) and hydration." To achieve all these results, your best weapon is a hardworking serum that can signal collagen production and prevent further sagging of your skin. Add this step to your basic routine and extend its application to your neck and chest. Aside from this, Dr. Park also recommends treating specific areas by "investing in a richer facial or eye night cream that contains ceramides or hyaluronic acid, both key components of your skin that help maintain moisture." This is particularly important as hyaluronic acid is key in preventing hyperpigmentation, dryness and flakiness.
But perhaps more important than achieving younger-looking skin is understanding the wisdom behind a good skin care routine. At the end of the day, it's not really about looking a decade younger (although we'd take that too!) but about having healthy, beautiful skin that you can proudly call your own.