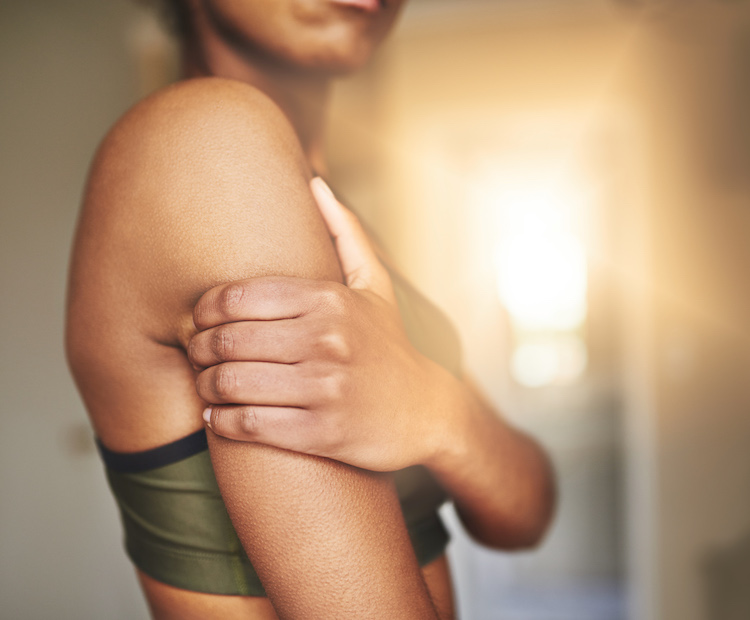 What Is a Bruise? Plus, Common Causes of Bruising
According to the National Institutes of Health (NIH), a bruise is "a mark on your skin caused by blood trapped under the surface. It happens when an injury crushes small blood vessels but does not break the skin." Bruises can be caused by minor injuries, surgeries/non-invasive treatments, playing sports, general clumsiness, etc. The good news is that bruises tend to resolve themselves within about a week to 10 days. More time may be necessary depending on the severity of the bruise. Though most are no big deal, they can still be painful and unsightly. Here's how to treat and/or cover up a pesky bruise on your body.
How to Treat and/or Cover up Bruising
To treat a bruise, you'll want to grab for a cold compress as soon as possible to help alleviate any swelling that occurs. Applying an ice pack for 30-60 minutes is a good rule of thumb, according to the NIH, and over-the-counter pain medication can help to relieve the pain. Try reaching for acetaminophen and avoid pain relievers such as ibuprofen or aspirin, as they slow the clotting of blood and may increase bleeding.
During the healing process, you shouldn't have to let a bruise prevent you from wearing what you want to wear. Here are some great over-the-counter bruise care products that can help speed up the recovery process and conceal unsightly bruising so you don't have to interrupt your normal routine.
Note About Bruising From Surgery or Medical Treatments:
When it comes to bruising after surgery or other medical procedures (like BOTOX, for example), be sure to follow your doctor's after-care recommendations. While the first two products listed below are designed for post-procedural care, be sure to check with your doctor before use.
Vitamins E and K Minimize Bruising and Speed up Cell Regeneration
After a surgical or cosmetic procedure, you might be in the market for a great post-op treatment to help speed up the healing process and prevent bruising. Vitamin K oxide and vitamin E work together to help minimize bruises, improve the appearance of skin and speed up cell regeneration for a faster healing time.
Try: Auriderm Post-Op Gel

Buy now with free delivery