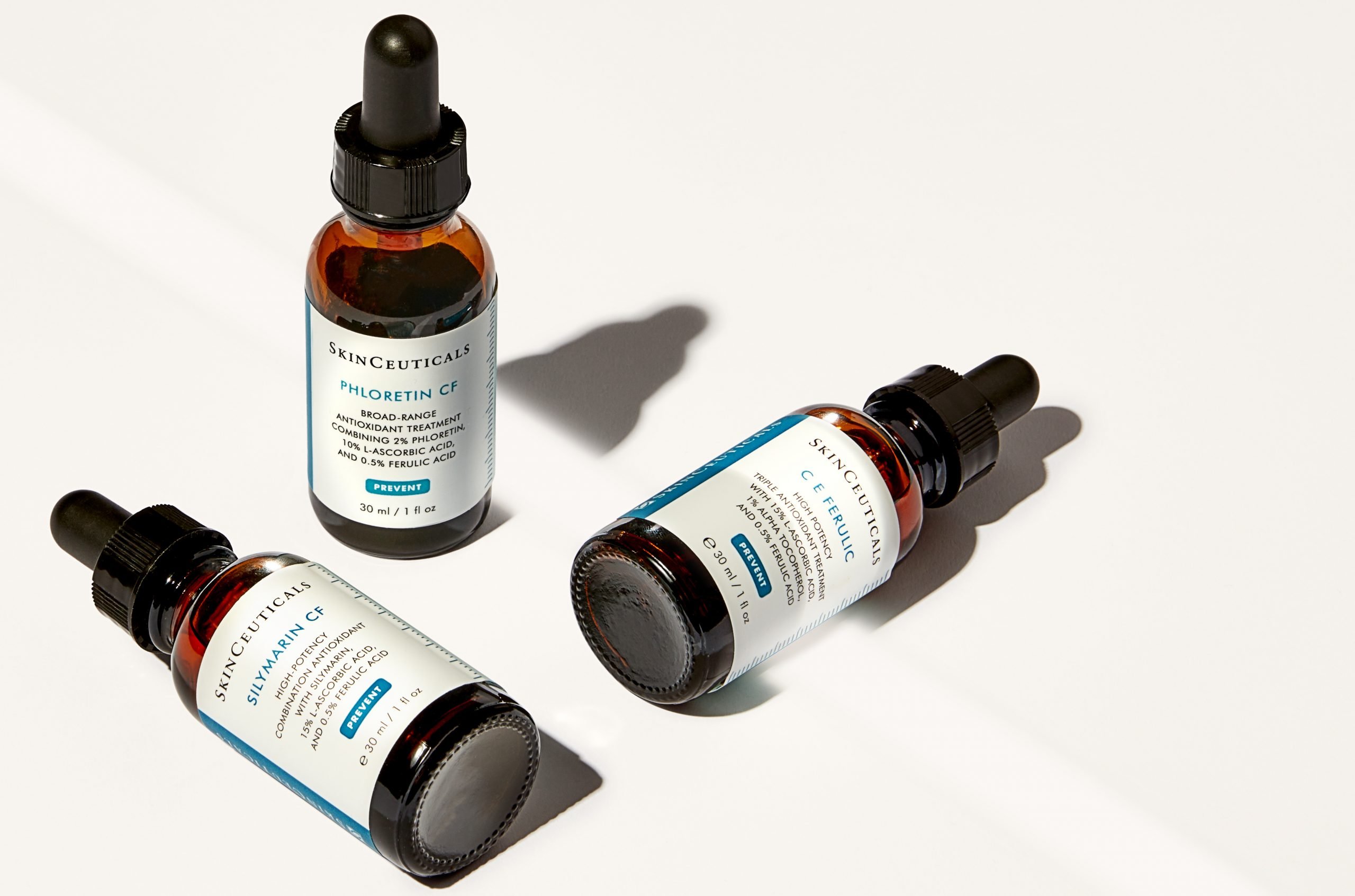 Hero ingredients save our skin time after time. But what about the trusty sidekicks that work alongside the heroes we know and love? Sidekick ingredients are the heroes' biggest supporters; they can enhance overall functionality of a formula as well as improve results. Vitamin C for example, has undoubtedly earned its spot in the limelight by providing protection from free radicals that cause damage deep within the skin. While pure vitamin C (L-ascorbic Acid) is good on its own, SkinCeuticals' research shows that when combined with other antioxidants, protection from free radical damage is amplified and visible anti-aging benefits are enhanced.
Our favorite award-winning SkinCeuticals vitamin C serums provide virtually unparalleled results for diverse skin types and concerns with a synergistic approach that could not be achieved with just the hero ingredient alone.
C E Ferulic Vitamin C Serum for Fine Lines and Wrinkles
Hero: 15% Pure Vitamin C
Sidekicks: 1% Pure Vitamin E and 0.5% Ferulic Acid
This best-seller and most-awarded superstar is formulated for normal to dry skin primarily concerned with aging. SkinCeuticals' research shows that the combination of 15% pure vitamin C and 1% pure vitamin E provides significantly superior protection against free radical damage. Vitamin E is an impressive antioxidant that replenishes essential lipids in the skin, making this a perfect option for those in need of moisture or for anyone looking for a winter season swap. Ferulic Acid is an antioxidant that simultaneously assists in stabilizing vitamin C and E while further enhancing their antioxidant benefits. C E Ferulic is clinically demonstrated to increase firmness, protect from free radicals, and reduce the appearance of fine lines and wrinkles.
Phloretin CF Vitamin C Serum for Discoloration
Hero: 10% Pure Vitamin C
Sidekicks: 2% Phloretin and 0.5% Ferulic Acid
Phloretin, an antioxidant derived from apples and the bark of fruit trees, improves skin cell turnover and the appearance of visible discoloration. Ferulic acid enhances the antioxidant efficacy, benefits, and stability of this formula, making this an excellent choice for anyone concerned with preventing visible signs of aging while combatting existing discoloration. Together, they allow Phloretin CF to promote radiance, help even skin tone, and reduce visible discoloration while protecting from free radicals.
Silymarin CF Vitamin C Serum for Oily and Blemish-Prone Skin
Hero: 15% Pure Vitamin C
Sidekicks: 0.5% Silymarin and 0.5% Salicylic Acid
Silymarin is a powerful plant-based antioxidant derived from milk thistle that helps prevent oil oxidation while providing protection against free radical damage. When your skin creates excess oil and those oils oxidize, a specific type of free radical damage occurs that can cause a cycle of inflammation and bacteria linked to blemish formation. Salicylic acid supports this formula's blemish fighting power by helping to refine pores and keep them clear. Ferulic acid further enhances free radical protection while stabilizing the vitamin c in this multi-tasking antioxidant serum. This means that Silymarin CF's formula helps reduce oil oxidation and blemishes, improves the look of skin's texture and promotes clarity. If you're concerned with aging but struggle with blemishes, blackheads, and excess oil production, this is the antioxidant answer for you.