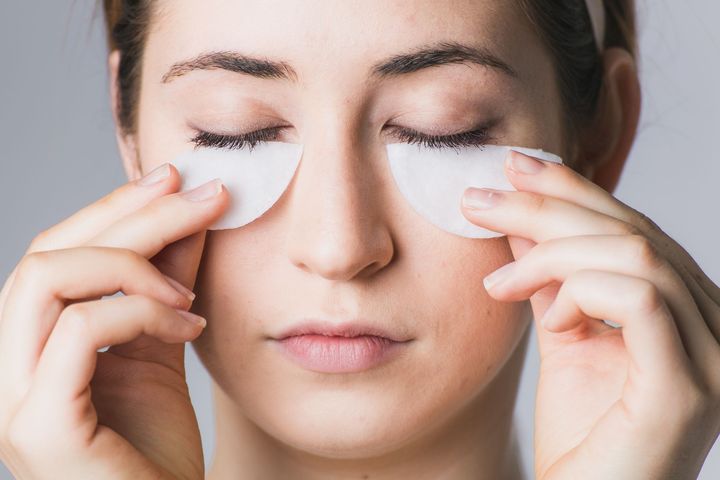 If the eyes are the windows to the soul, your brows and lashes are the curtains and frames. Of course, they also frame sensitive and crucial organs, so it pays to be skeptical and safe when it comes to the latest trends. In general, brow and lash tinting is a safe process—and one that can have a dramatic effect—if done professionally, so seek the right esthetician and the right ingredients for the job.
The Process
At the salon or spa, an esthetician or colorist first applies a protective cream, often simple petroleum jelly, to keep the skin around your eyes dye-free. Curved cotton pads go over the cream, allowing you to close your eyes and relax while the esthetician applies a dark-hued dye—ranging from nutty brown to black—to your lashes with a very fine-bristled brush. After the color sets for about 10 minutes, the excess dye is removed with moist cotton pads and you're out the door with a lot more definition in your brows and lashes.
Before You Go
Above all, engage with your esthetician. Request a patch test before your first go-round to determine if you're allergic to any of the brow dye's ingredients. Though the certification processes for these professionals vary widely, you can do research by simple word of mouth or online reviews; don't settle for less than a longstanding track record of safe, beautiful results.
In the Chair
Safety doesn't end with finding the right beauty professional—you can also protect yourself during the process. If you wear contact lenses, always remove them before a brow or lash tint. Most commonly, simple 3 percent peroxide serves as the bonding agent between the dye and your hair. In the event that any seeps through the pads and into your eyes, give them a thorough flush with cold running water.
When to Be Wary
If you happen to be hitting the spas while visiting your neighbors to the north or south, beware of dyes that use coal tar, a known carcinogen that's banned from brow tints in the U.S. but still found in Canada and Mexico. Steer clear of any dyes or coloring products that contain kohl, a stone-ground tinting agent that contains lead. Be thorough and open with your esthetician, and request information about the ingredients of the dye before it touches your lashes or brows. While numerous cosmetics makers sell at-home lash-and-brow dyeing kits, this is a job best left to professionals, because serious mishaps can lead to eye injury.
While you can gauge the safety of an esthetician or colorist based on history and results, the FDA does not approve any color additives for use in permanent eyebrow or eyelash dyes, which makes at-home kits a risky proposition for your brows and vision alike. For a less permanent option, you can try kits that use henna or vegetable dye that are safer to use.
This article has been reviewed by oculoplastic surgeon Dr. Matheson Harris.