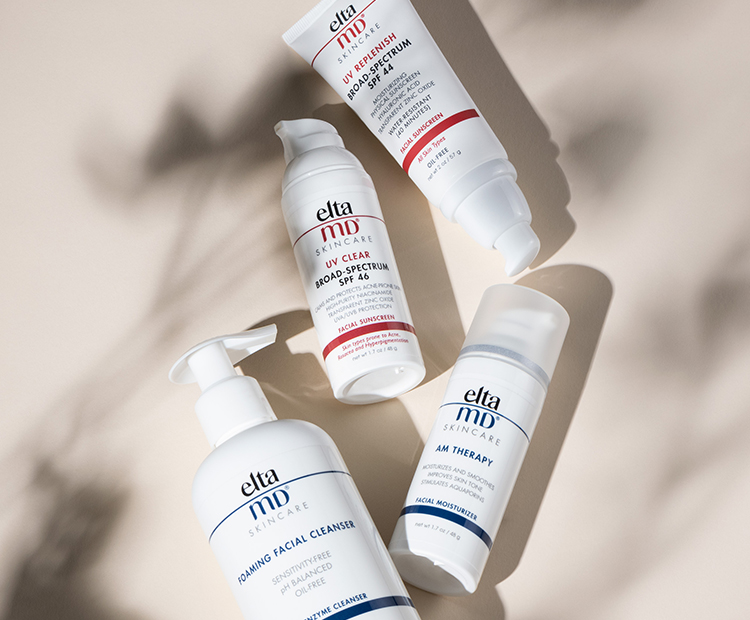 EltaMD has always been a power player in the broad-spectrum sunscreen arena. In fact, its best-selling sunscreen, EltaMD UV Clear Broad-Spectrum SPF 46, has been hailed the "most-loved sunscreen on Dermstore" and has sold tens of thousands of bottles. But what most shoppers don't know is that this brand actually started out with skin care products intended for wound healing, developed for physicians and other medical professionals to be used in hospitals, burn centers and rehabilitation clinics. And because its formulas are designed to address severe skin conditions, EltaMD uses only the most premium-grade ingredients that are gentle enough for even the most sensitive skin.
For over 25 years, EltaMD's mission—which is to provide physicians and their patients with innovative products that help restore, protect and maintain healthy skin—hasn't changed. And now, thanks to Dermstore, anyone can now have access to EltaMD's physician-recommended skin care line, even without an appointment to a dermatologist. Whether you have problematic skin that needs special care or are just on the lookout for a simple, straightforward skin care regimen that's easy for you to keep up with, EltaMD offers four basic steps that cater to your specific skin type. Here's a quick guide on how to build your own skin care regimen with EltaMD.
Step 1:  Cleanse
Cleansing is the first step to a good skin care routine. It removes all the makeup, dirt and oil accumulated on your skin throughout the day. Choose a cleanser that won't leave your skin dry and will restore your skin's pH balance.
[listimage brand_id=500300 prod_id=16021]
Why we love it: Don't be fooled by its oil-free, soap-free formulation. EltaMD Facial Cleanser deeply cleans your pores, leaving skin feeling clean, smooth and supple. And while most cleansers for oily skin tend to strip your skin dry, sometimes causing the skin to overcompensate by producing more oil, this cleanser binds moisture to the keratin in skin cells. It also does not contain harsh chemicals or AHAs, which can irritate sensitive skin.
Great for: Normal to Oily and Oily Skin
[listimage brand_id=500300 prod_id=32762]
Why we love it: This cleanser features a gentle enzyme and amino acid blend, creating a rich, creamy foam that loosens makeup, oil and other impurities while leaving you with moisturized, silky-smooth skin. The enzymes—extracted from pineapples—also reduce inflammation, making this cleanser perfect for post-procedure skin. To use, massage gently and evenly to moistened face and neck. Allow 30 seconds for the cleanser to foam and then rinse off well with lukewarm water.
Great for: Normal to Dry, Dry and Post-Procedure Skin
Step 2: Moisturize
It is a common misconception that only those with dry skin need to moisturize, but the truth is that keeping your skin hydrated is just as important even if you have oily skin. Why? Stripping your skin of essential moisture can actually send your sebaceous glands into overdrive, producing more oil to make up for lost moisture. No matter your skin type, EltaMD's therapeutic and super-hydrating facial moisturizers can help decrease dryness and itching while minimizing the appearance of wrinkles.
[listimage brand_id=500300 prod_id=32760]
Why we love it:  Oil-free, non-comedogenic, fragrance-free and doesn't feel heavy or sticky, this super-hydrating moisturizer contains hyaluronic acid and vitamin B3 to offer lightweight moisture and stimulate the skin's natural water system. Willow bark extract gently stimulates cell turnover for smoother skin without causing irritation, while niacinamide (vitamin B3) helps reduce redness. Apply a pearl-size amount every morning to clean, moist skin and gently massage onto face, using circular upward and outward motions.
Great for: All Skin Types
[listimage brand_id=500300 prod_id=32761]
Why we love it: This rich and highly moisturizing night cream features reparative ingredients that turn your beauty sleep up a notch. Ceramides strengthen the skin's natural moisture barrier. Niacinamide and antioxidants work to improve skin color and tone, while also  maximizing skin's nightly repair process. Small rice protein peptides penetrate to stimulate cell growth and collagen formation, resulting in more skin elasticity. Apply this at night as you would the AM Therapy Moisturizer.
Great for: All Skin Types
Step 3: Renew
Sleep disruptors—whether it's late-night partying, chasing after your toddler at midnight or endless work deadlines—will eventually catch up to you and your skin. And the eye area tends to be the first to show signs of skin fatigue and aging. The solution? Repair and prevent future signs of aging with a targeted cream for that delicate skin around your eyes.
[listimage brand_id=500300 prod_id=27493]
Why we love it: This eye cream doesn't just help eliminate the appearance of puffiness, wrinkles and dark circles around the eyes. It also features special peptides and natural extracts to stimulate collagen synthesis and hyaluronic acid production within the dermis to rebuild the skin matrix and prevent the appearance of skin aging. Apply a small amount of this ultra-rich eye cream in the morning (under makeup or alone) and at night to achieve best results.
Great for: All Skin Types
Step 4: Protect
Wearing a broad-spectrum sunscreen should be second nature, no matter your skin type. SPF helps reduce the risk of skin cancer, protect the skin from sun damage and ward off early signs of skin aging.
[listimage brand_id=500300 prod_id=20567]
Why we love it: This sunscreen is not only the most searched sunscreen on Dermstore, it's also one of our top-reviewed products! And we're not surprised—this broad-spectrum formula features moisturizing hyaluronic acid and pore-refining lactic acid, making it perfect for those with acne-prone skin. Fragrance-free, oil-free, paraben-free and non-comedogenic, this sunscreen also features ingredients that help calm skin types prone to breakouts, rosacea and discoloration.
Great for: Normal to Oily, Oily
[listimage brand_id=500300 prod_id=10106]
Why we love it:  We like how this sunscreen offers hydration with hyaluronic acid as it protects the skin from harmful UVB and UVA rays. It features antioxidants to help combat skin-aging free radicals associated with ultraviolet (UV) and infrared radiation (IR). This sunscreen is also fragrance-free, paraben-free and non-comedogenic.
Great for: Normal to Dry, Dry, Post-Procedure