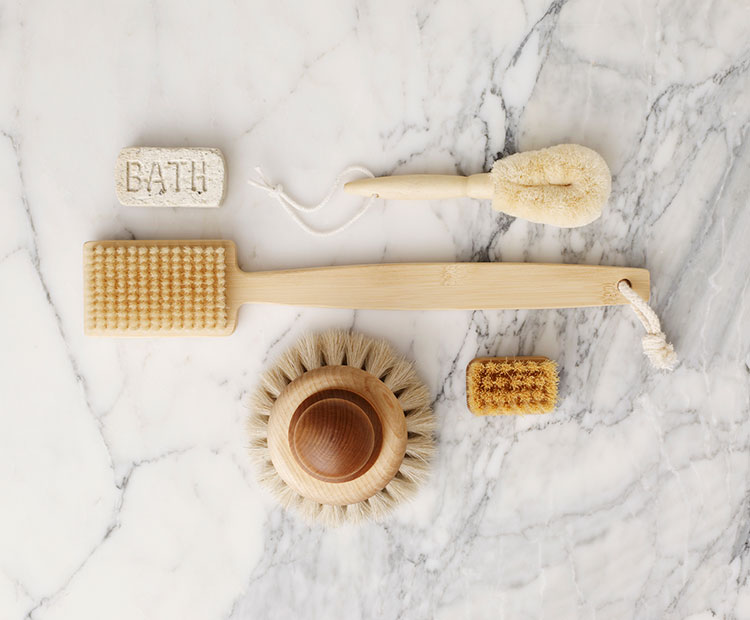 Good or bad, our skin is a complete reflection of what's happening inside our bodies. For some of us, eating fried foods can cause breakouts. For others, drinking red wine will make our cheeks look a little flushed. So it makes sense that in order to look healthy from the outside, we've got to work on our insides, right? That's where dry brushing comes in.
From the outside, dry brushing doesn't look like much. You're basically just exfoliating your skin with a brush. But according to board-certified dermatologist, Marnie Nussbaum, one of the most important benefits of this exfoliating method is that you get that glow-from-within look. By dry brushing, you buff away dulling dead skin cells while helping your products penetrate your skin better. "You're taking away another barrier of dead skin cells, so any product you're going to use is going to penetrate and work better," says Nussbaum.
And that's not all. Nussbaum also says dry brushing promotes an increase in collagen, boosts your circulation and helps activate the lymphatic system, leaving you with smooth, plump skin.
Benefits of Dry Brushing
Dry brushing works by stimulating your lymphatic system, which is responsible for getting rid of toxins, allergens and other bad stuff from your body. "The lymphatic system is a channel of vessels that carry white blood cells and lymph fluid which defends against toxins and infections," says Gabrielle Francis, naturopathic doctor and author of The Rockstar Remedy. When you increase blood flow, you're increasing the flow of antioxidants, oxygen and stimulation for epidermal cell turnover that the skin needs to get that healthy layer, explains Nussbaum.
With dry brushing, you're also taking away surface imperfections and pore congestion, which makes your skin texture more even. "With dry brushing, the surface imperfections are decreased as the dead skin cells are wiped away for new skin cell turnover which gives an overall more homogenous texture," says Nussbaum. "It also clears away dirt and pollutants stuck in the pores due to epidermal cell build up."
How to Dry Brush
For best results, it's recommended that you dry brush on clean skin. After washing your skin, take a wooden brush with soft bristles and lightly brush for 30 seconds. You'll want to go in a circular, upward motion away from the heart to increase circulation. Motions should be light to avoid irritating the skin.
After dry brushing, wash the brush with warm water and non-toxic soap because it can harbor bacteria and dead skin cells, says Nussbaum. Then apply your usual serum, moisturizer and lotion and see your skin reap all the wonderful the benefits.
If You Have Sensitive Skin
Nussbaum suggests to start dry brushing for 30 seconds twice a week to see how your skin reacts, then gradually go up to five minutes as your skin gets used to dry brushing. "Dry brushing for five minutes more than twice a week can cause micro-tears and irritation for the skin," explains Nussbaum, which is why she doesn't recommend dry brushing for people with sensitive or acne-prone skin types. It could irritate their skin and do more harm than good.