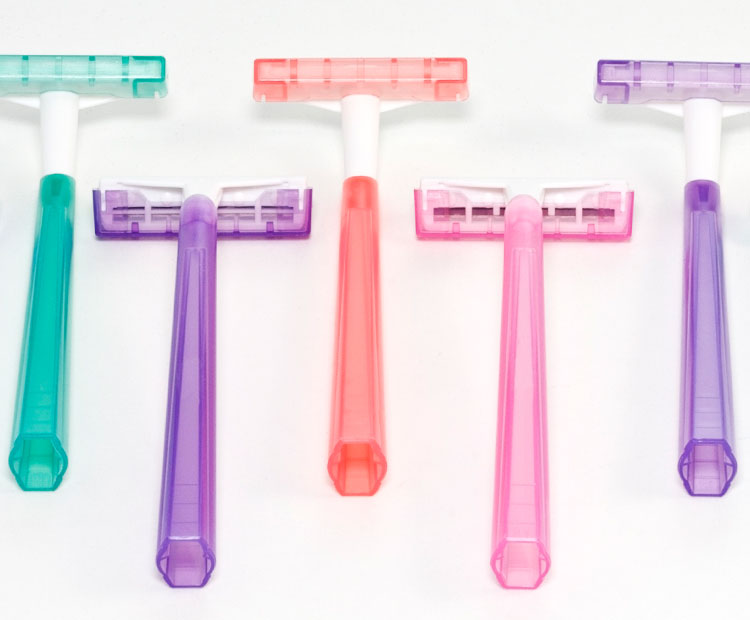 You've hit up your favorite stores to pick up a few new bathing suits to lounge by the pool in this summer—but now you're left with the daunting task of grooming your hair down there. Professional bikini waxes aren't exactly cost effective, but shaving at home has the potential to leave you with irritation. It's the ultimate beauty Catch-22.  
If you've ever wondered how to shave your bikini line without bumps, you're in luck. We chatted with board-certified dermatologist Dr. Debbie Palmer for tips on making your next shave smooth sailing.
1. Wait Until the End of Your Shower to Start
When you hop in the tub, shampoo, condition, and cleanse your bod before going anywhere near your razor. "I recommend shaving towards the end of your shower," says Dr. Palmer. "This lets your skin and hair get wet, which leads to a closer shave and less irritation."
2. Exfoliate Beforehand
Another way to help prevent those dreaded razor bumps on your bikini area? Exfoliate first. Dr. Palmer suggests using a salicylic or glycolic acid cleanser to do so. Both of these acids slough away dead skin, which in turn allows your blade to glide more smoothly over your skin.  
Try: Glytone Exfoliating Body Wash
3. Lather Up with Shaving Cream
Do not—we repeat, do not—shave your bikini area sans shaving cream, as this can lead to cuts, says Dr. Palmer. Ouch! "Use a nice thick shaving cream or gel, and avoid alcohol and fragrances," she says.
Try: Fur Shave Cream
4. Upgrade Your Shaving Technique
"When you're actually shaving, hold the area taut," says Dr. Palmer. "You want to create a smooth surface." Dr. Palmer also recommends wielding a light hand. "Don't apply too much pressure with your razor," she says. Finally, work your way from the outside in, and make sure your razor is sharp so that you don't have to go over the same area over and over again.
5. Apply Moisturizer Once You're Done
"Afterwards, your skin will be a little dry," says Dr. Palmer, so slather on a moisturizer. You may want to consider using one with antioxidants, says Dr. Palmer, since they decrease inflammation.
Try: EltaMD Moisture-Rich Body Creme
6. Avoid Tight Clothing Immediately Afterwards
"This could be irritating," says Dr. Palmer. Consider this your excuse to lounge around in your comfiest sweats (while you binge-watch your fave show on Netflix, of course).
7. Take Care of Your Razor
In between shaves, wipe off the blade and store your razor in a dry place. "Leaving your razor in a wet place could lead to bacteria growth, which could lead to folliculitis [an infection of the hair follicle]," says Dr. Palmer. And remember: The sharper your razor, the easier it'll glide over your skin. So if you're using a disposable razor or one with disposable blades, swap them out every three to five shaves for best results, says Dr. Palmer.