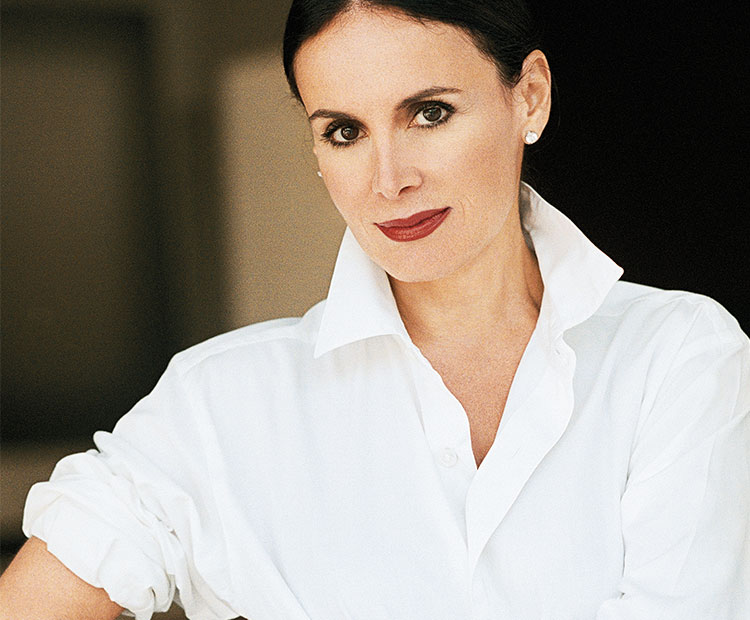 The world of haute couture (or "high fashion" for the uninitiated) is often out of reach and alienating for the vast majority of women. Thanks to Parisian beauty guru Terry de Gunzburg, such is not the case anymore—at least where luxury makeup is concerned.
Prior to launching BY TERRY, her namesake cosmetic line, Terry carved an unconventional path to success. When she realized she was more drawn to art and beauty, she gave up medical school and studied makeup artistry instead. During a summer session in the prestigious school of the Carita sisters, a last-minute change of plan sent Terry on the set of a Vogue photoshoot. What seemed like a stroke of luck became her entry point into the lavish world of beautifully crafted, made-to-measure fashion. Soon, she was working side by side with Yves Saint Laurent as the brand's international creative director.
Fifteen years later, she left Yves Saint Laurent to start her own signature line of makeup, skin care and fragrance. Her aim was to apply the same exacting standard found in haute couture on beauty products and make these available to more women. The result is BY TERRY, a luxurious line of cosmetics that are elegantly formulated, beautifully encased and surprisingly effortless to use.
To help you get to know this Hollywood-favorite brand more, we sat down with the beauty guru herself. Here she talked about the inspiration behind her signature line, the top five products you have to try and some tips and tricks on how to use them like a pro!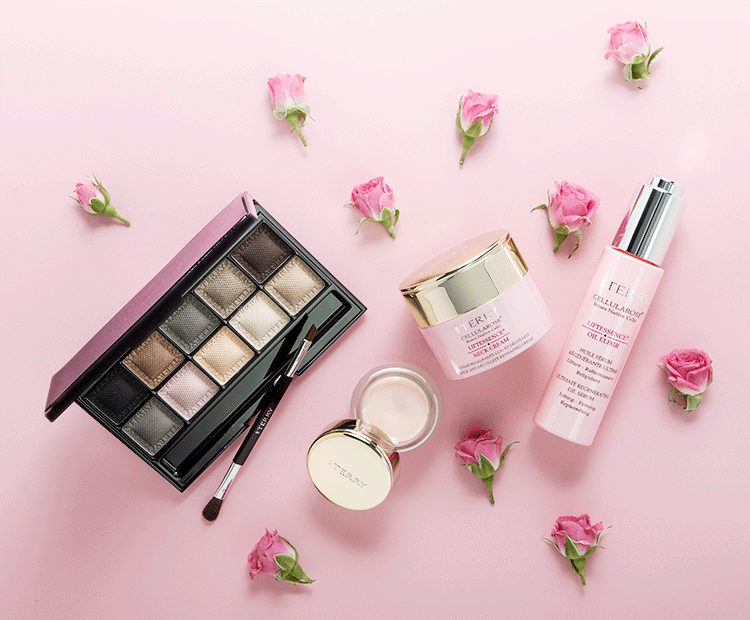 DERMSTORE: Take us to that moment you decided you wanted to start a makeup line. What was the situation back then?
TERRY DE GUNZBURG: Back then, I was the Creative Director of Yves Saint Laurent Beaute for many years. After Mr. Saint Laurent retired, I decided to start my own brand with a unique concept and service, which we still offer today in our freestanding stores in Paris called Haute Colour. We provided the ultimate made-to-measure makeup products that were innovative and of the best quality. Haute Colour required an in-person consultation as the makeup and formulas had to be created from scratch. Many of our clients wanted ready-to-wear products to take during vacations, business trips and short getaways, so I created a full ready-to-wear collection range of makeup tools that were multitasking and anti-aging.
What was lacking in the industry that you wanted to fill with BY TERRY?
As I am sure you may know, I created, while working with Mr. Saint Laurent, the notorious Touche Eclat. It revolutionized the world of makeup due to its success and popularity, but also because it was a multitasking tool, easy to transport and effortless to use.  I felt the industry needed more innovative tools that were as efficient and effective as the Touche Eclat while providing anti-aging benefits.
What was the inspiration behind the brand? What is the brand's beauty philosophy?
Part of my inspiration has always been to provide the world a much easier and effective way to apply and use makeup. The BY TERRY philosophy is quality, innovation and integrity.
Describe the BY TERRY woman—what is she like?
The BY TERRY woman is all women looking for innovative multitasking tools that are easy to use, effortless, effective and of the utmost quality.
For someone who is new to the brand, which BY TERRY products should they absolutely try first?
This is a very hard question since I love all my products, but I would say to the new client to BY TERRY to try these products:
Buy now

with Dermstore

BY TERRY Baume de Rose Lip Care is one of the richest lip balms you can find, featuring an intensive, highly concentrated formula that repairs lips and can also help regenerate lip contours. Infused with precious, active ingredients the nourishing lip balm is ideal for dry, chapped or cracked lips.Key Benefits: * Essential rose wax soothes and restructures lips * Floral oils nourish and moisturize skin * Bio-ceramides smoothen the skin and provide anti-aging benefits * Vitamin E offers antioxidant protection

Buy now with free delivery

2. BY TERRY Rouge-Expert Click Stick

5. BY TERRY Liftessence Neck Cream

6. BY TERRY The Glace

Buy now

with Dermstore

BY TERRY Light-Expert Click Brush makes applying foundation easy. The foundation-filled brush dispenses the perfect amount of creamy foundation to flawlessly cover your face, concealing everything from blemishes and uneven skin tone to signs of fatigue and stress. The savvy beauty tool reveals a flawless complexion and an immediate boost of radiance with every brush stroke!Key Benefits: * Makes on-the-go application easy * The built-in brush ensures even coverage * Formula blends into skin masking imperfections * Perfect for touch-ups throughout the day, even over makeup * Looks like your

Buy now with free delivery

Buy now

with Dermstore

Create gorgeous, dramatic eye looks with BY TERRY Mascara Terrybly Waterproof, a multi-tasking mascara that thickens, lengthens and volumizes at the same time. Featuring carbon Xcess micro-pigments, the waterproof mascara separates lashes and enhances their color, giving them a silky boost that never feels rigid.Key Benefits: * Waterproof mascara boosts lash volume and length * Maximizer brush separates lashes and coats them one by one * Captures and curves even the smallest lashes, lifting their top * Non-clumping and non-flaking

Buy now with free delivery

Buy now

with Dermstore

A true cosmetic innovation, BY TERRY Hyaluronic Hydra-Powder uses micro-fine hyaluronic acid to blur fine lines and smoothen the skin. It can be used day and night, after foundation or your skincare regimen, helping eliminate blemishes and "fill in" pores and small imperfections for the smoothest finish. The hyaluronic acid powder is colorless and mattifying, also helping set makeup.Key Benefits: * Whipped hyaluronic acid microspheres plump the skin and provide a smooth finish * Colorless powder helps erase blemishes and small surface imperfections * Sets makeup without drying out the

Buy now with free delivery