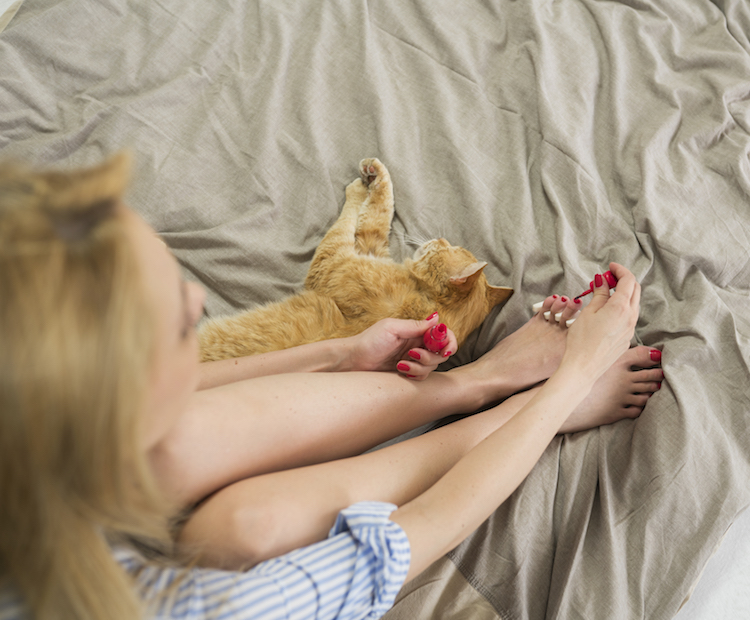 While a trip to the nail salon is always fun, it's not the only way to spoil our hardworking hands and feet. If you can master the DIY manicure and pedicure, you can treat yourself to a spa treatment anytime you want. We spoke with NYC-based nail artist Narina Chan and Chicago manicurist Nayeon Yang to get their tips and tricks on how to pamper yourself with a perfect pedicure at home.
1. Love Thy Feet
The foundation of a good pedicure is happy, healthy feet, and one way to ensure this is by staying moisturized. Chan recommends using cuticle oils and creams regularly (and especially as part of your pedicure regimen).     
To soften and condition your nails and cuticles, try Cuti-Cocktail Nail and Cuticle Oil by SpaRitual. Another two-in-one product, Baby Foot Easy Pack – Original Deep Skin Exfoliation soothes and gently exfoliates for softer, smoother feet.
An extra special, expedient first step you can take for your feet is to exfoliate with a scrub, which will increase circulation, remove dead cells and smooth calluses and hangnails. Try Barielle's 60 Second Manicure-Pedicure, which does all of this and more.
2. Care for Your Cuticles
Invest in a cuticle remover. Chan's must-have product is the Intensive Nail Treatment Cuticle Remover by Deborah Lippmann, "You seriously don't need to cut anything after using that. It's amazing."
If you choose to cut your cuticles, Yang suggests you "soak your feet in warm water to soften the cuticles." And when pushing them, be sure to use the right tools and careful not to push too hard and hit the nail beds, as "this is the easiest way to damage your nails."
To push back thick cuticles and clean under your nails, try Tweezerman's Pushy and Nail Cleaner tool. If you need to clip and trim your cuticles instead, try the Rockhard Cuticle Nipper, also made by Tweezerman.
3. Clip With Caution
Yang says, "When you clip your toenails, don't forget to cut the side edges that may tuck in the skin." If you only cut the visible part of the toenails and leave the side edges, this can lead to ingrown nails. Smooth the edges of your clipped nails with a nail buffer, like the Smooth Operator 4-Way Nail Buffer by Deborah Lippman. 
In terms of ingrown toenails, a common and uncomfortable woe, Chan says stay away, "Try not to cut them out and see a foot doctor instead." If you do it wrong and cut too deeply, she warns, it can lead to infection.
4. Use the Right Products
Chan always advises clients to "use a rejuvenating base coat, as this will help your nails to grow healthy again." A quality polish is essential to ensure a chip-free, long-lasting pedicure, and the right top coat will dry super fast, sealing in color while preventing smudging and chipping. Butter LONDON makes a great, non-toxic top coat and base coat. 
5. Know When to Tap Out and Go to the Salon
While there's a lot you can do to ensure a perfect pedicure at home, some treatments are better left to the professionals. Aside from ingrown nails, Chan says, "paraffin and callus treatments" should be done at the salon for safety purposes.