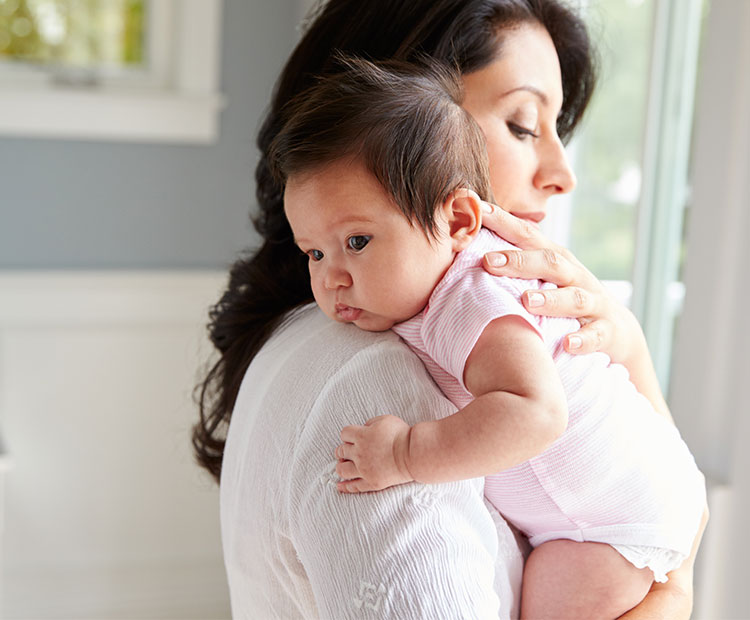 When it comes to babies, the slightest sign of discomfort is enough to send any mom's worry meter into overdrive. So just imagine waking up to find your baby's chubby cheeks now riddled with patches of red, flaky and itchy skin. Eczema is the general term used to describe certain medical conditions that cause the skin to be irritated and inflamed. In babies, the most common type of eczema is atopic dermatitis, which affects about 1 in 10 infants (and even as many as 1 in 5) in the United States.
While infant eczema or atopic dermatitis is inherited, it rarely carries over into adulthood. However, it can prove difficult to treat as flare-ups are triggered by a host of different factors—from baby's saliva and clothes to food and temperature. And because it is chronic, it cannot be cured. It can, however, be controlled.
To help us understand this condition better, we sat down with board-certified dermatologist Janet Prystowsky of Livad Skin Care. Here she talked about the causes, symptoms and steps to manage infant eczema.
How can we tell if a red rash on baby's face is eczema?
Dr. Janet Prystowsky: Skin affected by eczema will often feel dry, thick or scaly. Itchiness is a common symptom as well. Sometimes, itchiness occurs before the physical symptoms present themselves.
What causes baby eczema?
Dr. Prystowsky: Eczema flares occur when the skin is very dry, infected, irritated or having an allergic reaction. Eczema tends to be worse in the winter, when the air is dry, and tends to improve in the summer when it is more humid. In babies, saliva from drooling may cause additional irritation, particularly to the cheeks, chin and neck.
What triggers eczema in babies?
Dr. Prystowsky: There are known triggers that can make eczema worse. Specific triggers can vary based on the baby and can include pets, pollen, dust mites, mold, fabrics (such as wool), cigarette smoke, scented products (such as perfume, laundry detergent and air freshener) and harsh soaps and shampoos. Skin infections, certain temperature and humidity situations and fluctuations, dietary allergies and stress can also cause eczema to get worse. Some common food allergies associated with eczema include milk, eggs, wheat, fish and nuts. However, not everyone who has eczema will be triggered by a food allergy.
Do topical creams work? What ingredients do we need to look for in topical creams?
Dr. Prystowsky: Unfortunately, there are no cures for eczema, but the good news is that eczema can be controlled. In most children, eczema becomes less severe with time.
Treating eczema requires treating both skin dryness and skin inflammation. Anti-inflammatory medications, like topical steroids or topical calcineurin inhibitors (TCIs), are used to treat inflammation. Occasionally, oral anti-inflammatory agents are needed to treat the most severe cases.
Moisturizers should be applied at least twice daily—in a thick layer. Generally, two types of moisturizers are recommended for treating eczema: ointments and creams, which seal moisture from bathing into the skin, much like plastic wraps seal moisture into a cake.
Any other tips on how to cope with eczema in babies?
Dr. Prystowsky: If you're looking to manage your baby's eczema, give him or her warm baths and moisturize afterwards. Avoid anything that you know will make your baby's eczema flare. Here are other tips:
Use a gentle cleanser with a low pH (there are plenty of pH-balanced or non-alkaline cleansing products for babies).
Use a gentle moisturizing cream and balm designed for those with sensitive skin or eczema. Avoid parabens, phthalates, artificial fragrance, coloring and other known irritants.
Use a humidifier if it is dry and/or cold out.
Need products to help keep your little one's flare-ups under control? We've listed our tried-and-tested, baby-friendly infant eczema solutions!
Shop Gentle Cleansers
Buy now

with Dermstore

A favourite with skincare aficionados, Weleda 2in1 Gentle Shampoo + Body Wash is perfect for delicate baby skin prone to irritation and eczema flare-ups. This 2 in 1 shampoo and body wash gently cleanses both hair and body with natural, plant-based ingredients – helping to ease the inflammation of eczema. Infused with calendula extract and moisturizing almond oil, hair and skin are left ultra soft and moisturised. Easy on eyes and baby's delicate skin, just apply a small amount to wet hair and skin and rinse thoroughly with water.

Buy now with free delivery