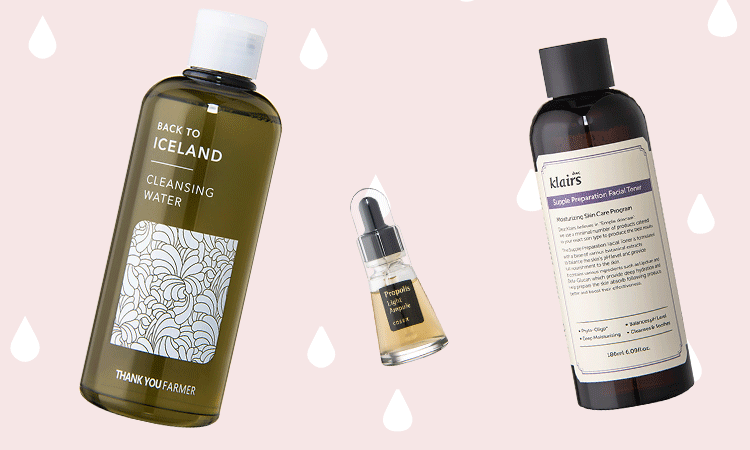 Unless you've spent the last couple of years living under a rock, we're certain you've noticed the growing universal infatuation with Korean culture. From entertainment and music to food and fashion, more and more people look to the trend-setting Koreans for influence and inspiration—and the world of beauty is no exception. In recent years, the Korean way of skin care, otherwise known as K-beauty, has been gaining considerable headway around the world—and for good reason.
Aside from wowing us with their impeccably radiant skin, Koreans have introduced us to the wonders of sheet masks and snail mucin and prompted our curiosity for their famed 10-step skin care regimen. But for all our fascination with K-beauty, there remains a certain mystique around it that many of us have yet to decode. Take the products Koreans use, for example. We're quite familiar with toners and serums, but essences and beauty water don't seem to fall under any of the categories we already know. To help us demystify and understand the hallmarks of Korean skin care, we chatted with beauty blogger and K-beauty expert Renee of Gothamista.
The Korean Beauty Philosophy
Korean skin care may be known for its unexpected ingredients (bee venom, anyone?), fun packaging and products that feel nothing short of luxury for your skin, but the true essence of K-beauty lies in its long-term and highly personal approach to skin health. Unlike Western skin care, which is conventionally focused on repairing imperfections, Korean women put emphasis on preserving their skin and protecting it from environmental aggressors.
Koreans see skin care more as part of holistic health rather than as a beauty measure. As such, their skin care routines focus on hydration and nourishing the skin from the inside out to produce lifelong results and achieve that coveted dewy glow or "glass skin."
"Asian beauty, in general, is about introducing light layers of hydration in every step," explains Renee. "The Korean skin care routine involves multiple light layers rather than one heavy one," she adds.
This principle is most evident in the 10-step regimen that has most K-beauty fans and curious onlookers fascinated. While the multistep routine is flexible enough to be reduced to five or increased to as many as 15—because, as we learned from the Koreans, skin care is all about listening to what your skin actually needs as opposed to piling on products simply for the sake of—hydration remains at its core.
In developing the most effective skin care products, Koreans put to good use their rich traditions and historical knowledge of the best nature-derived ingredients and marry them with state-of-the-art technology and science-backed innovations. The result? A wide variety of groundbreaking skin care products and formulations, unlike anything the rest of the world has seen. This is key as Korean women (and men), who belong to the top 10 global beauty market as of 2017, demand the best beauty products that will fit seamlessly into their unique skin care regimen.
Get to Know the K-Beauty Essentials
The obsession with Korean beauty products doesn't come unwarranted. By fusing breakthrough technology with a beauty heritage that spans generations, we can safely say that these skin care wonders are in a league of their own. Below, Renee gives us a rundown of the most buzzworthy K-beauty essentials.
Essence
What it is: Essence is one of the beauty products that is uniquely Korean, and according to Renee, it comes in two types. First-treatment essence "usually contains a high concentration of fermented ingredients and are to be the first product you apply on your skin right after cleansing," she explains. Because of its watery formula, this type of essence is perfectly suited to prep your skin to allow for better absorption of other products.
The second type, on the other hand, is "more like a cross between a toner and a serum," says Renee, and combines the functions of both products: It targets specific concerns while keeping your skin hydrated.
Common ingredients: Essences usually contain galactomyces or saccharomyces ferment filtrate, which are yeast-based filtrates that help address a host of skin concerns—from oiliness and acne to uneven texture and premature aging.
Who it's best for: All skin types. Whether you have normal or dehydrated skin, an essence is a crucial first step and is the center of any K-beauty regimen.
Toner
What it is: Traditionally, toners take on the role of balancing your skin's pH level after it goes through makeup, cleansing and exfoliation. But in K-beauty, toners serve a different function, says Renee. "It focuses on hydrating the skin and replenishing what was lost during the cleansing process," she explains. In fact, picking out the right toner is an important step in the famed multistep K-beauty regimen.
Common ingredients: Because toners provide the skin with a base layer of hydration in Korean skin care, they are mostly infused with ultra-hydrating ingredients like hyaluronic acid, sodium hyaluronate and centella asiatica or gotu kola. Aside from their ability to attract and deliver moisture into the skin, these ingredients also provide anti-aging and skin-healing benefits.
Who it's best for: Hydration is key regardless of your skin type, making toners a skin care must-have if you plan on starting your own K-beauty regimen.
Serum and Ampoule
While ampoules are marketed as the supercharged version of serums (containing a higher concentration of actives and only meant to be used over a certain period of time), both products share the same function, says Renee.
"These tend to be concentrated products that are focused on treating specific skin concerns and needs such as youth-preserving, acne, hyperpigmentation, dryness, oiliness and sensitivity," she explains.
Common ingredients: There's a serum or ampoule for every skin concern and most of these potent skin-savers are formulated with multitasking ingredients like peptides, niacinamide and vitamin C that aid in restoring skin, boosting collagen production and providing antioxidant benefits. These products are also infused with ingredients that are unique to Korean skin care, such as snail mucin and bee venom (both known for their anti-aging properties) and plant-derived extracts (gotu kola and tea tree, to name a few).
Who it's best for: Serums and ampoules address specific skin concerns and are formulated according to one's skin type. They are particularly helpful for those who want to target multiple skin concerns at once or are undergoing a skin crisis.
Beauty Water
What it is: Skin care in a bottle is perhaps the aptest way one can describe beauty water. Aside from cleansing and prepping your skin for the next steps of your regimen, this multitasking K-beauty staple also acts as a balancing toner, hydration booster and gentle exfoliator. You can even use it as a skin-refreshing facial mist when you're on the go!
Common ingredients: Beauty waters are infused with lavender and rose petals, which are known for their calming, hydrating and rejuvenating benefits. They also feature gentle exfoliants and skin-brighteners like willow bark and papaya extracts.
Who it's best for: Formulated with gentle and natural ingredients, beauty waters are perfect to use for all skin types. In particular, those with oily or sensitive skin can benefit from incorporating beauty water into their regimen as it provides the skin with instant hydration without the grease or the risk of irritation.
How to Apply for Best Results
To get the most out of your skin care products, it's crucial to know when to apply them and the order in which they go on.
"My general principle for layering is to start with the thinnest consistency to thickest—water-based, liquid-y products before oil-based and creamy ones," explains Renee. "This sounds like a lot of work if you are used to a two-step routine of washing your face then moisturizing, but the results are so worth it!" she adds.
To get you started, here is a guide on when and how to apply these Korean skin care staples:
Beauty Water: As the most lightweight product in your routine, beauty water goes first, right after your double cleansing and exfoliation routine. Soak a cotton pad and gently dab onto your skin. If in a spray, hold the bottle six inches away from your face, spritz and lightly pat until fully absorbed.
Toner: Similar to beauty water, toners plump up your skin, restore your skin's pH levels and provide base hydration to allow oncoming products to seep into your skin more effectively. Lightly apply with a cotton pad or do it the K-beauty way: Pour a small amount into your hand and gently pat onto skin.
Essence: As the less-concentrated relatives of your serums and ampoules, essences tend to be more watery and more lightweight in consistency. Apply by patting gently onto just-cleansed and toned skin.
Treatments (Serums and Ampoules): This is the part in your skin care regimen when you can experiment and customize as your skin sees fit. Here, you can add or remove treatments as long as you apply the rule of consistency. To apply, gently pat onto skin and wait until fully absorbed before putting on the next.
In the morning, targeted products are followed by an eye cream, moisturizer and broad spectrum SPF. Nighttime routines typically involve a sheet mask after you apply your serums and ampoules and a sleeping pack after moisturizing.