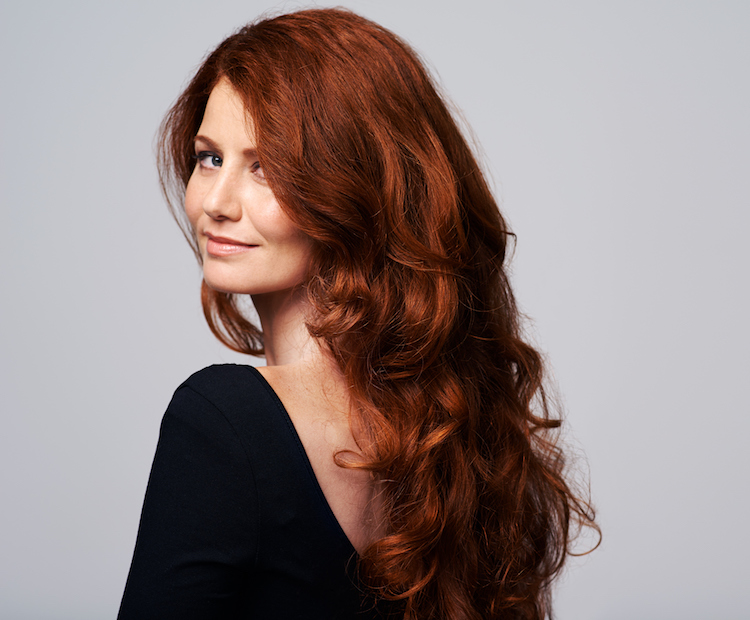 Chances are you've heard a hairdresser, esthetician, or nail artist use the word keratin. If you're like me, you probably just nodded your head politely and pretended you knew exactly what they were talking about. We reached out to hair care professional Zayne Hajjar to answer a few questions about keratin and what it does for the body.
What Is Keratin, and What Does It Do?
"In basic English," Hajjar explains, "keratin is a form of protein." This protein is one of the largest components of our hair, skin and nails. She adds, "Basically, hair is keratin." According to a study in PeerJ, your hair is made up of four things: water, pigmentation, lipids (fat) and keratin. Of these components, keratin is responsible for the majority of the hair's structure.  
Because keratin is such a large part of hair and nails, it's fairly noticeable when damaged (dry, brittle, frizzy hair; thin, easily broken nails). Hair care professionals and estheticians use extracted keratin to create protective treatments for hair, skin and nails and rebuild damaged areas.
Hajjar is certified in the ever-popular keratin-based straightening treatment, the Brazilian Blowout. She says, "This is more than a straightening treatment. It is a smoothing treatment that actually improves the condition of your hair by adding a protective layer around the keratin in your hair, and filling in the gaps where it is damaged." This helps restore the natural levels of keratin back into your hair, creating healthier, fuller and stronger hair.
Our Top Keratin-Based Products for Hair and Nails
If your hair is over-processed, damaged or prone to frizz, it may be because it is lacking keratin. Your nails might be thin, prone to breakage or otherwise damaged. We've compiled a few of our best keratin-based products to help you rebuild your hair and nails at home.
About This Product: Are your nails a little flimsy after getting acrylic nails or gel polish? You can restore them using Nailtiques Nail Protein Formula 2. This product is designed to treat nails that are peeling, tender, soft or stubborn to grow. They crafted this product with a blend of keratin and other conditioners that act as a bond for splitting nails, while also restoring and making them stronger.
Reviews Say: "I have been dealing with weak, peeling, breaking nails for years and have tried what I thought was every product. My manicurist introduced me to Nailtique Formula 2. She applies it as a base and top coat. Not only are my nails growing and strong but my polish no longer chips between manicures. Outstanding."

Buy now with free delivery

Buy now

with Dermstore

About This Product: If you don't want to take the plunge into doing a full treatment, try this product from Gloss Moderne. Their Clean Luxury Masque uses keratin and cocoa butter to revitalize and hydrate your damaged and dry hair. This mask is designed to leave your hair stronger, give it a healthier appearance and create natural volume.
Reviews Say: "I've purchased the entire Luxury Hair Care Collection and after the very first use my hair went from being dry and damaged to instantly being revitalized, shiny, and healthy looking. This is a MUST have for hair care!!"

Buy now with free delivery

Buy now

with Dermstore

About This Product: This product from Toppik is designed to disguise thin areas of your hair while giving your scalp an extra boost of keratin to help kick-start regrowth. Unlike other keratin products, this is a keratin fiber powder that is tinted to match your hair color, creating instantly fuller-looking hair.
Reviews Say: "Hair in Seconds! This product is truly amazing for those wanting to cover those annoying and embarrassing bald spots. I've been dealing with a trouble area on the top of my head for a while, and nothing has worked like Toppik."

Buy now with free delivery

Buy now

with Dermstore

About This Product: Keratin is in your eyelashes as well! Eyeko has created their Black Magic Mascara with keratin to help you grow longer and stronger lashes. With a mixture of shea butter and beeswax, you can get eye-popping lashes while making them healthier.
Reviews Say: "This is my favorite everyday mascara and I have tried them all! It looks the same when you get home at the end of the day as it does when you put it on. The brush contours perfectly to my eye and gives a great application. Plus, it never feels dry or cakey—I really do think it moisturizes my lashes!"

Buy now with free delivery

Buy now

with Dermstore

About This Product: Alterna has created an Anti-Aging Miracle Multiplying Volume Mist that is designed to give your hair the pick-me-up it needs. Made with a blend of caviar extract, algae and kelp extract, keratin and biotin, this quick and simple spray gives your hair a hint of volume while repairing your damaged hair.
Reviews Say: "I have very fine hair, but a LOT of it. I usually don't use products because I hate when my hair gets weighed down, but this product is great! I don't feel like it leaves the normal oily feeling a lot of volumizers do, and it definitely adds volume to the roots. A little goes a long way, so once I finish the sample I got, I will be buying the full size!"

Buy now with free delivery

Buy now

with Dermstore

About This Product: Want supermodel brows? If you have thinning brows, you've probably struggled with making your brows look naturally thick. You can use keratin to fix that as well. neuLash newBrow Brow Enhancing Serum uses a blend of keratin and essential B vitamin to build stronger and healthier brows while protecting them from damage.
Reviews Say: "It does what it said it would do. My brows went from very thin to thick and bushy. It took about two months before I could go have my brows threaded for a shape, but they are full and beautiful. I haven't had brows for over a decade, but now I do!"

Buy now with free delivery