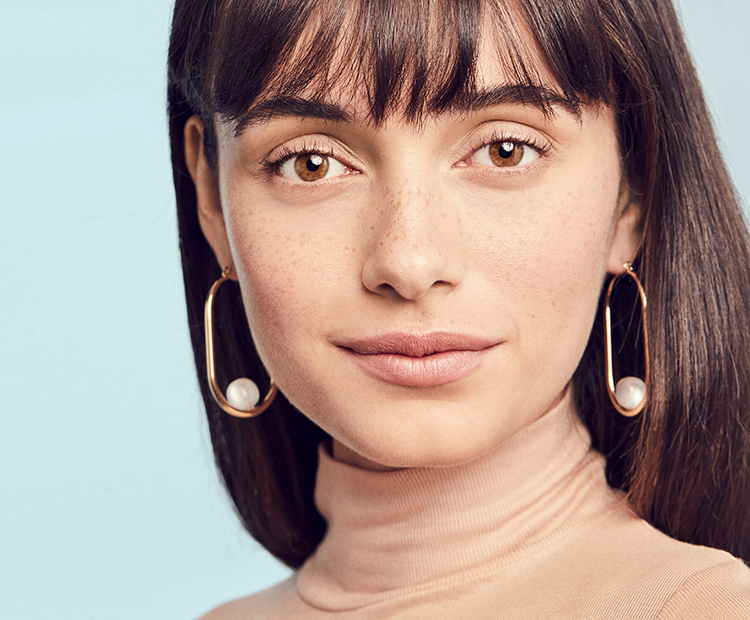 Hyperpigmentation—which loves to live on the forehead in the form of dark spots—strikes when your skin produces an excess of melanin, the pigment that produces skin color. Causes range from sunlight exposure to hormonal changes (including pregnancy) to the aftermath of inflammation. While the easiest way to fade dark spots is still through in-office procedures, like laser treatments and Intense Pulsed Light (IPL), some people turn to topical skin brighteners to help fade dark spots and even out their skin tone.
Common Brightening Ingredients
Modern topical treatments often rely on safe and gentle natural ingredients to ease hyperpigmentation. Soy creams, sprays and lotions inhibit melanin transfer, while ellagic acid acts as an antioxidant and diminishes melanin production. The latter might sound severe, but it actually derives from fruits like cherries, strawberries and pomegranates. Arbutin, another berry derivative, also works as a skin-lightening agent, especially at a 3 percent concentration. While it might be the darkest of candies, licorice in the form of licorice root or liquirtin (extracted from licorice root) has a similar lightening effect.
Other Ingredients
Hydroquinone—a time-tested crystalline compound that curbs melanin production—serves as one of the most prominent skin-lightening agents in the fight against hyperpigmented skin. Most over-the-counter formulations come in a variety of gels, lotions and creams with a 2 percent concentration, while prescription versions contain higher concentrations. Like soy, the B-3 vitamin (niacinamide) stops melanosomes (packages of melanin) from reaching the upper layer of the skin. If you don't fear fungus, natural fungal elements lignin peroxidase and kojic acid also make their way into effective topical skin-lightening treatments.
Ramp Up Your Regimen
Even as you incorporate a skin-brightening treatment into your skin-care routine, don't neglect the basics; daily moisturizing is not only the foundation of healthy skin care, it's essential to encouraging cell turnover. In other words, keeping your skin hydrated helps your body create new forehead skin cells that aren't hyperpigmented. In particular, keep an eye out for moisturizers and serums that feature hyaluronic acid or glycerin that both give skin cell production a hearty boost.
Preventive Practices
Skin damage left behind by irritation and inflammation can lead to hyperpigmentation, so if spots appear on your forehead, follow your mom's old advice: Don't touch it. Otherwise, picking or scratching can lead to long-term skin discoloration. Whether you seek to prevent future hyperpigmentation or treat current dark spots, always protect your forehead—and the rest of your face and body—with a powerful, broad-spectrum sunscreen. Protecting your skin from UV and UVA rays help keep new spots from forming and prevents current dark spots from getting darker.
This article has been reviewed by board-certified dermatologist Dr. Emmy Graber.