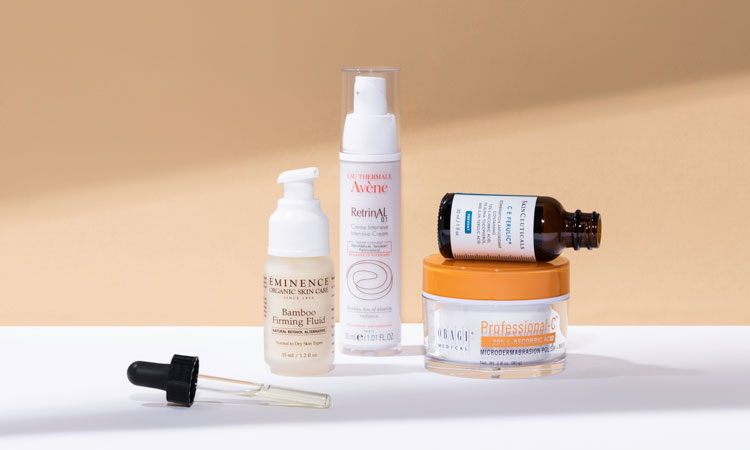 Skin care shoppers are becoming savvier and demanding more from their products—and, as a result, professional skin care brands are having a serious moment. But what exactly does "professional skin care" mean? What are the benefits? And is it possible to assemble a professional-level skin care routine without the professional-level price tag?
What does "professional skin care" mean?
According to Donna Hart, MD, a board-certified dermatologist at Texas-based Westlake Dermatology, there isn't any definite set of criteria to define professional skin care lines. But in the general sense, professional skin care refers to products formulated by brands historically sold in dermatology offices, or brands developed by dermatologists themselves. 
"[These] are companies that have often devoted a lot of time researching their ingredients and delivery vehicles to ensure the most effective delivery into their target area of skin, whether it be more superficial for pigment improvement, or deeper for things like collagen promotion or anti-inflammatory effects," says Dr. Hart. "[Professional] brands often got their start being sold in dermatologists' offices so they have been tried and tested. Therefore, you can have an increased level of efficacy and quality with these brands."
"In my opinion, what defines professional-level skin care is a commitment to developing novel products with ingredients that are rigorously scientifically tested to produce specific and reproducible results," adds Dr. Margo Weishar of Springhouse Dermaesthetics, a Pennsylvania-based practice.
Are professional skin care brands worth the price tag?
So, now that you know what professional skin care is, let's talk about who can benefit from it. And the answer? Pretty much everyone. All the time and energy devoted to research, development and sourcing the highest-quality ingredients typically yield much more effective products—and, with the right regimen, you can experience professional-level results you'd be hard-pressed to find with drugstore products.
"These products are so diverse that really most patients can benefit from professional lines," says Dr. Hart. "In particular, patients with a specific area of concern such as dry, sensitive skin, pigmentary issues or signs of photo-aging may additionally benefit from certain professional products, as many have proprietary ingredients to best target these concerns."
Now, there's no denying that professional skin care brands are going to cost you more than something you pick up at your local drug store. But, like most things, you get what you pay for—and the extra cost is a direct result of the extra time, energy and quality that go into professional products.
"Professional-level product lines (or medical-grade skin care, as it is often referred to) may spend more money on developing and testing new ingredients, introducing new concepts to the public, using cosmetically elegant bases and luxury packaging.  They are 'smaller batch' and therefore more expensive to produce than mass-marketed products," says Dr. Weishar. "They often cost more than drugstore brands—and are worth that cost when the degree of benefit is many times what a basic product can produce."
Tips for building a professional regimen
Professional skin care lines may be more expensive than other products—but that doesn't mean you have to completely blow your budget to get great skin. Here are some tips on how to build your professional skin care routine if you're just starting out.
1. Start with your dermatologist.
Before you dive into professional products, talk to your dermatologist, especially if you have sensitive skin. "These products may contain higher levels of ingredients which are not suitable to all skin types and must be recommended by professionals with a deep knowledge of all aspects of your skin, taking into account [your] specific needs, goals and challenges," says Dr. Weishar. "Visiting your trusted dermatologist is always a great first step, because we can often help navigate the milieu of product choices available and recommend certain ingredients to look for (or to stay away from!) in products," says Dr. Hart.
2. Supplement professional products with more affordable staples.
Professional-grade products can be expensive, but you don't need them for every single product in your regimen. Professional products are great for more targeted treatments, but if you want to save some cash, it's fine to supplement them with more affordable basics.
"Don't forget the basics—cleanser, moisturizer and DAILY sunscreen—before going on to add higher-level products," says Dr. Weishar. "These are the foundation of your skin care, and it's worth seeking out the best combination of these products for everyday use before adding [more expensive] professional-level products."
3. Choose one skin care concern—and treat it with one professional product.
If you want to experiment with professional skin care, there's no need to go out and buy the entire line. If you want to see how a professional line works for you, choose one skin care concern you're struggling with and invest in one professional product to see how it reacts with your skin.
"If you are trying to build a regimen on your own, start with one product from one category and use it for several weeks—both to see how you tolerate it and to see whether you are seeing benefits," says Dr. Weishar. "Most topical products take about 12 weeks of constant use to produce results—so stay with it for that amount of time to give it a chance to work."
Professional skin care brands to try 
Professional skin care brands are a must-try for anyone who wants to see serious results with their skin. And the best part? You can try them at a range of price points.
Buy now

with Dermstore

Since 1994, SkinCeuticals has been combining the most efficacious clinical ingredients with botanical extracts to create products that bridge the gap between science and nature to both treat and nourish the skin.

The brand's Anti-Aging System—which includes C E Ferulic, a vitamin C serum that firms and brightens the skin; Resveratrol B E, a night serum rich in antioxidants; and A.G.E. Interrupter, a targeted anti-wrinkle treatment—is widely considered one of the most effective professional skin care systems for reversing the signs of aging and protecting the skin from future damage.

Buy now with free delivery