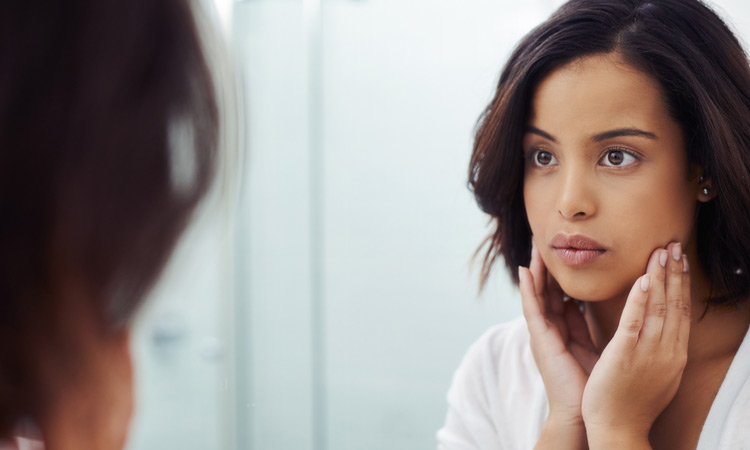 True: Sometimes there just aren't enough hours in the day for a good night's sleep. Add genetics, gravity, stress and years of squinting and smiling and what you get are crow's feet, dark circles and under-eye puffiness—factors that instantly add years to your appearance. But these aren't the only things that are aging your eyes; some of our everyday beauty habits are also partly to blame. Learn what you may be doing wrong—and the steps you need to take to restore your eyes' youthful glow.
1. You Scrub Your Eye Area
We all know it's important to remove eye makeup before bed, no matter how tired we may be. But here's the thing about long-wearing eye shadows and waterproof mascara—they can be pretty stubborn. So you do what every sleepy, exhausted human being does: You rub your eyes clean. But vigorous makeup removal can tug at and damage delicate under-eye skin, causing broken capillaries and (you guessed it) dark circles. To make sure you're not rubbing or scrubbing your eye area, opt for an oil-based cleanser to melt away your eye makeup. A micellar solution can get the job done—and you don't even have to rinse.
2. You're Not Using an Eye Cream
Ask any dermatologist and he or she will tell you the same thing: An eye cream is one of the most important components of your anti-aging regimen; it's also one of the most commonly overlooked. The skin around your eyes is the thinnest skin on your entire body, making it much more sensitive and susceptible to damage. No wonder the first telltale signs of aging also appear around here.
3. You're Using the WRONG Eye Cream
Not all eye creams are created equal. Here's how to know which one best suits your needs:
4. You're Applying Your Eye Cream Wrong
Finding the right eye cream for you is only half the battle. How you apply an eye cream makes a world of difference. Here's how to do it right: After washing your face and applying your serums and moisturizer, take a pea-size amount of eye cream or gel with your ring finger and dab small dots under and around your eyes and on the brow bone. Never pull the skin. Instead, gently pat the cream or gel from the eye's inner corner to its outer corner until it's absorbed. Wait a couple of minutes before applying your sunscreen or makeup to ensure the product is completely absorbed.
5. You're Not Using a Facial Toning Device 
When it comes to smoothing fine lines and wrinkles, along with using the right eye cream, daily use of a facial toning device is another effective way to quickly firm and tone sagging skin. Designed to deliver gentle microcurrent energy, an at-home toning device can smooth and tighten the look of skin in just five minutes. Even our content director who tried it for the first time was amazed at the results.
Try: NuFACE Trinity Facial Trainer Kit + Trinity ELE Attachment Set
6. You Overlook Your Eyebrows
Thicker, fuller eyebrows—like that of Cara Delevinge's—aren't just a passing trend; they're actually a sign of youth and good health. That's because aging, as well as lack of essential nutrients, causes hairs in our body, including our eyebrows, to naturally fall or thin out. If you've been plucking since your teen years, you may notice that your eyebrows aren't growing out as lush anymore. The right eyebrow enhancer or makeup can be a complete game-changer, transforming thin, sparse eyebrows into gorgeous, face-framing arches.
Try: RevitaLash Cosmetics Hi-Def Brow Gel
7. You're Using the Wrong Concealer
Let's face it: Even the best eye concealer on the market won't disguise a whole night of drinking or binge-watching your favorite TV series. But the right one at least won't add any more damage by caking or settling into fine lines. Some of the best ones even feature mineral UV filters to protect your eye area from the aging effects of the sun.
Try: Tarte Cosmetics Amazonian Clay Waterproof 12-Hour Concealer
8. You're Not Eating Right
While a concealer is your best bet for camouflaging their appearance, a healthy lifestyle remains the best defense against aging eyes. For starters, make sure your diet is rich in nutrients necessary for brighter, younger-looking skin around the eyes: Vitamin K encourages collagen production and new cell growth; vitamin C brightens skin and prevents further damage; and vitamin B boosts the production of fatty acids, which helps the skin retain elasticity.